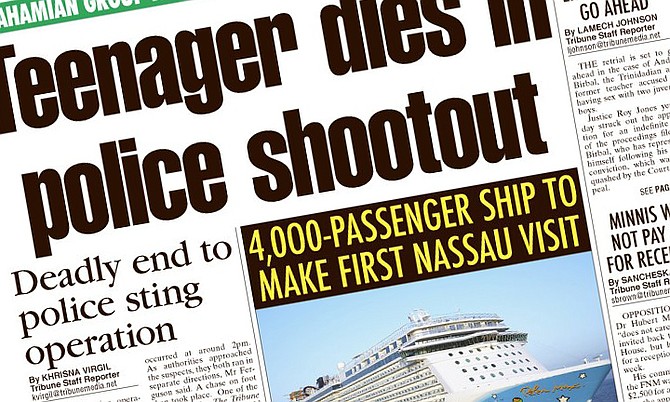 By MORGAN ADDERLEY
Tribune Staff Reporter
madderley@tribunemedia.net
THE fatal shooting of an 18-year-old boy by a police sergeant nearly six years ago was a lawful killing, a Coroner's Court jury ruled yesterday.
More than an hour after being excused by Deputy Coroner Carolyn Vogt-Evans to deliberate, the five-person jury was unanimous in the agreement that Sergeant Antoine Hamilton lawfully or justifiably killed Antonio Duncanson in 2013. Duncanson's grandmother, Theresa Duncanson, reacted to the verdict with dignified tears.
Sgt Hamilton spoke to The Tribune immediately following the verdict, noting he feels relieved, yet grieved.
"At the end of the day, I'm just happy to see that they were fair, they were just, they thoroughly examined the evidence that was presented," he said. "At the same time I am relieved, I still grieve. Because the old lady (Ms Duncanson), she really loves her grandson, in spite of the things that he did."
Khandi Gibson, founder of Families of All Murder Victims (FOAM), was also present at yesterday's inquiry, telling The Tribune she has been supporting the Duncanson family since the shooting incident occurred.
"I just ask that persons continue to uplift families of police shootings at this time," Ms Gibson said. "And also we (have) to pray for the officers too…because when they leave their families, they want to come back safe too."
Deputy Coroner Vogt-Evans also addressed both Duncanson's loved ones and Sgt Hamilton after the jury announced its verdict.
"I hope that these proceedings have not dampened your spirit as a police officer," she told the latter, adding this is all part of the system of "checks and balances" and thus does not represent anyone "picking" on the police.

"You have a right to have questions answered," she told the family. "I hope that you feel satisfied that you live in a just country…(where) you can get answers."
Duncanson was shot on October 15, 2013.
According to the evidence led before Deputy Coroner Vogt-Evans during previous proceedings, Sgt Hamilton was one of two officers, the other being Reserve Superintendent Christopher Pennerman, who was asked to assist in the apprehension of an "individual of interest" who was suspected of being in possession of a firearm.
Around 1.50pm on the date in question, the three officers of "Charlie Delta 10," one of whom was former Police Constable Carey, received certain information about two males suspected of being in possession of a firearm.
One of them wore an orange shirt and dark-coloured pants and orange and blue Nike sneakers. The other wore a green Heineken shirt, black pants and sneakers.
As a result of the information they received, the former officer said his unit went to Yellow Elder Gardens and conducted a mobile surveillance of the area in an unmarked police vehicle.
While doing so, former P/C Carey said he observed the man dressed in orange brandishing a chrome handgun, which he subsequently placed in his waistband.
Upon seeing this, former P/C Carey said he contacted police control room for backup.
The crew of "Alpha Echo 3," led by Sgt Hamilton and Reserve Supt Pennerman arrived in the area a short while later, after which former P/C Carey said he guided them towards where the two suspects were.
When Reserve Supt Pennerman took the witness stand, he said both he and Sgt Hamilton were led to the intersection of Seymour Street and Lightbourne Avenue, where the crew of Charlie Delta 10 pointed out two men walking north along Seymour Street.
As he and Sgt Hamilton approached the two men in their police vehicle, Reserve Supt Pennerman said both fled in separate directions; the man in the orange shirt ran past the car and north along Seymour Street and onto Old Cedar Street while the other one, whom former P/C Carey said was Jaquan Rolle, ran south. Reserve Supt Pennerman said Sgt Hamilton, who was driving, got out of the car and immediately gave chase. Reserve Supt Pennerman said he then hopped in the driver's seat and moved the car to a secure location before also giving chase.
Upon reaching Old Cedar Street, Reserve Supt Pennerman said the man in the orange shirt turned left onto a dirt road and pulled a handgun from his waist.
In fear of their lives, Res Supt Pennerman said Sgt Hamilton drew his service weapon and fired three shots at the suspect, who subsequently fell back on the ground.
Forensic pathologist Dr Caryn Sands confirmed in another proceeding that the purported sequence of events corresponded with the two gunshot wounds the victim received.
During previous proceedings, Sgt Hamilton openly apologised to Duncanson's grandmother for having to kill her grandson.
However, he maintained, "It was either my life or his."