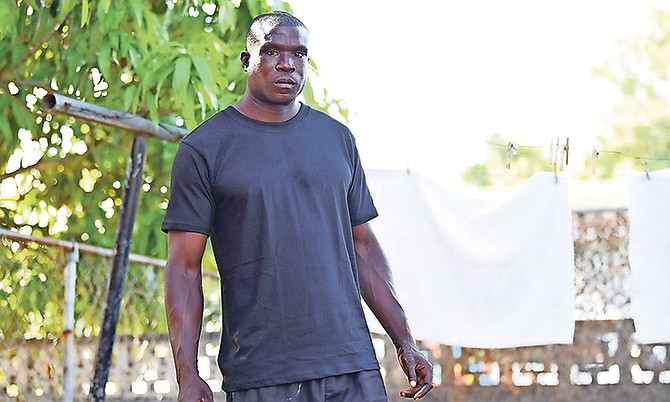 By AVA TURNQUEST
Tribune Chief Reporter
aturnquest@tribunemedia.net
A 28-year-old Bahamas-born man is claiming he was deported to Haiti by immigration officials but sent back, only to spend months in detention.
Wilken Garson's claim contradicts a statement put out by the Ministry of Foreign Affairs, who refuted the allegation in November last year.
Mr Garson was released from the Carmichael Road Detention Centre (CRDC) a week ago, bringing an end to his "mind-boggling" four-month detention at the facility.
"I told them what they gonna do with me?" Mr Garson said, "because I born here, I school here. They put handcuffs on me, put me in the bus, they send me to the detention centre and after that I spend like a month in there, and then they deport me."
He continued: "Haiti refused me because I tell them I didn't have no family in Haiti. Then they send me back Nassau and I end up in the detention centre again. I ask them when they gonna release me, they say soon.
"I keep asking them when they going to release me, they say soon, soon.
"I just was waiting," he added.
Mr Garson was arrested during a traffic stop on October 5, and was held in detention indefinitely despite efforts to produce his documentation by childhood friend and activist Louby Georges.
Mr Georges said he personally took Mr Garson's birth certificate and school records to the Department of Immigration and claimed that he received confirmation from staff on the chartered airline and the CRDC that Mr Garson had been sent to Haiti and returned.
Mr Garson explained: "I talked to immigration (officials) in Haiti, I told them I don't have nowhere to go. I don't have no family there, and I don't know where I'm going. I told them I couldn't stay there because if I stay there and don't know where to go I'm going to die.
"I gave my name, date of birth," Mr Garson continued, "they asked me if I knew someone but I didn't know the name. Then (a Haitian immigration official) got on his phone and made a call. Then he finish talking, and he send another fella to talk to somebody, then he came back and tell them I should go back to Nassau and to send me back on the same flight."
Mr Garson told this newspaper it felt good to be released from detention. 
"In there was terrible, other Haitians was getting deported and they was giving them the name and date of birth wrong, and so Haitians was getting slapped," he claimed. 
The Tribune also received reports last year concerning a botched deportation; however, officials refused comment on the matter, and later denied the incident took place in response to social media reports.
In November, the Ministry of Foreign Affairs called the claim "complete fabrication and without merit," and warned it was a "punishable offence" to spread false information.
The ministry's statement further confirmed the Haitian government has never denied entry to any Haitian nationals "repatriated or deported from the Bahamas who are born to Haitian parents."
Lawyers from Callanders and Co filed a habeas corpus application on behalf of Mr Garson on December 18, 2018.
Attorney Crispin Hall told The Tribune recently that securing his client's release was only the "first step in the pursuit of justice on his behalf".
On behalf of his legal team, Mr Hall said: "The authorities clearly did not utilise the procedures set out in the Immigration Act with respect to his arrest, detention and botched purported deportation/repatriation.
"The fact that he was released is evidence of the unlawfulness of it all," he continued.
"Garson should have never been arrested and detained in the first place. What is mind boggling is that despite numerous judgments handed down by various justices of the Supreme Court and Court of Appeal scolding the authorities for conduct such as this, human rights abuses continue to be the order of the day."
Mr Garson spells his last name with an 's' but on his birth certificate it is spelled "Garcon".
He was born to Haitian parents, both of whom died before he was a teenager.
His mother died when he was seven, while his father traveled to Haiti to treat an illness when he was ten and never returned. It is believed he died in Haiti, according to Mr Garson.
Mr Garson attended Sandilands Primary School, and then L W Young Junior High where he dropped out in grade eight.
His claims renew concerns over the irregularity of the government's policy for people born in the Bahamas who have failed to apply for citizenship, and have no nationality document.
Mr Georges said: "This entire time as an advocate, and also this being very personal to me, we're here trying to ask the main question, we just want answers: how was this even possible?
"He was released (on the night of February 6) but under what circumstances? What was the reason for him being released in the night? In the dark of night this man was released. When we got there to pick him up, we didn't find him out there."
Mr Georges continued: "When I saw him, he told me he was just so scared to stand around and have them think he didn't have a ride or nobody to pick him up, that they might have taken him and put him right back in there, so he took off on foot in the middle of the night in Carmichael. But why?
"Help us to understand that so moving forward we would know ok, if we find people who fall in his category then they should be released, precedent was set on something, what is that something? No new evidence, no new documents were presented on his behalf but you decide to let him go in February, why?"
He added: "The Immigration Department, while we love them, you can't keep dropping the ball like this."
Officials have not responded to The Tribune's request for comment regarding Mr Garson's claims.