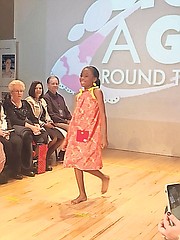 By ALESHA CADET
Tribune Features Reporter
acadet@tribunemedia.net
After months of anticipation, the Bahamas' Little Miss Regency International Tysha Johnson got the opportunity to walk in the Beauty...it's Everywhere showcase which was held during what organisers call New York Fashion Week 2.0.
Founded by Rene' Bionat, Beauty...it's Everywhere is a biannual event that showcases various designers who create fashions for people of all sizes and backgrounds.
The event was held at Speyer Hall in Manhattan on February 8. Fashion enthusiasts from all over the world attended the show. Designers included named Alexandra Nyman, ASHLEYlauren, Blingalicious, Dress a Girl Around the World, Dress Haute, Estella Couture, Jegie Carrera, Karolina Lankocz, Marc DeFang, Opal Heart, Petit Parisians, Pixton Design Group, Queens Go Green, RAD Credentials and Talisha White.
In addition to being a unique opportunity for talented designers, the event also focused on 120 emerging models from several of today's top tier pageantry systems including: Miss Earth United States, Pure International Pageants, and Regency International Pageants.

Tysha Johnson, an 11-year-old student of Kingsway Academy, represented the Bahamas and won the Little Miss Regency International title in July 2018.
As part of her Regency International prize package, she was afforded the opportunity to showcase in New York for Petit Parisians, an Australian-based kids couture line, and Go Green Queens.
"The experience for me was amazing. I got the opportunity to meet so many people from all over the world and model for two awesome designers. I was overwhelmed, knowing that once again I would represent the Bahamas internationally. If designers are impressed with my performance they will request my services again and some day I can earn lots of money. I was happy to get to do something that I love," Tysha told Tribune Woman.
Tysha said she had been well prepared to take on the runway and believes this modelling experience in New York has enhanced her skills when it comes to proper posture, communication and poise – skills she can apply to other aspects of her life.
"This opportunity will open doors to many opportunities. If modelling is what you want to do, this opportunity will allow you to see the value of what you do. It helps you take fashion more seriously and inspire you to work harder. My advice is to pray for supportive parents like mine. Pray that you get a supportive coach like Tyrhonda Knowles-Glinton and the Miss Bahamas Teenager Organisation," said Tysha.
Mrs Knowles-Glinton said the team is extremely proud of Tysha and her parents for making history as one the youngest Bahamian models to walk at an international fashion show in New York.
"As a member of the team and as a proud Bahamian it makes and my heart glad to see our youth ambassadors excel. We volunteer of our time and knowledge without any financial gain or sponsorship, sometimes although it can be hard, I wish I can give more. However, no amount of money can replace the intangible life lessons and skills that we share and receive from Tysha and our titleholders. Tysha (performed) without us being present at New York and I think that is a testament to the skills imparted to her and the love and support of her parents," she said.
Speaking about what's ahead for Tysha in 2019, Mrs Knowles-Glinton said she's going to be busy bee, as she is currently representing her school, Kingsway Academy, as a nominee in the 2019 Primary School Student of the Year Competition. Additionally, as a part of her international prize package, Tysha will be going on a five-day cruise with her pageant sisters in June and will be crowning her successor at both the local and international pageant in July 2019.
"We are certain that Tysha will continue to volunteer and make appearances at a number of upcoming events. We look forward to following and supporting her during the next phase of her life. We are extremely grateful to her parents Tracy and Gwendolyn Johnson for their investment, support and trust in us and Tysha during this past year," said Mrs Knowles-Glinton.