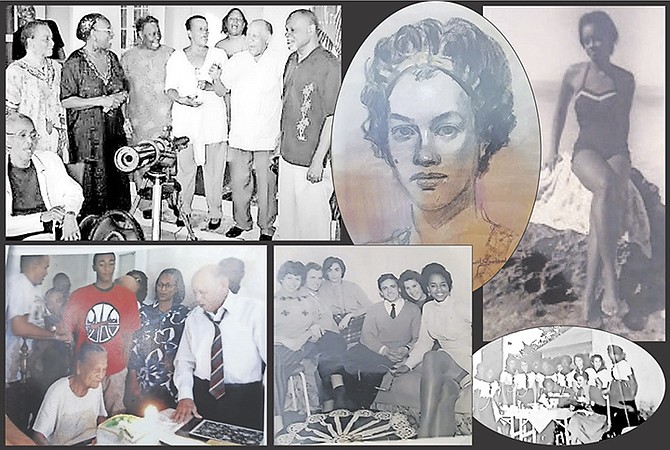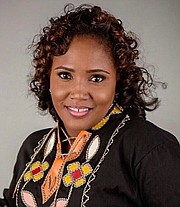 By Felicity Darville
Last week I visited a woman whose age did not dictate her level of poise and persona. Big in personality and kind in heart, Keva Hanna-Lawrence spoke with authority and excellent diction as she shared some of the things she could remember from her days growing up in Acklins with her parents and siblings, including former Governor General Sir Arthur D Hanna.
I picked some jujube fruit from her tree along with her cousin Linelle as she showed me where she'd done some recent yard work herself. Later, as we sat in her living room and she reflected on her life filled with adventure and travel, she found the simpler things the most enjoyable and most importantly: "Family is everything; family is more important than money".
She was born in 1936 in Pompey Bay, Acklins. Pompey Bay beach is said to be the site of one of the largest Lucayan settlements in The Bahamas. She was born to Joseph Albert Hanna and Flora Hanna (nee Heastie). Her mother was a multi-talented woman who ran the household while her father was a lighthouse keeper. For that reason, the family lived on Castle Island for a time and the children assisted their father in the daily chores to keep the lighthouse running.
Arthur, who would later become an astute politician and Governor General from 2006 to 2010, was the eldest of the siblings, followed by Barbara, Yvonne, Keva, Joan, and then Patrick (whose twin died in childbirth). Each one of the children became major contributors to national development, while Patrick found himself making strides in New York City as a police officer before he passed away.
All of the children were born two years apart. It was Flora's strong belief that mothers should be allowed to rest properly after giving birth. She believed in this right so much so that one time when a young lady on the island got pregnant and gave birth before two years' time, she attempted to have the father arrested.
"Pompey Bay was a quiet place growing up; it belonged to us (the Heasties) and it was just our family, my uncles Arnold and Herbert and their families living there," she said.
"I had a lot of love around me. My parents believed in education. We went to school and mama never wanted us to be idle. A lot of people came to my parents for advice. They also liked coming to Pompey Bay because they said it had the sweetest water you could drink. When my father moved to the lighthouse, his wife and children went with him. He never left his family. He made us work, cleaning and sweeping the lighthouse and he believed in teaching his children."
Keva remembered a story about her brother Arthur she couldn't dare share when her parents were alive: "Arthur really loved his sisters and he built a boat for them. He called it a bateau. He took Barbara and Joyce in it. It was shaped like a square and not so airtight, so it started leaking and taking on water in the middle of the harbour. The water there was some of the deepest around the island. Arthur jumped out of the boat and started swimming and pushing the boat with his sisters in it until he pushed the boat ashore. Daddy would have killed him if he knew. I was the only person who saw it, but I never told anyone."
Eventually, Joseph stopped lighthouse keeping and sought a new life for his family; so they travelled to New Providence by boat, going from the serene and quiet island life to the bustling city. Flora's brothers also moved to Nassau and established a foothold of businesses on Robinson Road including Heastie's Tile Factory, a lumber yard and a furniture store.
Keva would eventually go to London for training to become a registered nurse. She spent a number of years at Princess Margaret Hospital but eventually moved to Canada where she continued her nursing practice. A time would come when the government of The Bahamas called on her to help establish a tourism office in Canada; she ended up leading that office and spearheading projects to open up The Bahamas to the Canadian market. She earned a Masters in Business Administration. When she returned home, Keva spent time at the Ministry of Works and then back at the Ministry of Tourism, becoming close with many of the politicians of the day including Brent Symonette and Perry Christie.
During her long years as a nurse, she recalled an incident that sheds light on the effect of crime back then, much less how dire the situation is today: "They called me out around one o'clock in the morning to come to the operating theatre. There was a victim with a gunshot wound to the heart that went right through. There was so much blood on the floor it came nearly to my ankles. My job was making sure the doctor had the right tools and handing them to him. I was also responsible for getting blood from the blood bank for him. The doctor used 40 pints of blood to save this man. Not only did the doctor save this man, but in six days he was able to walk out of the hospital. I don't think that man lived too long, because he was a bad boy who liked to have guns, and we knew him. But the doctor worked really hard to save him."
Keva married Kenneth Lawrence when she returned home and they had one daughter, Leslie who currently lives in South Carolina and is married to Sanford Greene with two sons.
Keva couldn't help but consider family her everything, seeing that she comes from a family line with strong bonds and tradition. Most Bahamians have heard of the Hanna-Heastie-Tynes connection and this bunch hold reunions to keep their bond strong. In 2014 they held a family reunion in Charlotte, North Carolina because John Hanna, the oldest ancestor, arrived in The Bahamas in 1783 after having lived in the Carolinas.
This reunion was hosted by Marilyn Heastie Burrows Gool. The original historians who have kept the family history intact include Garvin Tynes, Kenrick Hanna and Kendrick Williams. Recent historians include Penelope Nottage, George Heastie, Ingrid Tynes, Judith Bell and Elva Gamble. Their carefully planned reunions usually happen through the efforts of Peggy Knowles, Aldin Hanna, Mizie Hanna, Danny Tynes and Barbara Pierre.
The Hanna-Heastie-Tynes clan comes together to celebrate its rich history and that of other families who emanate out of Acklins, Long Cay, and Crooked Island including the Farquharsons, Collies and Rolles. The Bahamas is truly a country of intertwined families and if more families were to dig deeper into their past, they may discover they were related to people they work with, people they live next door to and people who they socialise with, without even knowing. Without this proper understanding of family history, crime can continue to increase because people don't even know they are actually related and killing a family member. My great grandmother, Blanche Hanna was born in Long Cay; therefore, this interview made me realise that I am related to even more Bahamians than I thought.
A part of the 2014 reunion booklet, written by Harlington Hanna Jr reads: "Some of us often joke about the family being the royal family of The Bahamas, and recently discovered some historical facts which may support this supposition. In research documented and reported by several universities, researchers studying the travels of Columbus at the time he first visited the western hemisphere revealed that his primary purpose in the islands of The Bahamas was to find the 'King of the Indians'. He was told the king of the islands was always fully clad in gold. He attempted to take his ships into the area where the king lived but the shallow waters would not allow it, so he finally abandoned The Bahamas and went on to Cuba. Researchers revealed that the shallow waters he could not navigate to reach the king of the Indians was actually the Bight of Acklins. Their further research revealed numerous artifacts in the area where the king lived, which confirmed that at the time of Columbus, this area was the most populated and prosperous area in The Bahamas. Researchers called this area the 'Delectable Bay Complex', which stretches from Delectable Bay in Acklins, south to Jamaica Cay. We call this area Pompey Bay, Acklins, the primary ancestral home of the Hanna, Heastie, Tynes family in The Bahamas."