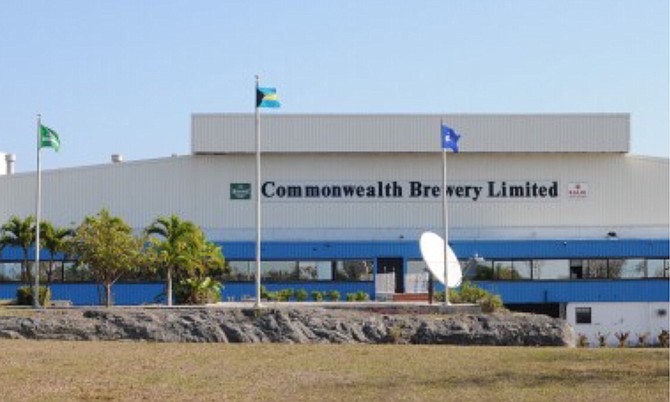 By NATARIO McKENZIE
Tribune Business Reporter
nmckenzie@tribunemedia.net
COMMONWEALTH Brewery yesterday said a tough economy and competitive pressures from cheaper rival beers had forced it to terminate 73 staff within its 700 Wines & Spirits retail unit.
The vertically integrated, BISX-listed brewer, wholesaler and retailer said it had made redundant 53 positions on New Providence, and 20 on Grand Bahama, as it adjusts its business to prevailing market conditions that include reduced consumer spending and fierce competition from its Bahamian Brewery & Beverage Company rival.
Ron Hepburn, Commonwealth Brewery's director of retail, voiced hope that the downsizing would not result in all 73 affected employees departing the business despite having been forced to "streamline" the 200-plus workforce.
He said those impacted would be able to apply for newly-created positions within the company, and told Tribune Business that the move will not impact the operations at any 700 Wines & Spirits outlet. All 56 retail sites will remain open, and Mr Hepburn said some stores were "set to open in the next month or so".
He told Tribune Business: "If you look at our financial position, as reported in the third quarter last year, we have been impacted by competition - mostly from imported beer brands like Bud Lite and the like. At the end of the day this is just the result of different drivers that impacted our overall business that caused us to make a decision to streamline our operations."
Mr Hepburn's statement indicates that the impact of Bahamian Brewery's Budweiser distribution contract coup is now being felt market-wide. Tribune Business reported back in 2015 that the Grand Bahama-based rival had seized the Bahamian distribution contract for Budweiser, and all brands produced by Anheuser-Busch, from Commonwealth Brewery. The move had effectively ended a four-decade reign by Commonwealth Brewery as the Bahamian distributor for the brands produced by the world's largest brewery.
Commonwealth Brewery, which is 25 percent owned by Bahamian shareholders, last year also made a decision to absorb a "significant" cost by choosing to "eat" the 4.5 percentage point value-added tax (VAT) hike across its entire Kalik beer product line.
This was done to maintain Kalik's price competitiveness, and as a goodwill gesture to consumers struggling to adjust to the impact of a 12 percent VAT rate introduced with the 2018-2019 budget.
Mr Hepburn yesterday said that the restructuring exercise was not a negative indication of Commonwealth Brewery's health, but rather "a sign of our commitment to continue and thrive in this dynamic business environment".
He added that a "methodical streamlining decision" was made to simultaneously make certain posts redundant while creating a new role, affording the impacted employees the opportunity to apply for the newly-created positions while being compensated fairly for the loss of their old jobs.

"Keep in in mind that we have job postings. While we made a role redundant we, at the same time, created a job role so the total net loss of staff shouldn't be 73 persons' it should be less," said Mr Hepburn.
While the restructuring was the first major downsizing to affect Commonwealth Brewery since it went public in 2011, Mr Hepburn did not rule out the possibility of a similar exercise in the future.
"Like all businesses it depends on the environment in which you operate. If we become challenged again, then we may have to continue to streamline our operations. It's not that anything is inside the pipeline at this time for the retail division," he added.
Mr Hepburn said that the company had carried out the exercise in accordance with the country's labour laws, with Labour Minister Dion Foulkes confirming that he had been given notice of the redundancies.
"We would have sent a notice to the Minister of Labour as required by law," Mr Hepburn added. "We would have waited the cooling-off period and followed every step that we were supposed to.
"We even had National Insurance here to give a talk on the benefits available to employees. We followed everything we were required to follow, and even added extra on to persons' severance packages. There should be no question whether we treated our employees with dignity and respect. I spoke with the majority of them personally," said Mr Hepburn.
"As with any other business, the dynamics of the consumer spending really would dictate how we need to change. If you looked at our set-up as it was, we had assistant managers and managers reporting to a manager who reported to another manager. You can't sustain that; you have to streamline. We are mindful of the impact on our staff. They are our first priority. We had counsellors there during the course of the exercise."
Commonwealth Brewery, which is 75 percent majority-owned by multinational brewing giant, Heineken, said in its 2018 third quarter results statement that the period had "presented more challenges than usual".
"A shift in consumer spending habits gives rise to sales gravitating towards spirits and more economic brands. This, coupled with the impact of a VAT increase of 4.5 percentage points effective July 1, 2018, has limited the spending power of our consumers and resulted in negative revenue growth of 3.5 percent for the quarter," it said.
Commonwealth Brewery actually incurred a small $3,574 total comprehensive loss for the 2018 third quarter, with its top-line revenue dropping by more than $1m to $30.044m. This was partially offset by a near $3m decline in operating expenses, driven by an almost-$2m fall in raw materials, costs and services costs to $24.185m, while staff costs dropped by some $600,000 to $5.22m.
For the first nine months of 2018, while Commonwealth Brewery's total comprehensive income was down by 56.2 percent year-over-year, standing at $5.361m compared to $12.242m in 2017, the prior year figure was boosted by the $6.3m insurance settlement and expense clearing related to Hurricane Matthew damages from October 2016.
While revenue was ahead 1 percent year-over-year for the first nine months, Commonwealth Brewery's management cautioned: "Continuous changes in consumer spending power, slow economic growth and resultant changes in consumer preferences compels the company to further sharpen its focus on innovation and cost optimisation."