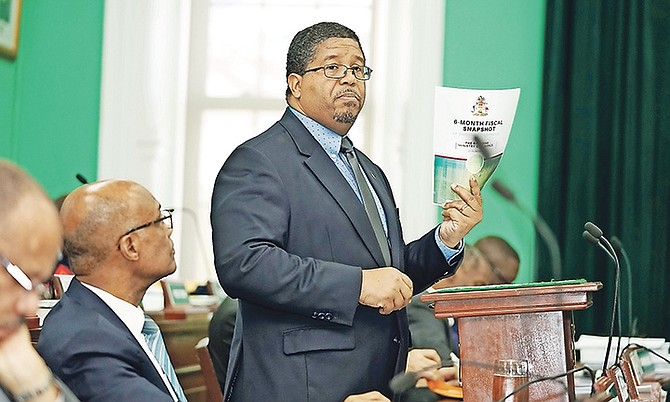 By NEIL HARTNELL
Tribune Business Editor
nhartnell@tribunemedia.net
The deputy prime minister has voiced confidence that the Bahamian financial services industry will not be "materially affected" by the last-minute reforms to escape Europe's "blacklist".
KP Turnquest told Tribune Business that the sector had been consulted on the revisions to the Commercial Entities (Substance Requirements) Act 2018 before they were passed by Parliament with the government not expecting any further concerns to be raised.
"I think it's more clearing up and tidying up, answering some questions and clarifying queries that the [European Union] Code of Conduct Group would have had with respect to the legislation presented, just making some issues clearer," Mr Turnquest said.
"These matters are always fluid and negotiating points. Obviously we want to reduce the opportunity for a reasonable excuse to blacklist us, so we addressed these issues as prudently and urgently as we can. The Code of Conduct Group has been co-operative, and we've had fruitful discussions on the finer points they've raised."
The reforms to the Commercial Entities (Substance Requirements) Act are not connected to the EU's decision, much disputed by the Government, to last week include The Bahamas on a list of 23 nations it deems to pose a "high risk" of financial crime.
Instead, they are related to the threat by another division within the EU to "blacklist" any jurisdiction it considers to be uncooperative in the fight against global tax evasion - especially by multinational corporations.
Mr Turnquest, expressing confidence that The Bahamas has done everything it can to avoid the second EU list, said all the changes to the Commercial Entities (Substance Requirements) Act had been "passed through the industry's stakeholders, and we don't anticipate any new concerns in that regard".
He added: "From our perspective, nothing is going to materially affect in any additional way our business. I think we have certainly met all the requirements we are aware of. They've come back to us with some additional finer points, we've addressed those with these amendments, and believe we should be there."
The Commercial Entities (Substance Requirements) Act is designed to address the EU's demand for all nations to impose "economic substance" regimes that effectively require companies to prove they have a physical presence - and are doing "real business" - in a jurisdiction.
It wants corporate profits, revenues and assets to be taxed in the jurisdictions where they are generated. They are thus aiming to prevent companies, especially multinational corporations, from exploiting gaps in tax types, rates and rules to artificially shift profits from jurisdictions where they are generated to low or 'no tax' jurisdictions, thus lowering their tax bill.
The Bahamian law requires entities operating in this nation to show they have a physical presence by conducting income-generating activities here. Management and control must also reside in this country.
Headquarters operations, together with banking, insurance, fund management, financing and leasing, shipping, distribution or service center operations, and holding companies, are the business activities under the Act that must have a "substantial presence" in The Bahamas through offices and employees and be conducting "real business" activities.