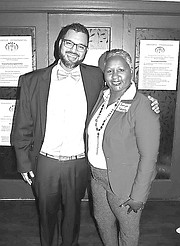 By ALESHA CADET
Tribune Features Reporter
acadet@tribunemedia.net
The Bahamas Sickle Cell Association is ready to get to work in 2019, seeking to attract new volunteers, educate the general public and healthcare professionals, and even have new medical procedures implemented in hospitals.
The association recently hosted its first general meeting and social event of the year at Luciano's of Chicago. The event, designed to win new volunteers, attracted like-minded individuals who are focused on making a positive difference in someone's life. Sonya L Longley, president of the Bahamas Sickle Cell Association (BSCA), said the organisation will be expanding its reach this year so it is able to assist Bahamian sickle cell warriors and help them enjoy good quality of life.
"The volunteer event exposed persons to the many opportunities that are available to start making their own goals to assist others who really need it. Our volunteers are working very hard. They have a passion for what they do. BSCA finds that when a person knows someone who is personally affected by sickle cell disease, empathy and action come to the forefront. Geared towards corporate sponsors, volunteers, family, adults and children living with sickle cell disease, and anyone who wants to help others, this event was completely free to the participants. We want to utilise 'time, talent and treasure' to the benefit of our warriors. We are looking for additional persons to help us move the organisation to the next level," said Ms Longley.
She said the event was a first of its kind and designed to give people on the outside a look at the committees and the projects they have going on. This, she explained, said, will be give interested individuals a better idea of how they can support the association.
"The support that we have garnered over the years was overwhelming. It has emboldened us, and the number of persons we sign up on a daily basis that have sickle cell disease; it is truly unbelievable. It has made us resolute in our commitment to raise awareness about the impact of sickle cell disease and to become the national voice for education and advocacy for persons living with the disease. Our workshops allow us the opportunity to provide individuals living with this disease much needed materials to aid with their living well," said Ms Longley.
Guest speakers at the event included Khalil Braithwaite, manager of Business Development at Leno Corporate Services, one of the BSCA's corporate sponsors.
"He spoke from the viewpoint of love and compassion, giving rather than receiving, because at some point love changes things and we get back in abundance when we give. As the president of the association, I believe that the information given helps volunteers to better understand the prevalence of sickle cell disease in the Bahamas, to examine appropriate factors, such as economic, environmental, social and occupational that may be associated with sickle cell disease. The information gained will support and expand our existing educational information platform for children and adults living with the disease," said Ms Longley.
She said the BSCA has reports from several sickle cell warriors about their experiences with doctors and nurses who are not familiar with the disease as they perhaps should be. This is also a reason why it's important for people to take an active role in managing their own care, she added. To make important decisions, people need to know about sickle cell disease, understand treatment options, and then make the best possible choices for their health.
"Warriors require such items as ports, oxygen tanks, PCA pumps and other items to make their life easier. Additionally, we want to be able to follow the 20-minute protocol which is being used in other Caribbean nations at Princess Margaret Hospital's Accident and Emergency, where it becomes the norm to treat persons in crises within 20 minutes to avoid any other damage being caused to other organs from the blood cells sickling," said Ms Longley.
This year, the BSCA will host a number of events: an advocacy workshop on Saturday, February 23; a tea party on May 26; the BSCA registry and testing launch on June 17; World Sickle Cell Day activities on June 19; the SCD Living Well Conference on June 22; a mini fair and raffle on September 7, and a fun run/walk on September 28.
For more information, please contact info@bahamassicklecell.org or call (242) 436-7130 or 427-4849.