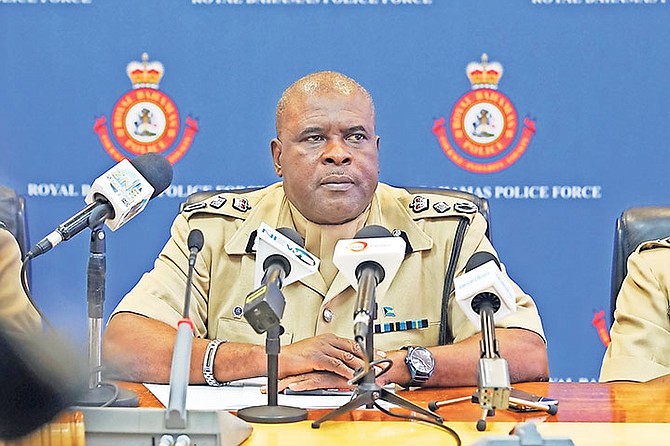 By MORGAN ADDERLEY
Tribune Staff Reporter
madderley@tribunemedia.net
COMMISSIONER of Police Anthony Ferguson yesterday insisted allegations police tortured the father of a missing child will be fully investigated.
He addressed reports that the boy's father, Shavar Bain Sr was beaten in police custody as he defended his officer's procedural handling of the investigation.
Commissioner Ferguson said: "Let me say: if somebody (makes) a claim, it has to be investigated and at the conclusion of the investigation we will be able to make our findings available. 
"All cases, once you make a report, the police will investigate. Obviously…the investigation is not going to conclude when some people think it ought to conclude. We have to be thorough. Everybody has a due process (that) has to be taken. There's not one set of laws for one and one for the other. It's the same principle."
Mr Ferguson spoke to reporters yesterday on the sidelines of an INTERPOL workshop.
No one has been charged in connection with the kidnapping of three-year-old Shavar Bain Jr; however, investigations are ongoing.  
Shavar was taken while he rode a bicycle outside his South Beach Estates home shortly before 6pm Saturday. Police said a witness to the brazen kidnapping stated he saw the toddler taken off his bicycle by two women, who put him in their silver coloured car and sped away from the scene.
Shortly after 7am Sunday - roughly 13 hours later - the child was dropped off outside a Sunrise Washhouse on Fox Hill and Joe Farrington roads. 
Shavar Jr had no visible injuries but was frightened following the ordeal, police said.
Regarding public concern about the matter, Commissioner Ferguson also said it is "difficult" to say whether such an incident will happen again. However, he was firm that police are "ready" to investigate any situation that arises.   
"The police have an active investigation," he said. "Nobody has been charged in connection with it. The investigation is being continued".
Regarding whether police have any suspects yet, the commissioner said: "Not as yet. The investigation is still — it's very early, it's over the weekend, today is Tuesday. Some investigations are closed quickly, some take some time and we believe in doing things thoroughly."
Commissioner Ferguson was also asked to address public concerns over whether this was an isolated incident or if there may be future incidents of kidnapping. 
"There's no way in determining whether or not something else would happen of that nature," he said. "All I can say is that the police is ready…whatever incident it is, the police will investigate it. It's difficult to say whether or not something else like that would happen."
In an interview with the Tribune on Monday, the toddler's mother, Dwaynira Thurston, accused authorities of beating the child's father during the time he was held by police in the hours their son was missing.
"They beat him (and) this is everything that he told me," Ms Thurston said. "He said they put bag on his head and he bite through the first bag because he couldn't breathe. They put another one over his head he say they was suffocating him, chocking him. Say one big CDU officer was sitting on his back. They had him handcuffed to the ground.
"He said he was stomping him in his chest and it started he say because the first inspector hit him in his face… burst his head off," she continued. "Then the officer said put him in the back then they started to beat him."
Speaking about her experience, Ms Thurston said she was not physically harmed by police, but felt violated and degraded having to dress herself in the presence of three male officers who refused to afford her the courtesy of changing from her nightwear to be taken to the South Beach Police station for a second time. 
The police's handling of the kidnapping incident was also called into question, as media inquires about the matter went unanswered for hours, all while the child's photograph went viral on social media. 
This sparked questions about the functionality of the Mandatory Action Rescuing Children Operation (MARCO) Alert, which was re-launched last July and raised concerns about the handling of missing children's reports.
When asked why police did not use this system for this matter, Commissioner Ferguson replied: "I cannot say that it wasn't used. All of the procedures as it pertains to that was followed, as far as I'm aware."
However, National Security Minister Marvin Dames on Sunday said the system was in testing phase. 
Regarding this discrepancy, Commissioner Ferguson said, "Well you know I don't answer for people. As the Commissioner, I should know."