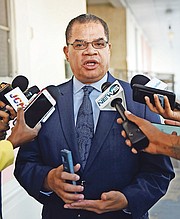 By RICARDO WELLS
Tribune Staff Reporter
rwells@tribunemedia.net
LABOUR Minister Dion Foulkes yesterday expressed concerns over ongoing industrial issues at Morton Salt, telling reporters that operations at the salt plant remains critical to employment on Inagua.
"We are very concerned about the situation at Inagua," he said.
"As you know, there have been several consultation meetings here in New Providence at the Department of Labour. We have settled all the articles in the new industrial agreements except the economic issues related to the increase in salary and I propose increase for their health insurance."
Mr Foulkes encouraged both sides to operate with the bigger picture in mind, noting the historical and financial role the company plays on that island.
"I would like to encourage both sides at Inagua, Inagua is dependent on the operation at Morton Salt. It is a one company town. It has a deep historical root in Mathew Town and I want to encourage both sides.
"We cannot force a settlement in any labour dispute. What we can do as a government and from the Ministry of Labour's point of view and the Department Labour is to encourage both sides to sit down and talk and to give a little bit; both sides, so that we can settle it.
"What we don't want is any disruption in terms of the operation of the plant there, that is not good for the workers or owners of Morton Salt. As a government and the Minister of Labour, I encourage them for both sides to reach a settlement," he said.
"I know that's, to the workers at Inagua, that is something that they are trying to do. I know that management is trying to do it, but there is stand-off. That is all I can say on that issue at this time."
In a statement last month, Morton said it had been meeting with union representatives for almost a year in an effort to reach a new industrial agreement.
It added that its latest offer served both operational and employee needs in order to preserve good jobs.
"We've also worked together with a conciliator to help drive toward resolution. Unfortunately, the parties have not yet reached an agreement," Morton Salt said.
"At Morton Bahamas, we're committed to building productive working relationships with our employees and partners. We've put forth an offer that is fair and serves both operational and employee needs in order to preserve good jobs in Inagua."
"The Morton Bahamas offer, including its offers from the past week, provided for wage increases in each year of the proposed agreement as well as updates to the company's healthcare benefits. In addition, we're offering a larger production incentive that represents a substantial increase compared with the previous bonus structure when the site reaches agreed upon production targets,"
In response, Jennifer Brown, the Bahamas Industrial, Manufacturers and Allied Workers Union (BIMAWU) president, recently expressed disappointment with the company's latest offer, which she described as no improvement over the previous submission.
She added that the union, which represents around 100 line staff, was being pushed to take strike action.
Ms Brown then recently alleged that workers at Morton Bahamas were being "discriminated against, with wages at other plants highly exceeding that of Inagua employees."