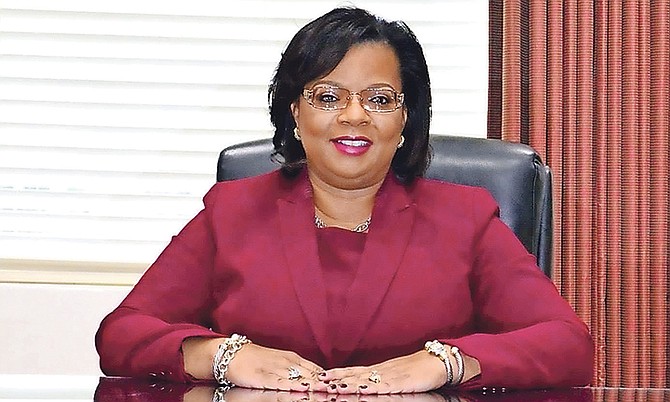 By RASHAD ROLLE
Tribune Staff Reporter
rrolle@tribunemedia.net
DARNELL Osborne, the former chairperson of Bahamas Power and Light, is officially suing the government over Works Minister Desmond Bannister's role in her departure from the board last year and the "defamatory" comments he made about her in the press.
Alfred Sears filed lawsuits on behalf of Ms Osborne and former BPL board directors Nicola Thompson and Roy Dean last week.
The Tribune revealed in December that the former attorney general sent a "letter before action" to Mr Bannister and the government around October, hoping to resolve the conflict and secure a settlement for his clients outside court.
His decision to now sue indicates negotiations with the Office of the Attorney General broke down.
Mr Sears is seeking various damages for Mrs Osborne, according to filed writs obtained yesterday.
These include damages for wrongful dismissal, "damages for misfeasance of public office" by Works Minister Desmond Bannister, "compensatory damages for slander" in connection with statements Mr Bannister told journalists and "aggravated and exemplary damages for slander and misfeasance in public office."
Mr Sears is seeking a declaration that Mr Bannister "usurped and interfered with statutory functions of the Boards of BEC and BPL, at the exclusion of (Mrs Osborne) as chairperson of the boards."
He is seeking a declaration that Mr Bannister's "decision to dismiss or remove (Mrs Osborne) as a director and executive chairman of the boards without a reasonable cause and without affording her procedural fairness was unlawful, ultra vires the Electricity Act 2015 and a breach of the rules of natural justice, procedural fairness and the duty to act reasonably."
He is also seeking a declaration that Mr Bannister "deliberately abused and exceeded his statutory power and authority by unlawfully usurping the functions of the boards, intermeddling in the affairs of the boards behind the back of (Mrs Osborne), issuing specific and general directions to the boards, wrongfully terminating (Mrs Osborne's) appointment and publishing false and retaliatory statements intending to disparage, embarrass and damage (Mrs Osborne's) personal and professional reputation thereby committing misfeasance in public office in relation to (Mrs Osborne)."
Mr Sears is seeking similar declarations on behalf of Ms Thompson and Mr Dean and he wants an injunction restraining Mr Bannister from making further defamatory comments about his clients.
In his letter before action, Mr Sears wrote that he would seek more than $80,000 for Ms Osborne over the defamation issue.
Ms Osborne, Mr Dean and Ms Thompson were appointed to BPL's board on July 1, 2017.
Over time the former board became increasingly dysfunctional, disintegrating into two factions, one involving that trio and the other involving Patrick Rollins, Ferron Bethel and Whitney Heastie.
According to Mr Sears' letter before action, the board fought over the proposed Shell North America Power Purchase Agreement, the ability of BPL CEO Whitney Heastie to hire and fire employees without board approval and the appointment of Patrick Rollins as BPL executive director without board consultation, among other things.
Not long after BPL's board collapsed last year, Mr Bannister criticised the trio. He said Mrs Osborne submitted personal bills for BPL to pay, including make-up bills to the tune of hundreds of dollars. Mrs Osborne has insisted Mr Bannister's claims were false and that the make-up service was for a BPL photo shoot which involved other employees.
Prime Minister Dr Hubert Minnis promised in August he would launch an investigation into the saga that doomed BPL's former board. Five months later, he has failed to launch the investigation.