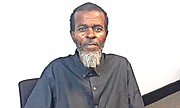 By RASHAD ROLLE
Tribune Staff Reporter
rrolle@tribunemedia.net
IN a letter last month to lawyers for the University of The Bahamas, Wayne Munroe demanded Associate Professor Felix Bethel be reinstated.
Mr Bethel was terminated in January after 45 years on the staff.
Recounting the events that led to the termination, Mr Munroe wrote that UB president Dr Rodney Smith sent Mr Bethel a withdrawal letter on September 19, 2018 which advised that the offer of employment to Mr Bethel for the upcoming academic period was withdrawn and that he would be compensated for his services during the "uncontracted period."
The withdrawal letter said should Mr Bethel wish to continue employment for the academic year, he needed to submit a letter requesting consideration of this.
Mr Bethel's former lawyer, Christina Galanos, subsequently sent the UB president a letter asserting the "withdrawal of the offer is of no effect and your letter's intention to compensate Mr Bethel without more is unlawful." Ms Galanos presented Dr Smith with two options: permit Mr Bethel to finish the academic year pursuant to his contract or "compensate (him) the entire amount owed to him under the contract for the entire academic year."
"Should you choose to go this (latter) route," she said, "Mr Bethel is also seeking to be paid his pension and his gratuity in full."
Two months later in a December 14, 2018 letter, the "university purported to opt to exercise the second option as mentioned," according to Mr Munroe's letter.
"Although the university purported to exercise option two as outlined in this letter, Mr Bethel was given a schedule of lectures for the courses Political Science 313-01 and Political Science 113-03 and the mentioned courses were offered to its students during registration for the Spring 01/2019 semester, with Mr Felix Bethel listed as the lecturer," the letter said, adding Mr Bethel taught three classes in January.
On January 12, 2019 Mr Bethel was approached by two university security officers and was denied entry into the Michael Eldon building and asked to leave campus. Then on January 14 he was approached by seven security guards and once again prohibited from entering the building.
He received his termination letter on January 15, his lawyers said. The termination letter indicated Mr Bethel, pictured below, would not be allowed to remove his personal effects from his office at the university.
Mr Munroe said the payout of Mr Bethel's employment contract based on the termination letter "does not purport to include any payment in lieu of notice."
He said the breakdown of the payout to Mr Bethel did not reference one month's notice pay, severance pay and/or vacation pay. "Consequently," he said, "the university is in breach of Mr Bethel's employment contract and of s.29 of the Employment Act."
"We are further instructed that to date our client has not taken any vacation afforded to him under the 2018/2019 employment contract and would therefore be entitled to compensation for this unused vacation," his letter said.
In addition, Mr Bethel's lawyers said because their client was listed as a professor for the spring semester and was directed by his superiors to teach classes, this indicates he was employed for the semester.
"Consequently Mr Bethel was unfairly terminated by the university," he wrote. "The 'mistake' or 'error' that you refer to in your correspondence does not vitiate the actions and representation of employment made to Mr Bethel."
Mr Munroe's firm gave lawyers for the university seven days to respond to his letter. He told The Tribune on Monday that at the request of the university's lawyers, that period was extended to February 15.