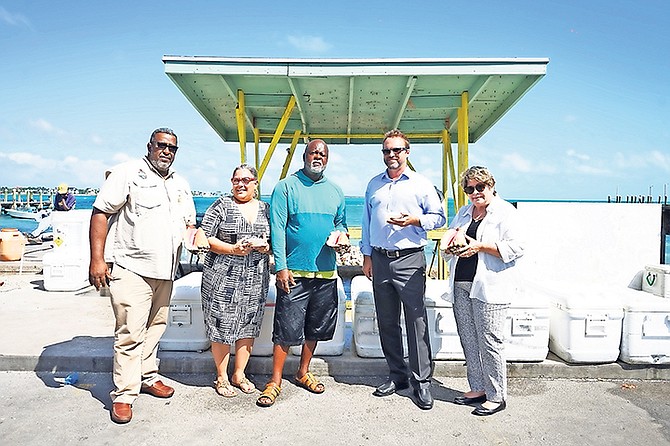 By RIEL MAJOR
THE Bahamas National Trust (BNT) received a $10,000 donation yesterday from the real estate company Engels and Volkers.
The donation will go far to support the updating and strengthening the fisheries regulations in the country, according to Colin Lightbourn, Engels and Volkers, who said the company made the generous donation due to their concern over the sustainability of the country's conch population.
Mr Lightbourn said: "I support what the scientist says…I've always been a supporter of the National Trust and the work that the trust does for the environment. I know the 'conchservation' is a pretty big topic right now and the grouper and the lobster both have seasons were there breathing periods are protected and there is a lot of discussion around the conch.
"I wanted to put the business sector the NGO sector and the fishermen together and do something and bring support for marine conversation and we are in the real estate business and the real thing now is amenities.
"You look at all the properties and the projects and it's all about swimming pools, gyms and restaurants but the biggest amenity that we have is the natural environment the marine environment and so I'm hoping to bring attention."
Gregory Brown, Fishing Association, said at this time the BNT is trying to preserve the conch and to educate fishermen about the importance of conch conservation.
Mr Brown said: "We trying to preserve the (conch) for Bahamians to come. Every tourist that comes to the Bahamas to enjoy conch salad. You have to preserve (the conch) for years to come."