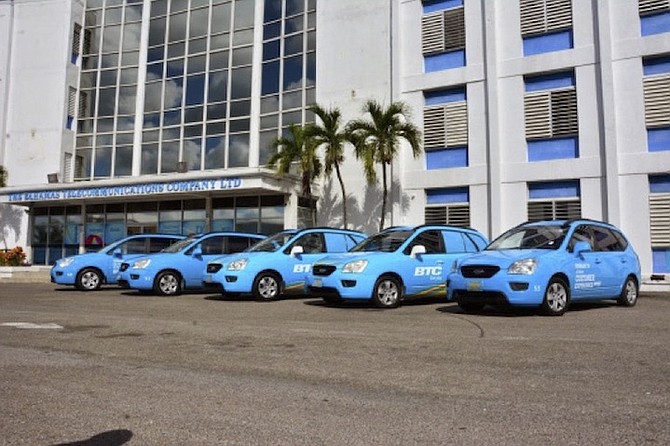 By NEIL HARTNELL
Tribune Business Editor
nhartnell@tribunemedia.net
The Bahamas Telecommunications Company (BTC) last night showed signs of "bottoming out" in its battle with Aliv after its mobile subscriber loss rate was cut by two-thirds in late 2018.
Liberty Latin America (LiLAC), its ultimate parent, unveiled 2018 full-year and final quarter results showing that BTC lost just 4,000 mobile customers during the three months to end-December - a major reduction compared to previous quarters.
While BTC's mobile customer base still shrank to 224,300 subscribers at year-end, the 2018 fourth quarter reduction stood up favourably against the 10,400 and 12,400 customers that it lost in the second and third quarters, respectively.
The figures showed that BTC's subscriber loss rate, known as "attrition", fell by more than two-thirds quarter-over-quarter during the final period of 2018, with LiLAC attributing the improvement to "new value propositions" that will better enable the carrier to withstand Aliv's competitive threat.
BTC's fourth quarter performance also backs recent optimism from its chief executive, Garfield "Garry" Sinclair, who told Tribune Business last month that "Black Friday" last year marked the point where it "drew the line" on further mobile subscriber churn and losses.
"Mobile subscribers declined by 18,000 in the fourth quarter, which was our best performance since the first quarter of 2017," LiLAC said of the group-wide performance by Cable & Wireless Communications (CWC), the subsidiary that holds the controlling BTC interest.
"Jamaica added 17,000 subscribers, but this was more than offset by subscriber losses in Panama and the Bahamas of 31,000 and 4,000, respectively. In both of these markets we launched our 'Moments that Move Us' campaigns and new value propositions towards the end of 2018, which led to better year-over-year results for the fourth quarter and which we believe will drive improved performance over time."
BTC's and Panama's showing resulted in a 10 percent mobile revenue decline for CWC in the 2018 fourth quarter. "The decrease in mobile revenue was primarily attributable to lower subscription revenue in Panama and the Bahamas," LiLAC said, "where continued competition drove decreases in the average number of subscribers and ARPU (revenue) per subscriber."
Figures revealed by LILAC showed that BTC lost 3,000 pre-paid and 1,000 post-paid mobile customers during the final period of 2018, taking total subscriber numbers in both categories to 200,000 and 24,300, respectively.
While BTC and its parent companies will likely be encouraged by the signs that mobile subscriber churn, and defections to Aliv, are starting to bottom out, there is still minimal indication that the carrier is making inroads into Cable Bahamas' TV and Internet market dominance to compensate for loss of its mobile monopoly.
BTC lost another 1,100 fixed-line customers, described as "revenue generating units", during the three months to end-December 2018. Its acquisition of 100 new TV customers, and 200 additional Internet subscribers, only offset a small proportion of the 1,400 fixed-line phone clients that elected to stop using its services.
Mr Sinclair, in a recent interview with Tribune Business, conceded that BTC could not allow its mobile customer base to erode forever. He added that it had to "create some type of inflexion point" this year where it first stopped, then reversed, the bleeding.
Disclosing that he was "seeing some green shoots", and signs that BTC was making progress in achieving this goal, he revealed that "Black Friday" in late November 2018 had seemingly marked the start of its fightback.
BTC has lost around one-third of the mobile market since its monopoly ended in November 2016, and Mr Sinclair told Tribune Business: "We've got to bottom that out this year. We've got to create that key inflexion point in the business; we can't continue to lose lose subscribers. We have to draw a line in the sand."
Suggesting that the "Black Friday" shopping weekend may have marked this point, he said this was when BTC "stopped losing subscribers" and seemingly flipped the "churn" experienced over the past two-plus years.
"We've been net growing and net adding subscribers ever since," Mr Sinclair added. "Sunday was the only day when we suffered a net churn of subscribers, and we got them all back on the Monday.
"That's the kind of KPI (key performance indicator) and top target that we're going to focus on to reassert our market leadership again. A competitive environment is not a bad thing; we just have to do it a bit more effectively than we have been."
Mr Sinclair told Tribune Business that BTC, having long grown accustomed to having the mobile market "all to itself", had immediately become unnerved when Aliv immediately started to eat into its market share - something that has happened to such monopolies all over the world.
He also pledged to "radically attack" Cable Bahamas' internet and TV dominance, having slashed new subscriber waiting time by 80 percent, while admitting that BTC "does not have the luxury of time" in its bid to seize market share and do to its BISX-listed rival what its Aliv affiliate has achieved in the mobile sector.
"We've got to start attacking Cable Bahamas on the fixed-line side," Mr Sinclair told Tribune Business, "which is all about quality of service... We have 10 percent share of TV, 30 percent share of broadband. We're going to have to radically change the market share story there quickly."
Acknowledging that BTC's previous copper-based network infrastructure was "not fit for purpose", he added that the carrier was now moving to generate a return on its multi-million dollar investment in FTTH technology that is being rolled out through New Providence.
"We're going to be executing on our go-to-market strategy in earnest," Mr Sinclair told this newspaper. "Again, we don't have the luxury of time. We have to start monetising that huge investment we've made in FTTH technology now.
"We're ramping up sales now. We're on pace to install revenue generating units (RGUs), fixed-line, data and video, at 200 a day. We're there. When I first got here it took 500 hours to install a customer's service on average. It's down to 100 hours, and in less than four months, the goal is to get it to 48 hours and best in class.
"We're now attacking on the fixed side by going after 40,000 homes passed in eastern New Providence and Lucaya. We're going after them with a robust triple play bundling service, giving them the benefit of top rates by bundling fixed-line, fixed data and video with quality that can't be surpassed by competitors."