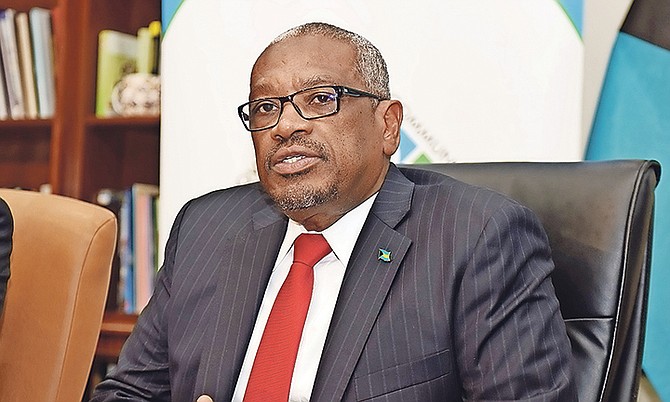 By DENISE MAYCOCK
Tribune Freeport Reporter
dmaycock@tribunemedia.net
PRIME Minister Dr Hubert Minnis said the groundbreaking for a new $4-million Colonial Group International (CGI) Building in Freeport yesterday indicated a growing investor confidence in the revival of Grand Bahama's economy.
The 12,000 sq ft structure will be built on 1.5 acres of prime commercial property on the Mall Drive.
CGI businesses include Atlantic Medical Insurance, Colonial Pensions Ltd., and Security & General Insurance & Nassau Insurance Brokers Agents.
Dr Minnis noted the $4m investment represented CGI's second building in the country. "The same confidence that CGI is showing in moving ahead with its new headquarters in Freeport, is the same confidence that Bahamian and international investors are showing as a part of the revival of Grand Bahama, he told the small gathering.
"This is the very same confidence that we are seeing in the bids to purchase the Grand Lucayan, the temporary purchase of which by the Government of The Bahamas, was absolutely necessary."
Dr Minnis said that after so many long decades of downturn and economic stagnation, the revival of Grand Bahama has begun.

"We have a very long way to go," he said.
"In politics, like in life, you can't please everyone. And if you try to please all the people all the time, you're not doing your job right."
Dr Minnis recalled critics who said his administration's hard work to revitalise Grand Bahama would not be fruitful, adding recent announcements and other possibilities on the horizon, some people were now saying that the revival of Freeport and Grand Bahama was bad news for Nassau.

Dr Minnis believes that there is a lot of room for growth in tourism in general, including cruise ship tourism, that both Freeport and Nassau will greatly benefit from new ports.
He indicated that both cities would also benefit from related facilities, amenities and experiences which help to boost revenue from cruise ship passengers. The cruise lines and international investors, he said, recognise the great potential for both New Providence and Grand Bahama and that is why many companies are willing to invest in The Bahamas in tourism, technology and other sectors.
"New port facilities will mean more jobs and business opportunities for New Providence and Grand Bahama during the construction phases and afterwards," Dr Minnis added.
"The Bahamas, and the ports of Nassau and Freeport in particular, are prime locations to visit for many millions of cruise passengers, who can sail to the Bahamas quickly because of our location to Florida and the United States," he said.
The Prime Minister added: "People keep telling me that I seem to be in Freeport and Grand Bahama all the time. Well, let me tell you: I'm here because I believe in Freeport. I'm here because I believe in Grand Bahama. I'm here all the time to make sure that economic revival of Grand Bahama goes from strength to strength.
"Many people promised plenty times to do plenty things for this island. It was all talk that came to nothing."

Dr Minnis said he will be back to Freeport on Friday for a groundbreaking ceremony for Grand Bahama Power Company's Solar Sunrise plant.

For more, see Business