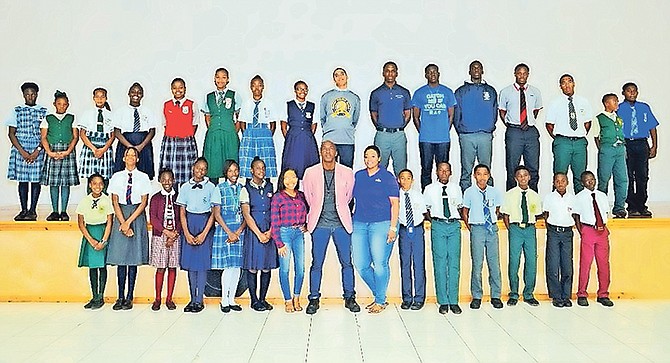 THE Scholar Athlete of The Year Awards committee announced the nominees from the high school and primary schools at the Bahamas Union of Teachers Hall last week Friday.
The fifth annual Marjorie Laing Scholar-Athlete Awards Dinner presented by Grand Bahama Sports and Travel is scheduled for 6pm on Sunday, May 5 at The Bahamas Union of Teachers Hall, Wildcat Avenue.
• Here is the list of nominees:
Primary School Females
Sierra Bethel, Martin Town; Alexa Bullard, Maurice Moore; Myah Knowles, Mary Star; Ciarra Missick, Bartlett Hill; Ciara Poitier, Walter Parker; Anahis Regelado ,Sunland Baptist; Sanaa Roberts, Bishop Michael; A'Aliyah Rolle, Freeport Gospel; Ahmia Rose, Grace Bible Academy; Alexis Smith, Tabernacle Baptist; Giarjanae Strachan,West End and Rispah Thompson, Freeport Primary.
Primary School Males
Calvin Bartlett, Holmes Rock; Denzel Bell, Bishop Michael; Patrick Bethel, Freeport Primary; Ranaje Burrows, Grace Bible Academy; Sylus Fritzgerald, Maurice Moore; Taran Hall, Sunland Baptist; Zaiah Henfield, Martin Town; N'NAkeem Lightbourne, Freeport Gospel; Aiden Miller, Tabernacle Baptist; Jayln Pinder, Grand Bahama Academy; Vincent Pinder, Bartlett Hill and Hakeim Wilkinson,West End.
High School
Females
Jamanthea Hollingsworth, Bishop Michael; Niesha Jennings, Tabernacle Baptist; Lashanda McIntosh, Jack Hayward; Deliah Rigby, Eight-Mile Rock; Tori Seymour, Mary Star; Winter Thomas, St.Georges and Abigail Victor, Sunland Baptist.
High School Males
Travjaun Alleyne, Tabernacle Baptist; Donavon Clarke, Mary Star; Joshua Cornish, Sunland Baptist; Trimaine Ferguson, Jack Hayward; Dwaine Gayle,St.Georges; Braham Najman, Bishop Michael; Bengy Piercilus, Grand Bahama Academy and Latrell Taylor, Eight-Mile Rock.