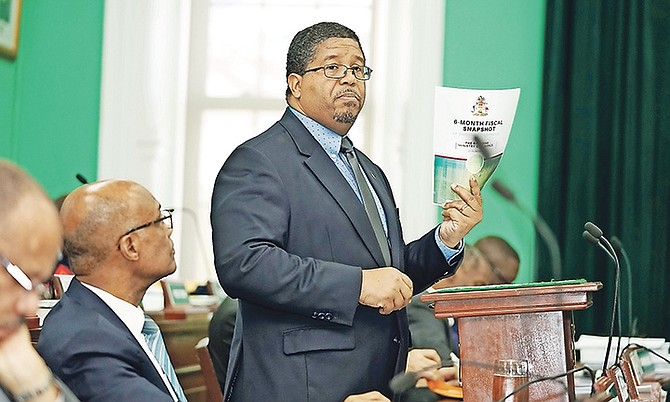 By NEIL HARTNELL
Tribune Business Editor
nhartnell@tribunemedia.net
Deputy Prime Minister K Peter Turnquest last night cautioned that The Bahamas' "hasn't arrived yet" despite Moody's 'outlook' upgrade indicating the Government has regained some of its fiscal credibility.
Mr Turnquest, speaking after the international credit rating agency moved this nation from "negative" to "stable", told Tribune Business that while its action suggested The Bahamas is "on the right path" the fiscal recovery resembles "a marathon rather than a sprint".
The "stable" outlook reflects Moody's expectation that there is unlikely to be a change in The Bahamas' creditworthiness, which at 'Baa3' remains investment grade, over the next six months to two years unless there is a dramatic change in this nation's economic or fiscal circumstance.
While less beneficial than a rating upgrade, given that The Bahamas is still hovering one notch above so-called "junk" status, Moody's decision will nevertheless send a positive message to both the global capital markets and international investors that the country is starting to get on top of its fiscal woes.
The enhanced outlook should help ease The Bahamas' access to international borrowings, and ensure reasonable interest rates, while providing investors - both Bahamian and foreign - with greater confidence over the Government's fiscal management.
Still, Moody's warned that the fiscal deficit would likely enjoy "a more gradual reduction" than the targets set by the Fiscal Responsibility Act, which call for the Government to narrow this to sums equivalent to 1.8 percent and 1 percent of GDP in 2018-2019 and 2019-2020, before achieving a budget surplus of 0.5 percent in 2020-2021.
Mr Turnquest last night said Moody's action effectively started to reverse a trend that has seen the rating agency downgrade The Bahamas' creditworthiness four consecutive times, and maintain a long-standing "negative" outlook on the country's economy.
However, he told Tribune Business that it was no time for "celebration", and warned that any upgrade to The Bahamas' creditworthiness - a measure of this nation's ability to repay its debts and bills - was likely some way off given the fiscal problems of the past decade.
Reiterating that "there's no quick fix", the deputy prime minister said the Minnis administration was "putting in the building blocks" to return the Government's finances to long-term sustainability through a combination of legislation and revenue/spending measures it is executing.
"We all recognise we inherited a very difficult situation and there's no quick fix to that," Mr Turnquest told Tribune Business, "but we're putting in the building blocks for sound and sustainable recovery in our fiscal affairs. That, coupled with the growth in Nassau, Grand Bahama and the Family Islands, should get us to a more stable footing in the very near future.
"Step by step, we're making little improvements, and hopefully this is another indicator we're on the right path and, if we continue to be strong and disciplined in what we're doing, good things will come."
Mr Turnquest said Moody's independent assessment, and its subject expertise and knowledge, meant the improved outlook amounted to a validation of the Minnis administration's fiscal reform efforts to-date.
However, he warned: "We don't celebrate any; we haven't arrived yet, so we have to continue to work. So far so good, but this is not a sprint; it's a marathon. We didn't get here overnight, and are not going to get out of it overnight.
"We have the plan, and as long as we continue to be faithful to it we will be OK, even though there are things that happen and circumstances that are different."
Moody's yesterday indicated that the Government's delivering on its promises, both by passing the Fiscal Responsibility Act and introducing quarterly fiscal reporting, together with its narrowing of the deficit had somewhat restored The Bahamas' fiscal policy credibility and prompted the improved outlook.
"The change in outlook to stable reflects Moody's view that The Bahamas has made important progress in strengthening its fiscal policy framework and transparency through the introduction of fiscal rules and more frequent and in-depth reporting of the fiscal account," the rating agency said yesterday." Additionally, Moody's considers that continued fiscal consolidation will support the stabilisation of government debt metrics.
"The affirmation of The Bahamas' Baa3 ratings considers that, despite increased government debt ratios in recent years, these indicators are in line with those of Baa-rated peers. Additionally, while The Bahamas' credit profile is constrained by its growth potential, high wealth levels enhance the economy's shock absorption capabilities, and measures recently adopted by the authorities will improve The Bahamas' ability to respond to climate-related shocks, a key underlying credit vulnerability."
The latter statement refers to the $100m "contingency" credit line with the Inter-American Development Bank (IDB), along with the renewal of The Bahamas' insurance coverage with the Caribbean Catastrophic Risk Insurance Fund (CCRIF) - steps seen as vital by Moody's to protecting the fiscal consolidation plan against hurricane recovery costs, and leading to the eventual creation of a Disaster Recovery Fund.
"In Moody's view, the Government has made important progress in addressing deficiencies in The Bahamas' fiscal framework. Over the past few years, continued revisions to budgetary outcomes and the revelation of large arrears undermined fiscal policy credibility and effectiveness, which in turn contributed to a deterioration in The Bahamas' fiscal position," it said.
Backing the "significant improvement" in fiscal reporting through the Fiscal Responsibility Act and quarterly reports, Moody's said the Government's policy credibility would receive a further boost by the already-announced shift to accrual-based accounting by 2022.
"Overall, these measures will strengthen the fiscal policy framework, increase accountability and improve public financial management, enhancing the Government's ability to respond to shocks," Moody's added.
"Moody's expects the Government will continue to reduce the fiscal deficit over the coming years. The deficit fell to an estimated 3.3 percent of GDP in 2017-2018 from 5.5 percent in 2016-2017 - the highest level over the past decade - even as the government cleared arrears equivalent to 1.6 percent of GDP........
"Because the Government has yet to build a track record of compliance with the new fiscal rules, Moody's baseline scenario incorporates a more gradual fiscal deficit reduction than the one envisioned by the rules. Nevertheless, under Moody's baseline, government debt ratios would stabilise at a level in line with the median for The Bahamas' Baa-rated peers."
Explaining why it was maintaining the Baa3 rating, the agency said The Bahamas' debt-to-GDP ratio rose to 58 percent in 2017-2018 compared to just 43.9 percent five years earlier - a rise of almost 14 percentage points.
While Moody's expects the Government to achieve its medium term target of a 50 percent debt ratio, it added: "In terms of debt affordability, Moody's expects revenue-enhancing measures implemented by the Government to contribute to a decline in The Bahamas' interest-to-revenue ratio.
"However, at over 12 percent, the interest burden will continue to exceed the Baa category median of 8.5 percent." The Bahamas' projected average annual GDP growth, at 1.7 percent, was also weaker than countries with the same rating.
"Growth is constrained by structural factors including high energy costs, weak ease of doing business and low credit growth," Moody's said. "Even though the Government is taking steps to address these issues, Moody's expects that results will only materialise in the medium term.
"On the other hand, The Bahamas has shown economic resilience to climate-related shocks. Factors supporting this resilience include comparatively high income per capita and the quality of infrastructure in its main economic centre. These elements have allowed The Bahamas to better absorb shocks caused by hurricanes relative to other islands in the Caribbean."
Moody's added that a rating upgrade "would only emerge if The Bahamas experienced a material improvement in its debt metrics, and if efforts to address structural impediments to growth led to stronger economic performance that in turn contributed to fiscal consolidation".
A "material" miss of its fiscal targets, and a hurricane-related shock that threw The Bahamas permanently off its fiscal consolidation path, would result in a downgrade to "junk" status. Moody's also cited "contingent liabilities" from Bank of The Bahamas and other state-owned enterprises as a potential concern.
Mr Turnquest, in a statement issued last night, said: "The recent results are encouraging as they underscore that the strategies employed by this government to stabilise the fiscal situation and strengthen the economic fundamentals are bearing out.
"After four consecutive downgrades and a persistent 'negative' outlook by the rating agency, we are clearly in a much stronger position now. It will continue to take some time for us to get to where we optimally should be, but as a country we are headed in the right direction.
"As we note the milestone, we must continue to build on this progress and walk the steady road back to achieving a higher investment rating classification – which will take some time. Our ultimate success will be determined by our ability to continue boosting economic growth and maintaining fiscal discipline."