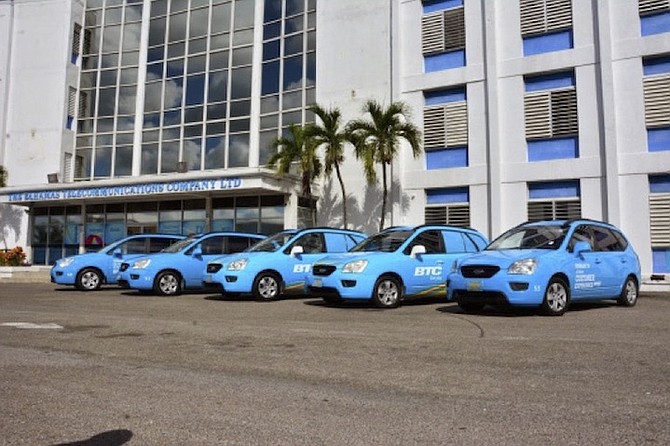 By NEIL HARTNELL
Tribune Business Editor
nhartnell@tribunemedia.net
The Bahamas Telecommunications Company's (BTC) owner yesterday hailed the carrier as "a gift that is going to keep on giving" through increased profitability despite its mobile struggles.
Balan Nair, Liberty Latin America's (LiLAC) chief executive, gave his upbeat assessment of BTC's short-term prospects in a conference call with financial analysts to discuss the company's full-year results, pledging that it was "going to win" in The Bahamas despite losing more than one-third of market share to Aliv.
Asserting that BTC and its other "incumbent" carriers were shedding their "defensive posture", Mr Nair promised that Liberty will be "very aggressive" in The Bahamas and is "changing our culture to fight back" against upstart competitors such as its local mobile rival.
However, his comments - and subsequent events in Nassau - only served to highlight the growing disconnect between BTC's owner and its local employees. For within hours of Mr Nair's assertion that BTC plans to take the offensive, the two trade unions representing its workers held a rally slamming the communications carrier's failure to negotiate new industrial deals.
Taking over the ground floor of BTC's John F Kennedy Drive headquarters, workers applauded and shouted "yes" several times during addresses by both unions' leaders as they hit out at both BTC management and the company's other major shareholder, the Government.
Dino Rolle, the Bahamas Communications and Public Officers Union's (BCPOU) president, said BTC staff were "in dread" of losing their jobs as he accused the carrier's management of "wielding a big stick" that was "damaging workers left, right and centre".
He also blasted the Government, which is a non-controlling shareholder in the company, questioning why it was granting work permits for expatriate workers to "take Bahamian jobs" at BTC. Mr Rolle described the Minnis administration's position as "hiding behind the curtain and peeping out at us while we are catching hell".
The BCPOU received backing from the Bahamas Communications and Public Managers Union's (BCPMU) president, Ricardo Thompson, who pledged to support its stance and called on all Bahamians to "join in solidarity with us".
A BTC spokesperson, contacted by Tribune Business, downplayed the rally as "a lunchtime meeting" and said it did not amount to industrial action. BTC later released a bland statement expressing confidence a new industrial agreement would be secured, while emphasising that the interests of its customers came first.
"BTC has been actively working to complete the negotiations of the terms of a new industrial agreement," the carrier said. "Our singular goal remains to provide the best connectivity and entertainment experiences for our customers, while maintaining a culture of high performance where our team members can thrive.
"We are confident that a new industrial agreement can be reached in the near future for the benefit of all stakeholders involved – especially the customers we serve across The Bahamas."
However, BTC's increasingly tense industrial relations contrasted sharply with the positive outlook expressed by Liberty Latin America, which obtained its controlling equity interest through its 2016 acquisition of the Bahamian carrier's immediate parent, Cable & Wireless Communications (CWC).
Mr Nair yesterday singled out BTC and Panama as territories that Liberty Latin America had to "revitalise" through the introduction of new management teams and reduced workforces, and added that its strategy was "starting to bear fruit".
"I talked previously about revitalising our operations, and bringing in new ideas and leadership into the team," he told financial analysts. "We focused on CWC, and specifically in Panama and The Bahamas, CWC's largest consumer markets.
"We have now replaced the majority of the leadership team and reduced head count, while improving key metrics like trunk rolls and installation times. We have launched our new [promotional] campaign called Moments that Move Us, along with improved customer value propositions. These are all starting to bear fruit."
Tribune Business revealed on Thursday how BTC was showing signs of "bottoming out" in its battle with Aliv after its mobile subscriber loss rate was cut by two-thirds in late 2018. It lost just 4,000 mobile customers during the three months to end-December - a major reduction compared to previous quarters.
While BTC's mobile customer base still shrank to 224,300 subscribers at year-end, the 2018 fourth quarter reduction stood up favourably against the 10,400 and 12,400 customers that it lost in the second and third quarters, respectively.
Mr Nair conceded that CWC, as BTC's immediate parent, had endured "a challenging period in mobile" generally - largely due to Aliv's entry into the Bahamian market in November 2016, together with intensified competition in Panama.
"We're starting to see some positive trends following actions taken towards the end of 2018," he added, suggesting that the worst of BTC's mobile subscriber losses had occurred in the first three quarters and were now largely behind it - as indicated by the fourth period's numbers.
"Needless to say we are the incumbents in both those markets," the Liberty chief said of The Bahamas and Panama, "and traditionally we've had a defensive posture....... We are now changing our culture to fight back.
"This has helped us drive improved performance, and you can see that the fourth quarter was much better year-over-year, especially in December when we generated net adds [of subscribers at CWC] and had our best month in over a year. We've seen this momentum carry through to 2019m, and saw another months of adds to CWC in January."
Asked by analysts whether Liberty Latin America was "beginning to see more stability" in its Bahamian and Panama mobile businesses, Mr Nair pledged that the group was "out to win" in both countries.
"I'll tell you; for the longest time in a lot of the incumbent businesses people were thinking more like an incumbent, and had a defensive posture," he reiterated. "That's changing. We're going to be very aggressive. We're going to win, whether it's Jamaica, Panama, The Bahamas. We are going to win, and you'll see that in our net [subscriber] adds. That's a very good indicator of future improvement."
Turning to BTC specifically, the Liberty chief said: "Let me address The Bahamas. We were the incumbent with 100 percent [mobile] market share. A competitor came in, and obviously you're going to concede some share to a new entrant. That's inevitable.
"I think we announced last quarter, a couple of quarters ago, that we should probably see the bottom of that in 2019 on the top-line. But I'll tell you, on the bottom line that is a gift that is going to keep on giving. We see EBITDA (earnings before interest, taxation, depreciation and amortisation) expansion there for the next few years.
"It's a business that when we inherited it, it was not run the most efficiently for a variety of reasons - not the previous management - but we are making some changes and think we can gain EBITDA points in that business for quite a few years," Mr Nair continued.
"We feel really good about the assets. If you had asked me that question in 2018 I may have given you a different answer.
Mr Nair, though, did not explain where this "EBITDA expansion" will come from. There is still minimal indication that the carrier is making inroads into Cable Bahamas' TV and Internet market dominance to compensate for loss of its mobile monopoly.
BTC lost another 1,100 fixed-line customers, described as "revenue generating units", during the three months to end-December 2018. Its acquisition of 100 new TV customers, and 200 additional Internet subscribers, only offset a small proportion of the 1,400 fixed-line phone clients that elected to stop using its services.
Mr Nair's optimism and fighting talk appears to have made little impression to-date on many BTC staff, though, with his words failing to filter down to the workforce based on the nature and tone of yesterday's union rally.
Mr Rolle, the BCPOU president, told the gathering: "We as employees of this BTC are feeling this atmosphere. Our morale is low, we are discouraged, and we the workers seed our jobs being taken by expatriates every day."
Several attendees repeated the "every day" line and shouted "yes", as Mr Rolle continued: "I say to the Government: The Government cannot continue to hide behind the curtain and peep at us while we are catching eternal hell in this company."
Following worker applause, he added: "Garry [Sinclair, BTC's chief executive] and others came in wielding a big stick, and we are being damaged left, right and centre in this company.
"The workers in IT, the workers in HR, the workers in accounts, the workers in the retail stores, the workers in the contact centres, technicians, mobile, all across this company, we are in dread, concerned about our future and our jobs.
"We see our jobs being taken with regularity. We call on the Government: Why are you continuing to give work permits to foreigners to come in to take Bahamian jobs away?" This was again met with a loud burst of applause and shouts of "yes".
"Our fight goes beyond our long-standing industrial agreement," Mr Rolle added. "While that is a concern for us we need to continue to work. We call on Garry and whoever else Liberty send to come to the table and hammer out new terms and conditions for the employees here at BTC.
"So we will not rest. We will continue until we preserve those things, especially in our industrial agreement, that our forefathers fought so hard for."
Mr Thompson, the BCPMU's president, promised the middle management union would "stand in solidarity" with its line staff counterpart. "We've had members being challenged daily," he added.
"I mean, some of the stories out there, it's unfortunate what's happening in the 21st century in The Bahamas.. We're going to stand and show The Bahamas how we don't allow things to be taken away from us."
Mr Thompson warned BTC against attempting to "unilaterally" impose terms and conditions on its workforce, and said: "Let's sit at the table and do things properly. This company is 100 years old.
"We want you Bahamians to join in solidarity with us. This is all about us as a nation, a sovereign nation."
Mr Rolle shouted: "We are stronger together, we are stronger together." The meeting then finished with clenched fists raised and shouts of "solidarity for ever, solidarity for ever".