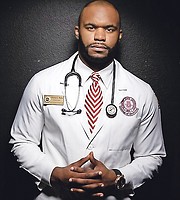 By RICARDO WELLS
Tribune Staff Reporter
rwells@tribunemedia.net
BAHAMIAN athlete turned Rhodes Scholar neurosurgeon Myron Rolle, yesterday condemned claims that he sexually harassed multiple women, including a popular actress.
Dr Rolle called the accusations "acts of bullying, intimidation and retaliation" in a statement to the Miami Herald.
The Florida paper published claims by HBO's 'Insecure' actress Amanda Seales, who accused the former Florida State University football player of inappropriate behaviour.
Dr Rolle said her accusations against him are "absolutely false."
"I understand that in today's world the responsibility falls on the 'accused' to prove themselves innocent, as opposed to one's alleged 'accuser' having to prove their claims before going public. Unfortunately, I have found myself victim to these very circumstances," read his statement.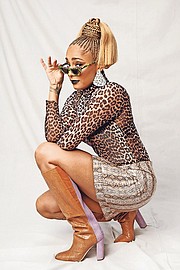 "A blogger/online personality, whom I have never met in person and have only interacted with once via phone, recently claimed that I verbally harassed her during a phone call exchange. She furthered these claims by stating that anonymous sources have come forward and added their accounts to her narrative.
"Let me make myself perfectly clear — these accusations are absolutely false and should be characterised as exactly what they are — acts of bullying, intimidation and retaliation," the statement continued.
"I have been raised to respect women and to also keep my personal affairs private, as that is the respectful thing to do. However, I will not sit idly by and allow someone to engage in intentional character assassination simply because I did not return their advances or wish to engage in a relationship as they may have wanted.
"Accusations of sexual harassment should be taken seriously, but the same should be said for false accusations against someone and the impact those accusations can have in today's digital world. I thank you all for your support and for allowing me the opportunity to stand up for myself and against any actions of bullying, intimidation and retaliation," the statement read.
Ms Seales, who portrays the popular television character Tiffany Dubois on the hit show Insecure, had first disclosed her encounter with Dr Rolle while appearing as guest on "The Breakfast Club" and then her own podcast, "Small Doses" - but did so without naming him.
However, in a later Instagram story she named Rolle as the man at the centre of the controversy.
"I, on my podcast… and on 'The Breakfast Club', spoke about an individual who had approached me on the Internet and we spoke on the phone and they said some troubling things in the conversation that made me take a step back," the actress said in the social media post.
She went on to claim that several other women had similar interactions with Dr Rolle, one in particular who claimed she met Rolle at a hotel where he allegedly answered the door fully nude.
In total, Ms Seales said eight women contacted her with stories of Dr Rolle behaving in a "sexually predatorily way".
She later warned other women to "just be mindful" if approached by the celebrated athlete.
Dr Rolle was one of three Bahamian Rhodes scholars whose images were put on commemorative stamps to mark the country's 40th anniversary independence.
Since retiring from the NFL in 2013, Dr Rolle has hosted his Play-4-Progress initiative in the Bahamas on at least two occasions.
He is presently at Harvard as a medical resident in neurosurgery.