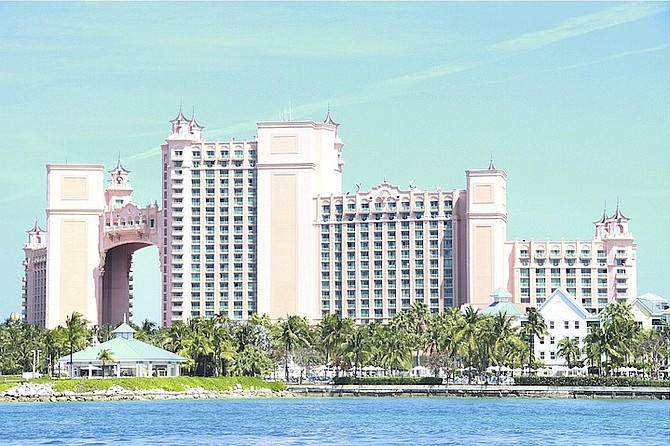 By NEIL HARTNELL
Tribune Business Editor
nhartnell@tribunemedia.net
The potential sale of Atlantis to a New York-based real estate investor, which was backed by Qatar's sovereign wealth fund, has fallen through and will not be revived.
Multiple Tribune Business sources confirmed that staff at the iconic Paradise Island resort have been informed that the deal spearheaded by Ashkenazy Acquisition Corporation and its principal, Ben Ashkenazy, is "no longer on the table" and will not be revived.
This newspaper understands that Ashkenazy, which was backed by Middle Eastern money principally from Qatar, walked away after it uncovered significant "deferred maintenance" issues when it conducted due diligence on Atlantis's financials and real estate assets.
Had it proceeded with the deal, Ashkenazy and its financiers would have been required to spend significantly more in capital investments than they had initially bargained for, altering the economics and potential return on investment (RoI) they were targeting.
As a result, Ashkenazy attempted to renegotiate the purchase price with Brookfield Asset Management, the Toronto-based asset manager that holds $330bn of global real estate and other properties, among which is Atlantis.
Tribune Business was told that Brookfield, a tough negotiator, was completely inflexible on price and refused to budge on any renegotiation, resulting in the potential purchase foundering.
"I think it's dead," one well-placed source, speaking on condition of anonymity, said of the Askenazy deal. "This is Ashkenazy's second attempt to close a deal with them. There was a deal previously that didn't materialise, and this is the second one they attempted. My understanding is that they just didn't close."
They added that Tribune Business's description of why the proposed purchase failed was "pretty accurate", and added: "The last conversation I was involved in, they couldn't reach an agreement. When they got into the weeds deferred maintenance came up, they couldn't reach an agreement and they walked."
Another source, also speaking on condition of anonymity, said Brookfield and Ashkenazy had managed to sign a Letter of Intent, with the latter given a 30-day due diligence period on Atlantis's books and assets.
"They found more and more issues and they walked," they said of Ashkenazy. "I think anybody that looks at that property, the first thing they'll say when they get in the gates and look at it is that there's deferred maintenance today and going into the future, and how much is it going to cost on an annual basis to keep this thing ticking over. It's got to be very expensive. It's a complicated asset, that's for sure."
Tribune Business was told that Ashkenazy, whose investments include New York's Plaza Hotel and Washington D. C.'s Union Station, together with other resort, office and retail assets in major cities throughout the US, had conducted due diligence to the extent it even conducted a scouting mission on Atlantis's local competition - Baha Mar.
"The investment strategy aims to acquire irreplaceable properties in premier locations with the potential for significant increase in cash flow and residual value. Ashkenazy Acquisition's diverse portfolio and in-house team are well-positioned to maximize opportunities throughout the country," Ashkenazy's website states.
"As a privately held company, Ashkenazy Acquisition is flexible and able to respond quickly to new opportunities, allowing for significant increase in the size and quality of holdings. Strong banking relationships and significant discretionary equity allows Ashkenazy Acquisition's finance team to expedite analysis and accelerate the closing process."
Sir Franklyn Wilson, the Arawak Homes chairman, had told Tribune Business early in the New Year that there was "a high possibility" Atlantis may be sold this year and receive a significant injection of investment capital. That may now not happen.
This newspaper was told that another issue facing Brookfield, which is an asset manager of underlying real estate, is that it has had to become much more involved in Atlantis's day-to-day operations than it likes.
Brookfield has also twice refinanced Atlantis' debt, the last transaction occurring in mid-2018, and previously sold the Ocean Club to Len Blavatnik's Access Industries to raise principal to pay down that debt.
Morningstar Credit Ratings, the investment analysis firm which assigned the highest 'triple-A' rating to the most senior financing tranches in Atlantis's last $1.85bn refinancing, revealed in a July 2018 report that the resort "feels strongly" that Baha Mar's emergence will not impact its long-term performance after net operating income jumped 27 percent for the 2018 first quarter.