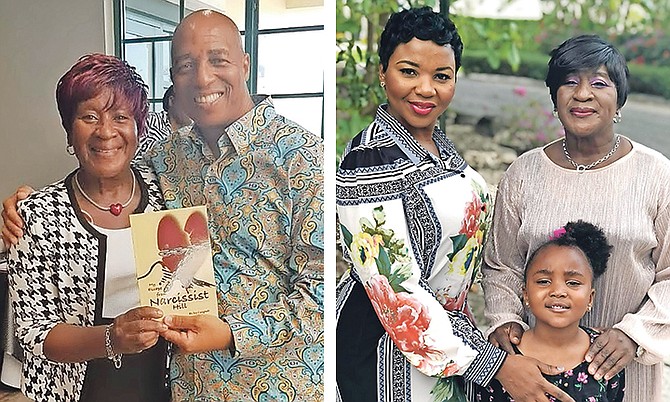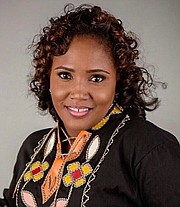 By FELICITY DARVILLE
It's a topic not often discussed in Bahamian relationships, but one that is prevalent and could be wreaking havoc on families – narcissism. Could nipping this potentially destructive personality trait in the bud be key to creating more successful, happy families and relationships? Dr Ivy Campbell hopes so. She has put her efforts into a book, My Escape from Narcissist Hill, which shares the story of a couple whose marriage breaks down on the basis of narcissism. The story is set in a Bahamian scene and the familiarity of scenarios she relates helps to bring home the point that it is happening right here, all the time.
"My purpose for writing the book is to share with young people and adults that there are specific problems that do exist involving intimate relationships in the Bahamas," said Ivy.
"These problems are perpetuated by family dynamics and brought to light during adolescence. Statistics reveal that thousands of relationships are doomed each year because of insecurity, suspicion, brainwashing technique such as gas lighting, mental and physical abuse."
"Narcissism is pervasive in our land. They come from all sectors of society. Statistics indicate that the percentage in any given population is 6.9 percent; of which 75 percent are men and 25 percent are women. Narcissistic Personality Disorder affects many people in our country, more than we realise. Co-dependents are usually the recipients of narcissistic abuse. They go together like horse and carriage, or the hand and glove phenomenon."
A narcissist is defined as a person who has an excessive interest in or admiration of themselves. Traits can include: lack of empathy; exaggerated sense of self-importance; selfishness in relationships; enviousness and suspicion of other people's motivations; a need for excessive praise and attention, being arrogant and judgmental in attitude.
If someone hasn't realised they display co-dependent behaviour, it would be even more difficult for them to ward off potential narcissists from coming into their lives. Some signs of co-dependency include: having difficulty making decisions in a relationship; having difficulty identifying your feelings; having difficulty communicating in a relationship; valuing the approval of others more than valuing yourself; lacking trust in yourself and having poor self esteem.
It is also referred to as "relationship addiction" and can include having a hard time saying "no", having a need to be liked by everyone, confusing love and pity and always feeling the need to take care of people.
According to Ivy, intimate love between a narcissist and co-dependent is strong: "When they meet each other, they are swept up in a dream of love. Neither one would think that they would be ignored, marginalised, or abandoned. Co-dependents are attracted to confident, assertive, arrogant, boastful, strong, domineering, sexy mates. It is usually a narcissist with whom they desire to be, little do they realize that it will be a dysfunctional love affair or chemistry."
Through her own personal experience, Ivy took it on as a calling to help as many people get out of narcissistic relationships and into as many healthy ones as possible.
"I lost my house, I lost my children and I hit rock bottom," Ivy revealed. "Due to stress, I was hospitalised for weeks. I was brainwashed and manipulated. This happens because narcissists are attracted to co-dependents who trust and give of themselves in the name of love. Having experienced this trauma, I had to put on the armour of God and fight spiritually. Faith, forgiveness, and finding myself firstly was task number one."
After 'finding herself', Ivy thought it important to help others free themselves from the chains and the confines of this destructive type of relationship. She is a certified volunteer of the Crisis Centre and in January 2017, she earned her PhD in Covenant Leadership. In May of 2017, she completed a course in Vienna, Austria led by pioneer doctor Sam Vaknin in Cold Therapy Treatment for Narcissists. These strategies were borrowed from child psychology treatment modalities used to deal with Post Traumatic Stress Disorder. The adult patient successfully tackles this second round of hurt and thus resolves early childhood conflicts and achieves closure.
Ivy says of her PhD: "I became interested in the area of personality disorders five years ago, due to the many encounters with deviant personalities in students, families and intimate relationships. This course of Christian Education, led me to research extensively (by dissertation), the causes of personality disorders and to show the connectivity to domestic abuse."
She obtained her Bachelor's and Master's degree in Education from the University of Miami in Florida, and her Teacher's Certification from Bahamas Teachers College back in 1974. It was at this school that the principal, "Ms Junita Butler, daughter of the first black Governor General of the Bahamas, and Mr Eris Moncur, who ruled the school with strict discipline, imparted such nuggets as education, punctuality, and honesty along with interpersonal skills of unity and togetherness".
Prior to her tertiary education, Ivy graduated from Highbury High with schoolmates like Melvin Seymour, former Family Island Commissioner; Rodney Bain, retired mathematics professor of the University of The Bahamas; and Canon Crosely Watkins, the present rector of St Matthews parish. She is a descendant of Exuma (on her father's side) and Long Island (on her mother's side). She is the eldest of twelve brothers and sisters. She grew up in eastern New Providence, mainly on Claridge Road. Having come from a Catholic background, she attended Sacred Heart School on Shirley Street before moving into the Public School System. Since November 2014, she has served as the Supervisor of the Elisabeth Estates Public Library.
Through her involvement with the Special Olympics, Ivy expanded her knowledge by attending local and international courses to help her in her quest to help persons with disabilities and mental illnesses. Having done several marathons during her lifetime, she enjoys exercising, as well as cooking and reading. She currently attends Bahamas Harvest Church where she serves in Family Life and is one of the church's Professional Partners in the mental health department, with a focus on narcissism.
"A Bahamian narcissist usually treats his co-dependent mate in ways that she may find that she is continuously stressed, that she is made to feel inadequate, crazy, dumb, lousy, and problematic," she points out.
"In spite of her giving, pleasing, fixing, doing without; she cannot satisfy her narcissistic mate because he wants more and more of her time, her energy, her resources, and most of all, he does not care about her needs. A Bahamian narcissist is selfish, greedy, distant, promiscuous and most of all he tracks her movement and finds faults with her friends and family members. He eventually isolates her from her loved ones because his ultimate aim is to use brainwashing tactics like gas lighting so that she would depend on him heavily. Additionally, he will make his mate feel that she needs him more than ever because without him, she is 'crazy and unfit'. The Bahamian society, like others around the world, admires narcissistic personalities like some politicians, celebrities, professionals, principals of schools or the musician type, and so on."
With her personal experience, educational background and awareness of the prevalence of narcissism in The Bahamas, Ivy released her first book this month at Bahamas Harvest church with the blessing of Pastor Mario Moxey. The book is divided into two parts. Part one is about "episodes of an unhealthy relationship between two hurting individuals". They both are part and parcel of painful family dynamics; mainly experienced during childhood rearing. The young girl, Tammy, a person deficient of self love, a codependent, has suffered under narcissistic parents who neglected her emotionally. Therefore, she longed to find real love, respect, and care during adolescence. As a result, she falls deeply in love with a want-to- be-politician who promises her the world on a silver platter. After getting into her life and sealing the marriage vows, he changes abruptly and uses brainwashing techniques like in order to change her reality. A timid young woman, she experiences a rocky relationship in spite of her going out on the limb to make things work. Eventually, she becomes very ill. Part two is about healing after narcissistic abuse from a spiritual perspective. Following the steps of Jesus Christ, Ivy shows how "the greatest teacher of all time will awaken abused individuals - men and women to seek faith and forgiveness".
"Coming to the realization that we are wonderfully made will motivate us to step into our purpose; that is our gifts, our talents, and our passion," Ivy said.
"We must come to terms that how we get there is a mystery sometimes, but we do get there in spite of rough seas. Jeremiah 29:11 says 'I have a plan for you, to prosper you and not to harm you'."
"It is my hope that parents and caregivers will realise childhood is the most crucial stage of any human being. Also, that it is the point at which our personality is set, and that personality lasts for a lifetime. If it is a secure attachment, it will help individuals to participate adequately and normally in society and thus treat their significant others with love, care and respect during adolescence. On the other hand, parents must be aware that insecure attachment like slaps, kicks, parental absence, and inconsistencies are reasons why children will feel unloved and will look for ways to attain it elsewhere. Examples: the gang culture, high rate of recidivism, pornography, behavioral problems in schools and the community at large. They do this because the pain and shame during childhood is unbearable and they cover it up through defense mechanisms."
To reach out to Dr Ivy Campbell or purchase a copy of "My Escape from Narcissist Hill", email her at: drivycsmpbell4@gmail.com. One can also visit her at the Elisabeth Estates Library for a copy ($15), Mondays through Saturdays.