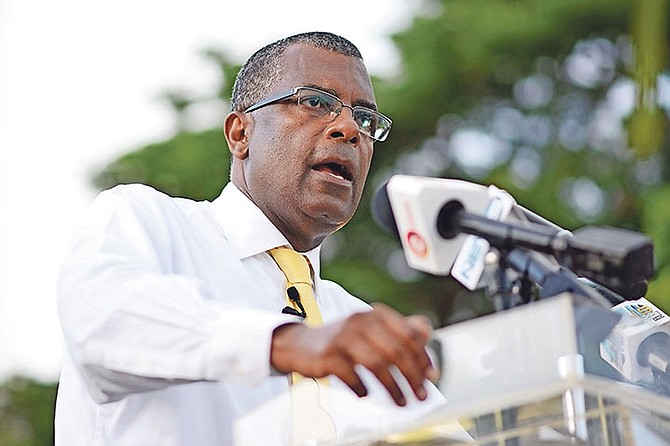 By RICARDO WELLS
Tribune Staff Reporter
rwells@tribunemedia.net
PROGRESSIVE Liberal Party chairman Fred Mitchell blasted Prime Minister Dr Hubert Minnis for his attacks on the opposition party in Grand Bahama last week.
In a statement yesterday, Mr Mitchell branded Dr Minnis' comments to supporters in Grand Bahama as a "sad menu of failure".
He insisted Dr Minnis opted to attack the PLP to deflect attention away from the fact that many of the plans he was presenting were initiated by the former Christie administration. "All the folk in Grand Bahama know, except those few FNM souls that showed up to the PM's rally, that the FNM has done nothing since they came to power which has staunched the economic decline," Mr Mitchell said. "Everyone knows the FNM has wrecked Grand Bahama's economy. Go to the dock in Freeport every Friday and see people packing up and moving to Nassau."
Mr Mitchell added: "It is one thing for the prime minister to tell the untruths that he spoke in Freeport but it is quite another thing for otherwise sensible people to get up and clap for nonsense. Every project that he announced (recently) was a PLP project: Smith's Point Road, Fishing Hole Road and the cruise port. All were started by the PLP.
"As usual the prime minister came with old story time, with a set of personal attacks on the leader of the PLP. But while he was spinning his stories about corruption, he forgot the contract given to his minister for immigration to build the Post Office in his building.
"He forgot that two ministers stand judicially condemned for their conduct in the Frank Smith case," he said.
Mr Mitchell added: "We do not need to hear the idle chatter that the prime minister spun this night. Come again prime minister. Take another tack. You should count your reign in days. No second term for you."
Last Friday, Dr Minnis declared Grand Bahama was "at the beginning of wonderful new things".
Pointing to the PLP's past failures on the island, Dr Minnis said: "The PLP promised you plenty things, but they let you down, over and over and over again. They would have failed you again."
Alluding to an ongoing court case involving a former Grand Bahama official, he said: "Those who used to be in charge and thought they were in charge, are in charge no more.
"Of course, the PLPs still believe they are above the law. The only rule they like is to rule you and your family."
Dr Minnis also said the PLP was the very definition of corruption.