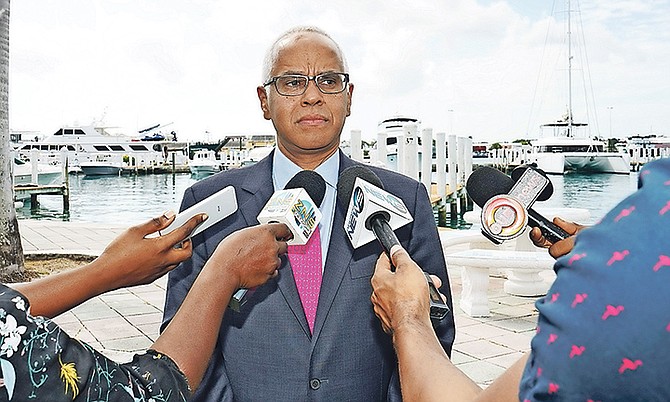 By RICARDO WELLS 
Tribune Staff Reporter
rwells@tribunemedia.net
TOURISM Minister Dionisio D'Aguilar says he expects some level of "push back" from local officials to a recent US travel advisory, as he expressed dismay over the alert's timing yesterday.
Addressing the warning outside of Cabinet, Mr D'Aguilar said local officials believed US Embassy personnel would regard decreases in local crime as a step in the right direction.
The Freetown MP, in noting his overall shock at issuance of the alert, said the use of exaggerated verbiage and the alignment of the Bahamas with countries like Mexico and Jamaica did give even more cause for concern.
The "Level Two: Exercise Increased Caution" alert, which was released on Monday, warned US citizens that violent crime such as burglaries, armed robberies, and sexual assault were common in tourist areas in New Providence. The alert noted the vast majority of crimes occurred in the capital and Grand Bahama, but added the Family Islands were not crime-free.
As in previous crime warnings, the alert also prohibited US government personnel from visiting the Sand Trap area in Nassau due to crime and criticised activities involving commercial recreational watercraft, including water tours, stating that they were not consistently regulated.
"Watercraft are often not maintained, and many companies do not have safety certifications to operate in the Bahamas. Jet Ski operators have been known to commit sexual assaults against tourists. As a result, US government personnel are not permitted to use Jet Ski rentals on New Providence and Paradise Islands," the alert noted.
"If you decide to travel to the Bahamas: exercise caution in the area known as 'Over-the-Hill' (south of Shirley Street) and the Fish Fry at Arawak Cay in Nassau, especially at night. Do not answer your door at your hotel/residence unless you know who it is. Do not physically resist any robbery attempt."
In response yesterday Mr D'Aguilar said: "We are a little surprised by that; a little dismayed by that because our crime statistics have decreased so substantially, we would have thought that it would have been a better rating.
"I mean to lump us in the same category as Mexico and Jamaica; to us seems a little harsh.
"And we thought a lot of the verbiage in the advisory was an exaggeration," he added.
He continued: "The Ministry of National Security is looking to see exactly how many foreign visitors experienced some sort of crime activity or crime incident.
"We feel that it is negligible so we are going to push back a little bit.
"We are now dialoguing with the US Embassy and we are going to push back," he said.
"We think that even though there may be areas, pockets of crime; really the affect on foreign visitors to a country is so negligible that it doesn't warrant the very strong language that they said in that crime advisory. So, conversations will continue."
When asked to further clarify what he meant by "push back," Mr D'Aguilar said it was important for the Bahamas to periodically update entities like the US Embassy on the work being done to address crime.
"I think it is important for us to continue to present our case," he said. "Obviously this takes time, and we obviously did not convince them that there were improvements. But the statistics, numbers speak for themselves; there was a decrease in crime."
According to police statistics, overall crime fell by eight percent in 2018 compared to the previous year.
Mr D'Aguilar said officials believe crimes against visitors are "negligible," but admitted the Bahamas is not a perfect place and more must be done to correct the country's problems.
"I mean it's our belief that it was negligible and so the Ministry of National Security is going through its data to see exactly how many or how much of the crime was directed at foreign visitors.
"It is our belief it was negligible," he said. "But I must say, we do have some problems. You know it's not all good and rosy. There are things that we can correct and there was some truth to what was said in the travel advisory as it relates to watercraft and Jet Skis, and the minister of transport will be all over that."
Mr D'Aguilar added: "…We are working to correct some of the deficiencies that they did point out. I mean, we are not perfect. It is not a perfect place. We just think that the language was very strong."
Nonetheless, he said he didn't foresee the warning having a tremendous effect on the current boom in tourism numbers, telling reporters yesterday the release of  a similar report last year didn't slow numbers.
"Well, it is exactly the same travel advisory as last year and the number of stop-over visitors to our country increased by 17 percent," Mr D'Aguilar remarked.