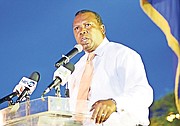 THE Progressive Liberal Party has ended its boycott of Parliament and its members will return to the House of Assembly today.
According to a statement from South Andros MP Picewell Forbes, leader of opposition business in Parliament, the PLP is satisfied that its point regarding the boycott has been "sufficiently made" regarding the conduct of the government, in particular Cabinet ministers Marvin Dames, Duane Sands and Carl Bethel in connection with the Frank Smith trial. He noted PLP Leader Philip Davis has written a letter to both the secretaries general of the Commonwealth and CARICOM, "formally bringing this egregious issue to the attention" of the international community.
Mr Dames, minister of national security, and Dr Sands, minister of health, were criticised by Chief Magistrate Joyann Ferguson-Pratt as she gave her reasons for acquitting former PLP MP Frank Smith of bribery and extortion charges on February 1. She criticised the ministers for the "egregious" way in which they interacted with complainant Barbara Hanna prior to a police investigation into her claims, charging that their conduct gave the appearance of a "political flavour to a curious bystander."
"The opposition is fully committed to holding the government's feet to the fire in and out of Parliament on this critical constitutional issue and any other issue of national import," Mr Forbes' statement noted.
The PLP began its boycott of Parliament on Wednesday, February 13, when the four members walked out of the House of Assembly in protest of "tyrannical attitudes" in government determined to use prosecutorial powers of the Crown to target PLPs. Later that week, PLP senators also walked out of the upper chamber in protest.