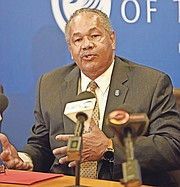 By MORGAN ADDERLEY
Tribune Staff Reporter
madderley@tribunemedia.net
UNIVERSITY of the Bahamas officials said increased enrollment, students seeking deferred payment plans and teachers submitting grades late contributed to long registration lines and mass confusion at the institution over the past two days.
As a result, officials have extended the deadline for the payment of tuition and fees to Monday at 4pm.
At a press conference yesterday, it was also announced that student services offices will be open on Saturday and Sunday from 9am to 5pm for students to complete registration. Additional paperwork that is required for deferred payment has also been suspended, officials said.
The situation drew widespread criticism from the student population and general public.
With the UB spring semester beginning Monday, hundreds of irate students stalked across campus yesterday, with many of them expressing exasperation at waiting in line for more than nine hours in some cases. Dozens of students also criticised the disorganisation of the queues and the overall process.
UB President Dr Rodney Smith explained to reporters that although the university has recently launched a new online registration system, the majority of the roughly 500 students on campus yesterday were either there seeking the institution's deferred payment plan or were being processed for scholarships.
Dr Smith said while the new system will be adjusted to account for these types of issues, he noted the university "cannot guarantee" that such lengthy lines will not occur in the future.
"Recently, (UB) launched a new online registration system called Banner that is designed to bring about increased efficiency in student processing, chief among which are registration and online bill payment," Dr Smith said.
Dr Smith added that the new system became operational last summer, but a "number of circumstances" are contributing to the lines.
"This semester, there appears to have been an increase in the number of students seeking our deferred payment plan," he continued.
Dr Smith said these students account for the "majority" of the students standing in lines yesterday. He added that a large number of students were also being processed for the Ministry of Education's bursary and teacher-education grants.
Regarding the scholarships, Dr Smith noted the Ministry of Education is not at fault for the delays. He said this past semester was the first time an online submission of grades was used, and "some faculty members…submitted grades late."
"The system is designed so that once the grades are in, the calculations and tabulations take place within the Banner system that would help to assess where they are within their scholarships," Dr Smith said. "And so because the grades were not submitted on time, that caused some of the transcripts to not be ready, which slowed down the process as well."
Provost Linda Davis yesterday admitted that there have been "challenges" but vowed that the institution is making adjustments.
"We certainly are committed to doing everything within our power to address the shortcomings of the process and to move beyond to make sure that it is a healthy environment and an experience which students can boast about," Dr Davis said.
"The truth of the matter is that we have had challenges. But that we are really taking the bull by the horns and are making some adjustments to ensure that the students get through the weekend and into next week with the beginning of classes."
When asked if any effort will be made to digitise the deferred payment and scholarship processes, Dr Smith noted it can take a couple years for various modules to become "activated".
"We have to make adjustments to the system that will also cover deferred payments," he said. "We have had, beginning, I think, in the fall semester, more students seeking deferred payments than in previous years. Other factors (include)..in previous years we've had an average of about 200 students coming in the spring semester…this semester we have 460.
"I think the system will be adjusted as we grow. But we have to almost go through these learning processes in order to know how to and where to make these adjustments."
When asked if students can look forward to seeing shorter lines in the upcoming fall semester, the president replied: "You should look forward to seeing no lines. That's what we're looking forward to."
He added UB's new system is the same one used by tertiary institutions in over 40 countries — noting UB has the "most advanced" system available.
However, he could not guarantee that extreme lines will not occur in the future.
"We cannot guarantee anything. Because as we move and implement the system and implement modules, we'll run into other kinds of issues. The main issue we ran into this week was not that the system could not handle it.
"The main issue was that we had so many deferred payment students online without the required documentation. And then we also had students who were online, who were not making the online payments because their system came back to say that their cards were declined …whereas they needed to notify their banks to increase the amount that they could actually use to pay their tuition.
"These are not issues related to Banner at all. But as we go through the process we could communicate better with students, remind them what they needed to do, as we move forward through this implementation."