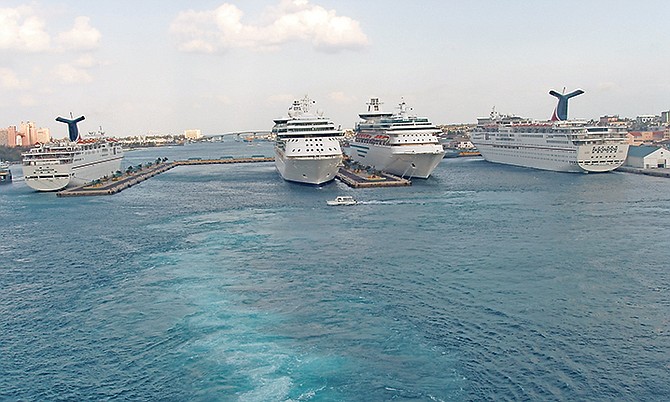 By NEIL HARTNELL
Tribune Business Editor
nhartnell@tribunemedia.net
A rival Nassau port bidder yesterday slammed the major cruise lines, saying "there's no truth at all" to assertions that its plans will impede ship movements around Prince George Wharf.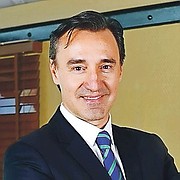 Emre Sayin, pictured, Global Ports Holding's chief executive, told Tribune Business it had examined "five different models", and conducted extensive studies and simulations, to ensure its berth expansion ambitions would not restrict or interfere with the "turning basin" for incoming and departing cruise ships.
He questioned how the four cruise lines, which have allied with the Bahamian investor group previously known as Cultural Village (Bahamas) to form the Port of Nassau Partnership bid, could make such claims about its proposal when there is "no way on Earth they know" of its contents.
Mr Sayin said Global Ports Holding's $250m offer had "come a long way" from its initial unsolicited proposal to the Government, adding that its significant industry experience - it manages 15 cruise ports in different countries - meant it understood the importance of turning basins and will not make a mistake in this area.
He added that increasing Nassau's capacity to eight berths, with the ability to accommodate ever-larger cruise ships, was "a no-brainer" when it came to transforming Prince George Wharf from a "convenience destination" into one where passengers wanted to repeatedly return to.
The Global Ports chief argued that its bid was the "most innovative" of the three submitted to the Government, describing it as "game changing" with the necessary "vision" to overhaul the visitor experience of Nassau's cruise port and fully integrate it with Bay Street and the rest of downtown Nassau.
Defending the UK-listed, Turkish-headquartered port operator's proposal from the cruise lines' onslaught, Mr Sayin told Tribune Business: "Even though Nassau has one of the lowest customer satisfaction scores and disembarkation rates, the port is still receiving 3.5m passengers annually.
"Increasing the berthing capacity to eight ships, and making sure the bigger ships come to the port, is a no-brainer. I'm sure there will be more demand for the port. We want to transform this into a destination that is attractive to people, that people want to come back to and see, and that it is not a convenience destination convenient for the cruise lines."
Mr Sayin hit back at claims, made on behalf of the four cruise lines involved with the rival Port of Nassau Partnership bid, that Global Ports Holding's berth expansion plans could potentially prevent larger cruise ships from coming to Prince George Wharf because they would interfere with the vessel turning basin.
This is the area that allows cruise ships to turn around when entering and exiting Nassau's port, and Giora Israel, Carnival's senior vice-president of global port and destination development, alleged that Global Ports Holding would "infringe" upon it and "create instability for large ships" through plans to add two new berths.
"The area that this bidder is proposing their pier expansion on, their plans partly overlap the turning basin in the harbour, possibly preventing the arrival of large ships to Nassau," Mr Israel said. "And if that isn't enough, the area they are designating for the additional berths is outside the area clearly stipulated by the Government's request for proposal."
This, though, was refuted by Mr Sayin, with Global Ports Holding's plan intended to accommodate both the increasing number and size of cruise ships and enable Nassau to handle up to an extra 12,000 passengers daily.
Emphasising that his company's offer was based on extensive research, he told Tribune Business of the berth expansion: "We have looked at five different models, and done extensive studies and simulations with real captains of experience. We have also spoken to a number of people in the port.
"No, I don't see any way in which we would increase the capacity in a way that is not acceptable to all stakeholders including the cruise lines, the Government and the people of Nassau, who will welcome more passengers and an improved overall experience.
"This is what it's all about: Transforming the destination. It's not just about the money, but there will be more demand when you invest the amount of money we propose. There's data, and there are studies and simulations, behind this."
Striking back directly, Mr Sayin continued: "I don't know what they've [the cruise lines] based that claim on as they've not seen our proposal. Our proposal has come a long way, and there's no way on earth they even know what's in it.
"We operate 15 cruise ports, numerous commercial ports, which have a turning basin. This idea is not new to us. Why infringe on the turning basin? That would be shooting ourselves in the foot. There's no truth to that at all.
"We had five different models, and conducted trials to choose the the one that creates minimal disturbance and minimal environmental impact. We have also taken that into account. It is extremely important."
The Port of Nassau Partnership's statements have repeatedly emphasised that the cruise lines' involvement gives their bid the edge because only the industry - the cruise port's customer - knows precisely what infrastructure upgrades and other enhancements are needed to turn it into an attractive destination for passengers.
It has pointed out that the four companies involved - Carnival, Royal Caribbean, Disney and Norwegian - are responsible for supplying 90 percent of Nassau's annual cruise visitors.
And the Port of Nassau Partnership has also argued that its rivals for offering "unnecessary" extras that will undermine Prince George Wharf's "long-term viability".
"The Port of Nassau Partnership is confident that it can develop an efficient port with $125m, and fears that competing bids - of $250m and $225m – which are partly unnecessary and cover areas and issues not addressed in the RFP, will likely negatively impact the long-term viability of the port," it said in a statement.
Those values are the base investment sums projected by Global Ports Holding and Nassau Port Partners, respectively. However, several observers have suggested that the Port of Nassau Partnership's statements are designed to distract attention from the fact that its proposed investment is half that of its competitors.
They have also pointed out that the $125m pales into insignificance with the sums the cruise lines are pumping into their Bahamian private islands. Royal Caribbean is investing $250m alone in upgrading Coco Cay; Disney has pledged to spend $350-$400m at Lighthouse Point; and Mediterranean Shipping Company (MSC) is spending similar sums at Ocean Cay.
"We really believe in our project," Mr Sayin told Tribune Business. "Our proposal is not taking existing buildings and doing minor repairs. We want to transform the destination, the port experience and integrate it into downtown. All this investment and ideas are tailored to make that happen.
"For this you need a company that can execute that vision, is agile and decisive and knows what they're doing. I think we are that company... The real plan is what we have submitted to the Government. There is so much more I cannot discuss at this point in time, but our proposal is really a game changer.
"Besides the fact we are the company that has the credentials and know-how to execute this, I think our proposal is so much more innovative, integrates the port with downtown and develops the destination. It's a good balance."