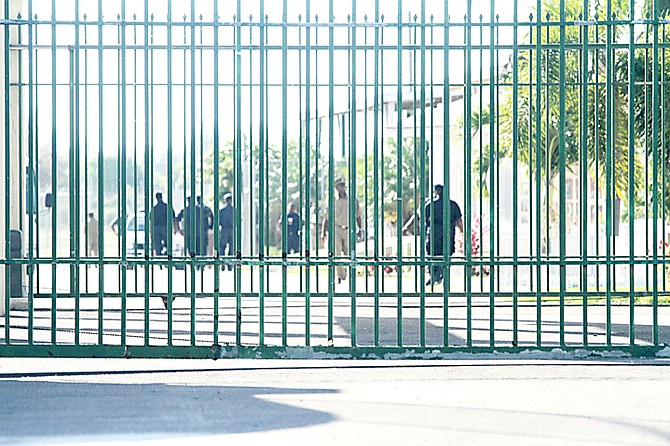 By AVA TURNQUEST
Tribune Chief Reporter
aturnquest@tribunemedia.net
CORRECTIONAL officers are protesting a "demoralising" process that sees officers strip searched before the start of their shift.
Correctional Officers Staff Association Chairman Ryan Wilson said officers are seeking an amendment to the Corrections Act 2014 in hopes of streamlining the vague mandatory search requirement, which he said "dangles carelessly for misinterpretation".
The problematic searches are just the latest in a litany of longstanding grievances which have gone unresolved by successive administrations, according to Mr Wilson, who pledged that officers intend to hold National Security Minister Marvin Dames' feet to the fire over promises he made last year.
"The most recent and demoralising disservice being imposed upon officers are searches conducted by senior staff where subordinate staff are required to remove clothing upon reporting for their tour of duty," a press statement from the association said. 
"Officers are aware that we are subject to a search but to our disadvantage, the Corrections Act 2014 lacks clarity on the extent to which a search can be conducted."
It continued: "We should be treated according to the accepted standard adhered to by Correctional Departments the world over. The accepted standard speaks to steps that should be taken, including obtaining warrants and legal representatives being present due to the nature of a search being conducted on an officer. 
"These steps exist to retain the dignity of the officer who by the way, is not a ward of the state and not being detained at the facility on a warrant. Also, such standard procedures seek to protect the officer's constitutional right to an attorney upon being suspected of being in possession of a prohibited article."
Mr Wilson stressed the critical need for authorities to show "just cause" for their actions.
Over the past few years, several correctional officers have been arrested and charged in connection with smuggling drugs and contraband into the Bahamas Department of Correctional Services. For instance last October, one former correctional officer was sentenced to three months in prison after admitting to trying to smuggle drugs concealed in his socks into the Fox Hill compound. That same month, another officer was arrested for trying to smuggle a cell phone into the facility. 
And last April, an overnight operation involving more than 200 law enforcement officers searching the BDCS found homemade shanks, cell phones, marijuana and other contraband in inmates' cells. This came after a video went viral of prisoners, suspected to be from the Fox Hill compound, preparing to roll what appeared to be marijuana joints, while music played in the background.
The Ministry of National Security and BDCS officials have pledged zero tolerance to corruption. 
"At the commencement of my tenure as acting commissioner I met with all rank and file of the department and I enunciated my plans," Acting BSCS Commissioner Charles Murphy said at a press conference last October. "I also stressed my no tolerance for corruption in any form, shape and fashion. However, there are always those minute portions of the staff who seek to get ahead financially, by carrying out their devious and corrupt practices.
"…Let me stress not only to the staff, to those persons who seek to bring in illegal items in the department, but also the public… we have no tolerance, a zero tolerance (policy) for any type of illegal activities in or around our department," Mr Murphy had said earlier.
Yesterday Mr Wilson also renewed demands for wage increases and the resolution of outstanding issues, stating members of his association were irate over their treatment, and questioned how the facility could be expected to grow and transition from punitive to correctional when best practices are not followed.
He insisted officers could not afford to see issues like stalled promotions, and excessive delays in confirmation for trainees and officers returning to active duty, continue to languish in 2019.
"(Mr Dames) mentioned 2018 would be our best year ever," Mr Wilson said in an interview with The Tribune. 
"We want to hold his feet to the fire in ensuring most of those issues are resolved. We in 2019," he continued, "we don't need those issues to be dragged along any further. It's been 12 years now without a salary increase, and we have a myriad of issues unresolved."
In his statement yesterday, Mr Wilson took issue with the new career path for officers, which, he claims, seeks to disenfranchise correctional officers due to its academic requirements and "stagnated years in a single rank." He also called for the formal confirmation of acting commissioner and deputy commissioner posts.
"Education not negated," the statement read, "corrections officers know that experience and tact survives a hostile situation in a housing unit any given day over a degree in criminology. 
"Promotions are still pending for deserving officers and we await salary adjustments that meet correctional standards. A salary increase is long overdue with the ever-increasing cost of living. 
"Civilian staff receive $200 monthly for risk allowance, some of whom rarely have any contact with inmates, yet corrections officers are sidetracked with the excuse that our risk allowance is included in the salary."
Attempts to reach National Security Minister Marvin Dames for comment yesterday were unsuccessful up to press time.