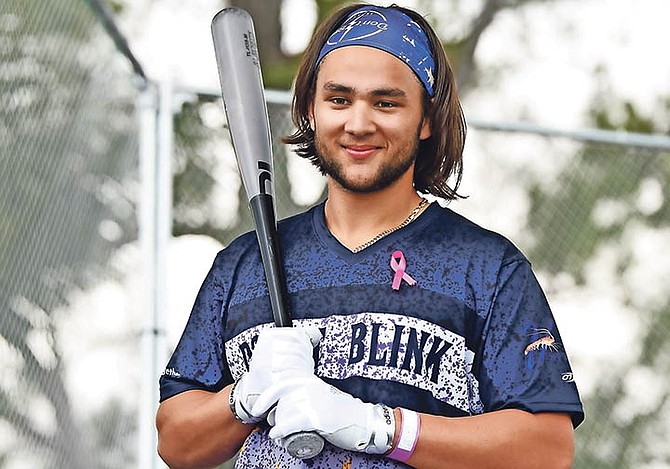 By RENALDO DORSETT
Tribune Sports Reporter
rdorsett@tribunemedia.net
Bo Bichette put on another spectacular hitting display and claimed his second consecutive title of "home run king" at the Don't Blink Home Run Derby in Paradise.
The revolutionary concept once again produced a series of highlights and showcased the Bahamas' elite baseball talent at the Montagu Bay foreshore on Saturday.
An afternoon of power-hitting displays from Bahamian minor leaguers and several visiting international prospects culminated in a final matchup between Bichette and Todd Isaacs Jr.
Bichette finished with nine in the final round to surpass the eight posted by Isaacs.
"It's cool to come back and do it again. Todd put on a show, all the guys put on a show and it was great for the people here. Thanks to Todd and Lucius for putting this event on. Maybe next year I'll sit in the announcer's booth," he said.
Bichette homered on three of his last five swings to surpass Isaacs' mark of eight in the final round.
The 20-year-old shortstop, a second round selection by the Tornoto Blue Jays in the 2016 MLB draft is currently a member of the New Hampshire Fisher Cats. His time in the minors has given him an opportunity to see the recent progression of Bahamian baseball firsthand.
"My season went really well, I went to a level of Double A that people associate with playing well in the majors. I struggled at first but eventually I adjusted quickly and had a pretty good year," he said, "They are some great players in the minor leagues. Bahamian baseball has a crazy future with the talent they have and most of them coming over and succeeding its amazing. It seems like it came out of nowhere, it seems new, and they already have players on the cusp of making the big leagues so it's pretty cool to see."
With a greater number of participants, the roster for this year's event will be divided into teams headlined by Fox and Todd Isaacs Jr.
Following the team format, the top four individual hitters from each team advanced to the individual segment.
Twenty active Bahamian professional players participated in the event, up from 16 local participants last year. In 2012, there were just two active Bahamians in the minor league system, indicative of baseball's exponential growth in the country.
In addition to Fox and Isaacs, other local competitors included Warren Saunders (New York Mets), Anfernee Seymour (Miami Marlins), Chavez Young (Toronto Blue Jays), Trent Deveaux (Los Angeles Angels), D'Shawn Knowles (Los Angeles Angels), D'Vaughn Knowles (New York Yankees), Orveo Saint (Milwaukee Brewers), Kristian Robinson (Arizona Diamondbacks), Jazz Chisholm (Arizona Diamondbacks), Dominic Collie (Arizona Diamondbacks), Keithron Moss (Texas Rangers), Reshard Munroe (Cincinnati Reds), Courtney Smith (Texas Rangers),
Bichette and the Miami Marlins' Lewis Brinson – the first major league to hit in the derby – led the American prospects in the lineup.
Others included Shed Long (Cincinnati Reds), Nolan Jones (Cleveland Indians), Nate Lowe (Tampa Bay Rays), Will Benson (Cleveland Indians), Josh Lowe (Tampa Bay Rays), Monte Harrison (Miami Marlins), and Tyler Frank (Tampa Bay Rays).
Team Isaacs won the team segment before the top individual hitters moved on to the final.
The project was the brainchild of Isaacs (Cleveland Indians) and Fox (Tampa Bay Rays), who wanted to give the country's litany of local pro baseball prospects a rare opportunity to compete in front of a home crowd.
"This event was awesome, the people gave us a lot of energy and we were just excited to come out here and show people in the Bahamas what baseball is all about. They are really good friends of mine so it meant a lot to come down here and be able to help them out. I know they want to bring awareness of baseball to the Bahamas so to be able to come out and help them with that is the least that I can do," Bichette said.
Bichette is the youngest son of former MLB All-Star, Dante Bichette, who was on hand to assist with the event and pitch to Bo and other players.
While a Bahamian did not win the inaugural event, Isaacs said the event was a success just to see the support of the Bahamian crowd behind a baseball event.
"For me this is a win to get all of these people out here. There was so much planning that went into this, I'm just glad to have everyone on board to be a part of this. It was a really good group of guys that competed. Everyone came out and did the best that they could, gave their absolute best and Bo just had a great day. He's a great hitter, he's a great baseball player, and someone that we all admire so it was great to have him come down here and compete with us," he said, " For us it meant a lot to have this group here and to have everyone take part in it. These guys are really good friends of our, we've played against each other, but we look out for each other and when we pitched the idea to them they got on board right away, wanted to be apart of it and they helped make this special."
A unique venue presented a unique approach as players hit home runs into Montagu Bay. Home run barriers were set by buoys in the water that were measured with the proper major league approved dimensions.
"I'm really humble and excited for what we can accomplish in the future. It was a lot of fun to feel this energy," Isaacs said, "It's all about the fans and creating an atmosphere for baseball to flourish in the country. The Bahamas is a breeding ground for talent on and off the baseball field and in all professions in the world, so for us to bring this amount of people out and create something for people to recognize the amount of talent we have here is incredible. I'm looking forward to the number of Bahamian professional players to continue to grow so we could have even more competitors next year."
Proceeds from the event will benefit the Cancer Society of the Bahamas, the Sister Sister Breast Cancer Support Group and the development of youth baseball in the Bahamas.