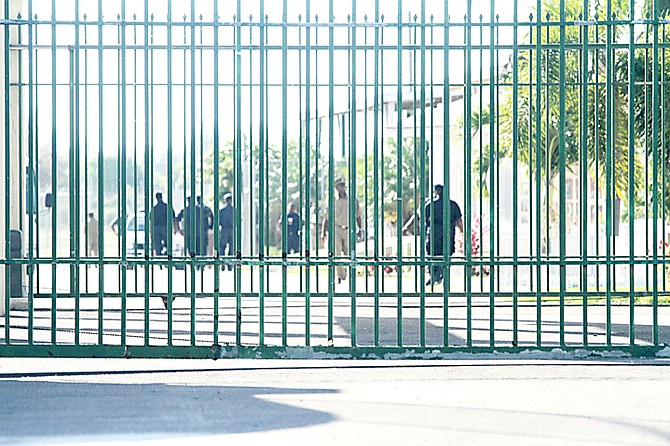 By RICARDO WELLS
Tribune Staff Reporter
rwells@tribunemedia.net
AFTER correctional officers complained about being subjected to strip searches at the Bahamas Department of Correctional Services, National Security Minister Marvin Dames yesterday contended that all efforts must be made to "stop the flow of illegal contraband" into the facility.
However, he said, he was unaware of the complaints about strip searches of officers at the Fox Hill compound until he read reports in the press.
Speaking on the sidelines of the Royal Bahamas Police Force's annual church service, Mr Dames said he intends to meet with both the Acting Commissioner of the Department of Correctional Services Charles Murphy and officials from the Correctional Officers Staff Association at some point in the coming days about the complaints.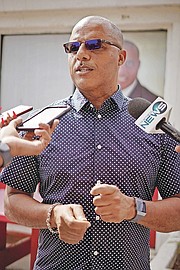 "No one said nothing directly to me or to my office from either end," Mr Dames told The Tribune. "I've heard about it like many Bahamians, through the press. Either way, we have to do what we have to do to address the smuggling of illegal items into the prison.
"While the claims being made are unfortunate, as we all are aware we have a serious problem at the prison. We have inmates with cell phones, illegal drugs and all sorts of other problems. We have to in some way address that."
He continued: "There is just too much illegal contraband, full stop. Then added to that, we have had too many incidents in the past where we see our officers being the parties responsible for bringing these things into the system. While I don't want to say that I am in support of what is being claimed, the reality is we have a problem and we need to fix it."
In a press statement last week, Correctional Officers Staff Association Chairman Ryan Wilson said officers are seeking an amendment to the Corrections Act 2014 in hopes of streamlining the vague mandatory search requirement, which, he said, "dangles carelessly for misinterpretation".
The problematic searches are just the latest in a litany of longstanding grievances which have gone unresolved by successive administrations, according to Mr Wilson, who pledged that officers intend to hold Mr Dames' feet to the fire over promises he made last year.
"The most recent and demoralising disservice being imposed upon officers are searches conducted by senior staff where subordinate staff are required to remove clothing upon reporting for their tour of duty," a press statement from the association said.
Over the past few years, several correctional officers have been arrested and charged in connection with smuggling drugs and contraband into the BDCS. For instance last October, one former correctional officer was sentenced to three months in prison after admitting to trying to smuggle drugs concealed in his socks into the Fox Hill compound. That same month, another officer was arrested for trying to smuggle a cell phone into the facility.
And last April, an overnight operation involving more than 200 law enforcement officers searching the BDCS found homemade shanks, cell phones, marijuana and other contraband in inmates' cells. This came after a video went viral of prisoners, suspected to be from the Fox Hill compound, preparing to roll what appeared to be marijuana joints, while music played in the background.
The Ministry of National Security and BDCS officials have since pledged zero tolerance to corruption.