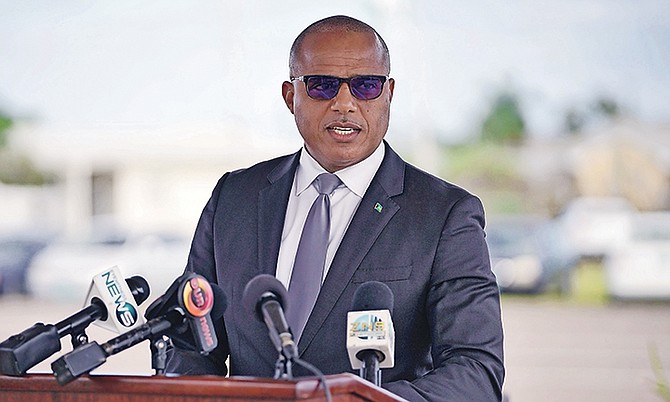 By RICARDO WELLS 
Tribune Staff Reporter
rwells@tribunemedia.net
NATONAL Security Minister Marvin Dames yesterday credited "quality intelligence" for the Royal Bahamas Defence Force's recent swift apprehensions of illegal migrants in areas across the country.
In an interview with The Tribune on the sidelines of the Royal Bahamas Police Force's annual church service, Mr Dames said the RBDF has effectively streamlined its strategies, concepts and delivery of personnel in recent months, a move, he said, virtually ensures that "we are there, always".
On Saturday officials intercepted 101 Haitian migrants north of Exuma. The interdiction marked the fourth in the past week, and third since January 1.  As a result of the four apprehensions, officials have intercepted 304 illegal Haitian migrants. 
According to Mr Dames, the recent successes come in large part due to a revision of past practices. He told The Tribune that officials have taken a hard look at past failures that have allowed illegal migrants to work their way up the archipelago undetected.
In November 2017, there was a significant public outcry after an empty sloop was found on the shoreline of Adelaide Village. Then Immigration Director William Pratt said at the time he "had no idea" how such a large sloop could land so close to the RBDF Coral Harbour Base and go undetected. He suggested the RBDF should perhaps "improve their surveillance".
Authorities said they believed the immigrants who landed at the time had help from people already on New Providence.
Referring to incidents like this, Mr Dames said: "Those mishaps have put us in a position where we now value every bit of information we can obtain. The (RBDF) is working to saturate our waters with manpower. The strategy as I've said is to be there. We are there, always.
"We've studied the routes that have been a struggle in the past and we are there in numbers. We've taken a look at the locations that have showed no problems, almost to see if we can learn what exactly is working there and how we can utilise those strategies in some other areas," Mr Dames added.  "But to keep it brief, we've relied on quality intelligence at every turn. We will not relent. We will not let up because the Bahamian people want us to keep going. This is good, but it will not be good enough until the numbers are down to zero across the board."
RBDF personnel over the weekend referred to the earlier winter months as the "active season," insisting that migrants depend on heavy wind-flow to assist their vessels in manoeuvring the seas. 
"Basically, this is the winter season where we have strong winds and these are sailing vessels that would need the wind to move from the south to the north. So this is the main reason why they would use this (time), December, January (and) February, to try and move to The Bahamas," Commander Clarence Dean, RBDF commander of operations, said.