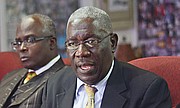 By NEIL HARTNELL
Tribune Business Editor
nhartnell@tribunemedia.net
A prominent CLICO (Bahamas) policyholder yesterday confirmed "something is on the horizon" over the latest payout to clients of the insolvent insurer.
Bishop Simeon Hall, whose annuity was caught in the company's collapse almost one decade ago, told Tribune Business he had been informed that the payment anticipated before Christmas was imminent although he had not been given any details.
Tribune Business sources yesterday suggested that around $8m was due to be paid-out by the Government to meet its commitment to former CLICO (Bahamas) annuity and pension holders, plus life insurance clients who had surrendered their policies.
This newspaper understands that the money will be paid in instalments, and not be released all at once, but this could not be confirmed before press time yesterday. Craig Tony Gomez, the Baker Tilly Gomez accountant and partner who serves as CLICO (Bahamas) liquidator, is gagged by the Supreme Court from speaking publicly on the matter.
"I just got word there's something on the horizon," Bishop Hall told Tribune Business of the latest payout. "It sounds positive but they didn't give me any more information. A brother from Spanish Wells called me to say they'd heard something was happening. I wish the process would be a little faster."

Some $12.403mm has been allocated in the Government's 2018-2019 budget for CLICO (Bahamas) compensation payments, with the same sum also earmarked at present for the 2019-2020 and 2020-2021 fiscal years.
CLICO (Bahamas) clients had hoped to receive this fifth payment before Christmas, but their hopes were dashed. They now stand to receive it just weeks away from the insolvent life and health insurer's collapse into Supreme Court-supervised liquidation in early February 2009.
Bishop Hall, while praising the Minnis administration for following through on its predecessor's promise to compensate CLICO (Bahamas) clients, expressed hope that lessons had been learned from the regulatory failings that led to the insolvency - especially how the insurer moved $73m out of The Bahamas without the necessary permits and approvals.
This sum was transferred to CLICO Enterprises, the vehicle for the insurer's non-insurance activities, and invested in Wellington Preserve, an illiquid Florida-based real estate development. Mr Gomez has subsequently liquidated this project, and repatriated the monies recovered to The Bahamas, where he is now winding-up CLICO Enterprises.
"We said from the beginning that Government was being generous in accommodating those persons waylaid by this," Bishop Hall told Tribune Business. "The only thing I fault the Government for was that kind of money should not have got out of the country, but we commend it for bringing this to this kind of positive conclusion.
"I just pray it doesn't happen again. There was a lady at my church yesterday, as there is almost every other day. People come to ask me for assistance in bringing this to completion. It's been a long while but I'm hopeful."
Bishop Hall branded CLICO (Bahamas) collapse as "capitalism gone sour", and said the timing of the latest payout - on the 10th anniversary of insolvency - was "most appropriate, particularly for the bereaved, the lost and left out; people who have no other resources to lean on",.
He added: "People need their money when they put it, unsuspectingly, in these conglomerates, and can only depend on the protection the Government can give them. Since this started the Government has put in place some serious regulation to avoid this thing happening again. Bahamians deserve the best protection they can get.
"When you invest your money you expect to get it back with interest. It's an awkward situation because it's a private company. I'm grateful personally. There were seven people in my church that were waylaid by it, and I'm happy something is about to break through."