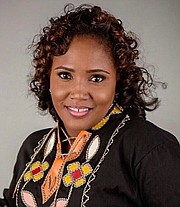 By FELICITY DARVILLE
Having been a journalist for more than two decades now, I have witnessed the spike in murders in this country. I remember the time when rock, bottle and conch shell fights turned into machetes and guns with deadly bullets. Today, even automatic weapons have made their way to the streets and we are losing Bahamians - mostly young men - at an alarming rate. With victims and perpetrators of murder being mainly young men between the ages of 18 and 35, thousands of homes have been ripped apart since the spike in murders.
I remember when I met Khandi Gibson. She had recently lost her two brothers to murder. She openly shared about the pain and agony she felt. Yet, she had this huge heart and was always giving. I remember when she started FOAM – Families of All Murder Victims. When she told me about it, I thought it was a great idea. I helped her with some public relations when she was just getting FOAM off the ground. She wanted to do something for me in return. I had just moved into a new apartment and I had four young children. Before I got a stove, I used the two-burner top stove Khandi bought me. I kept that for many years and never forgot her kindness. Imagine this act of kindness, multiplied by thousands. Khandi continues to give in enormous ways and she has kept those close to her heart who suffered the loss of a loved one to murder.
Khandi has been on countless murder scenes to console loved ones and, with this kind of first-hand experience, she is calling for an end to the crime and violence in 2019.
"The ones who are murdered are victims, but the real victims are their children," she said.
"It's devastating because the real victims are not the ones who were killed but it is us, the surviving relatives and mainly the kids. They didn't ask to come here. It's hard for them when it's time to go back to school, when it's graduation, when they have to get a tooth pulled… when they have to go to college. All these milestones they have to go through without a parent. The child came into the world to enjoy both parents; even if the parents are separated they still deserve to have both parents in their lives.
"For the parents, they all have goals they want to see their children achieve. Even siblings – they don't expect to lose one to murder. It's a generational cycle that must be broken. Nobody wins. The person who kills – he isn't staying on the scene. He's breaking off running. Some are caught, some are not. Whether they are in the morgue or the jail, family members are left hurting and kids are left without their parents to share milestones in their stages and achievements with. At least with those in jail, a family member can go and visit a loved one; but for those murdered – that's it. Nobody wins when somebody drops."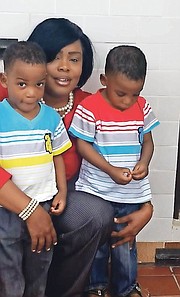 Khandi's brother Anthro Knowles was 36 when he was killed on August 5, 2011. Eight months later on April 31, 2012, younger brother Khanaochi also lost his life to violence. This devastating back-to-back tragedy put Khandi's life in a tailspin. She grew up with four brothers and a sister in a home in Rock Crusher with their parents George (deceased) and Michelle Knowles. Their father, who was an orthopaedic technician at Princess Margaret Hospital before he lost his life to cancer, was "always strict", but Khandi and her brothers and sister still found a way to get into childhood shenanigans. She always grew up very attached to her siblings. When she went to the National Insurance Board to seek help for her brother's children, she found out they did not have sufficient contributions for the children to receive anything. This was heartbreaking. She thought about the fact that so many other children were suffering in the same way.
By forming FOAM, Khandi began reaching out to murder victims' families and seeing if there was anything she could do to help. She found there was so much that could be done. She had been working at BTC for 12 years at the time when she left and ventured full-time into FOAM. She had found her life's calling and it was one that continued to grow and grow. What started out in her front room and entailed lots of calls late into the night, visiting murder scenes to offer comfort and conducting numerous house visits, has turned into a full community centre with three staff members and a female shelter.
It's a labour of love Khandi would do nothing to change: "I love myself, I love my staff and I just love people. The FOAM Community Centee has three full time workers. They help with counselling, distributing new and gently used clothing, resume writing, preparation for job interviews, free copying of documents and so much more. We have an active Facebook page called FOAM Community Centre Free Things where we post items that were donated to us. People simply have to come into the centre with their ID and explain their need and they will receive the items free of charge – everything from appliances and furniture to books, shoes and clothing. I am also very proud of our female shelter and right now 16 persons are housed there."
When Khandi visits the homes of the families of murder victims, she would often carry care packs including grocery items and even baby needs as some of the victims left babies behind. This year, FOAM will undergo rebranding. The focus will no longer be only on the families of murder victims. Khandi says her non-profit will now extend to include the entire community – those in need. The rebranding will be coupled with new expansions to the services and infrastructure of the community centre including reading and math classes.
She asked: "Too often people complain about the country and say, 'My Member of Parliament should do this or my pastor should be doing that', but what can we do? "I am doing what I can to make a difference. I can remember when I went to visit this home of someone whose loved one was murdered and trust me, they wanted blood. After I shared my testimony and prayed with them, they fell out. From that day to this we became friends. I remember reaching out to this little girl, her father was murdered and it was like no one could get her to understand, until I had a one-on-one with her. When I see kids of murder victims months after the tragedy and they call my name and smile when they see me, it's priceless."
Khandi, who will be 43 this month, is the proud mother of a 23-year-old son and a 12-year-old daughter. She also has a "beautiful granddaughter" and since her daughter recently brought home a stray dog, she also has adopted a grand dog. She was married for 12 years before divorcing. She then entered a relationship with a man who also became a murder victim while FOAM was in its prime. Having faced so much adversity and still managing to wear a smile and having a heart that keeps on growing, Khandi decided to write a book to help others through their pain: Still I Rise.
"My book talks about me as a woman who overcomes obstacles, odds, and humiliations," she said.
"It talks about when you are defeated - what to do and what not to do. It talks about how we live in an unkind world but in the midst, there is God, and once God is for you, who can be against you? It talks about how you can stay away from a giant for so long but at some point, you will be faced with that giant - your biggest fear. It talks about how its good to go into isolation for a bit. It talks about a bad marriage. It talks about me - the things I did, my relationships, things I went through growing up. Still I rise is meant to give people hope - boys who would have been incarcerated, girls who are going through bad times. The book speaks about faith and life."
Khandi also has a bracelet line called "In Memory of", designed to encourage those who lost loved ones. Even though the first day of the year was marked with murder, Khandi hopes her efforts and those committed to seeing the murder rate drop, violence decrease and social ills be dealt with in The Bahamas will have some positive effect.