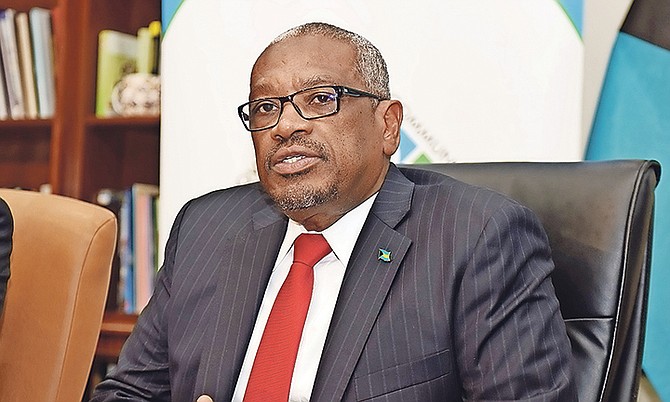 By KHRISNA RUSSELL
Deputy Chief Reporter
krussell@tribunemedia.net
THE economic foundation has been laid and now Bahamians can expect to reap benefits of the government's work since it took office, Prime Minister Dr Hubert Minnis has said.
The prime minister told The Tribune he's aware that many Bahamians remain unaffected by the government's initiatives, but he foreshadowed this was about to change this year, which will mark the second anniversary of the Free National Movement's May 2017 election victory.
"I don't want to pre-empt at this particular time, but I know we will be concentrating specifically even more aggressively on Grand Bahama (and) the Family Islands. New Providence will not be left out," Dr Minnis said when he was asked about his administration's plans for 2019 in an interview earlier this week.
He has already said the government intends to move legislation for fixed election dates and term limits for the prime minister this week.
Dr Minnis continued: "But as I move about throughout New Providence there are still a lot of individuals who are saying they are not feeling it. I have explained to them and they have accepted that we have spent time putting down the foundation and now that we have a solid foundation and finding out what has gone on previously, we'll specifically concentrate on those individuals especially the poor and the middle class. Those are the groupings that we must save and concentrate on expanding the middle class.
"We must work aggressively to reduce poverty and ensure that those individuals move into the middle class and have their own homes and land. We will be concentrating aggressively on that," he said on Sunday.
Dr Minnis said in November the economy was turning the corner, but the improvement was not being felt in the pockets of the common man. He said it was important there was no return to the years of wasteful and reckless spending.
"As we meet this year I am pleased that public finances are being restored and that the annual deficit has been reduced by half even as we are making significant social investments in education, entrepreneurship programmes, combatting crime and other initiatives to involve the lives and prospects of our people," Dr Minnis said at the opening of Bahamas Institute of Chartered Accountants Week last year.
"My government recently launched the small business development centre in partnership with the University of the Bahamas and the Bahamas Chamber of Commerce.
"Our guiding principle is that sustainable economic growth should be driven by Bahamian investment and creativity in tandem with strategic foreign direct investment.
"We have to continue to address the blockages that prevent Bahamian ownership, that stifle job creation and that perpetuate poverty.
"I have just recently visited Spanish Wells and Eleuthera and I had to remind them that in 2013 our economy grew by a negative 0.6 percent, in 2014 it grew by a negative 1.2 percent, in 2015 it grew by a negative 3.1 percent, in 2016 it grew by 0.6 percent, in 2017 it grew by 1.4 percent and is projected by the IMF to grow in 2018 2.1 percent.
"I say this because I reminded them that we are now turning the corner but we still have a long way to go," Dr Minnis said last year.
"And regardless too if our economy grows 2.5, 3.5 or 5 percent the most important factor moving forward is a small grouping cannot continuously feel the benefit while the majority of us at the bottom still do not feel it. Growth means nothing to the individual if he does not see it in his pocket. That is the first question I am asked as I continually visit most of my friends.
"They tell me that the economy is growing but it is still difficult to pay my light bill and other expenses. It is not affecting me. That, the government must change. Monies must reach the lower level," Dr Minnis said at the time.