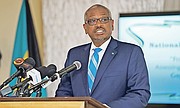 By KHRISNA RUSSELL
Deputy Chief Reporter
krussell@tribunemedia.net
PRIME Minister Dr Hubert Minnis said the country will know in "very short order" who will be appointed to the post of substantive chief justice.
The prime minister was tight-lipped on when the pick would be made, telling The Tribune he did not want to commit to a timeline, adding it would be dealt with at the appropriate time.
Vera Watkins now serves as acting chief justice.
"There are names that have been moving through my head, but I have not moved them yet from my head to any paper," Dr Minnis told The Tribune .
"(But) I don't want to give timelines, the press holds me very seriously to timelines. So no timelines right now, but you will know in very short order.
"We're at the beginning of the year and we will deal with it at the appropriate time."
Dr Minnis gave similar remarks for the greater part of last year before the decision was made to appoint now-deceased Stephen Isaacs to the post. He died at 63-years-old, two weeks after he was formally sworn in as Chief Justice following the retirement of Sir Hartman Longley in 2017.
Acting Chief Justice Watkins was sworn in to the post in early September after Isaacs' death in August.
Prior to Justice Isaacs' appointment, Bahamas Bar Association President Kahlil Parker had publicly castigated Dr Minnis over delays to name a new chief justice.
In April 2017, Mr Parker told The Nassau Guardian that Dr Minnis had a "tremendous misapprehension" of the constitutional provisions relating to the appointment of a chief justice, adding the prime minister did not appear to grasp firmly the Constitution as a whole.
That same month, Dr Minnis made it clear that he would not be forced to fill the office.
While Dr Minnis did not say at the time specifically whom he was referring to, it was thought he was referring to Mr Parker.
It had been speculated that Attorney General Carl Bethel was being considered for the post. However the notion was repeatedly dismissed.
"I am finished with this subject. I have said all I want to say about the chief justice. Nobody is going to force me to do anything okay? Full stop," Dr Minnis said last April.