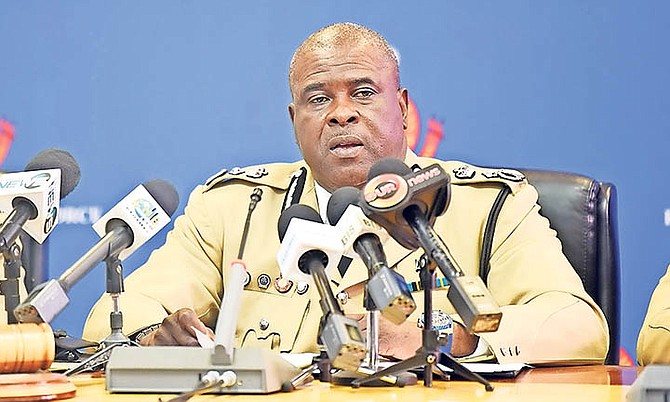 By MORGAN ADDERLEY
Tribune Staff Reporter
madderley@tribunemedia.net
POLICE Commissioner Anthony Ferguson said yesterday police are at "war" with criminals, adding there will likely be "casualties" when people confront law enforcement officers. 
When asked about police involved shootings last year, Commissioner Ferguson said: "In any war there are casualties." 
In 2018, there were 11 fatal and nine non-fatal police involved shootings, Royal Bahamas Police Force press liaison officer, Superintendent Shanta Knowles confirmed yesterday.
During a press conference where he detailed last year's crime statistics, Commissioner Ferguson addressed this matter as well as police initiatives such as body cams and the MARCO Alert system.
"In any war there are casualties," he said. "There are casualties. And so if you are confronting the police, more than likely there will be casualties. And there is a judicial part of the system that will adjudicate over that.
"(These) are actions between the police and persons who…confront the police. And police take the necessary action," the commissioner continued. "Those matters are adjudicated at another level. You have the numbers, we have the numbers. We're not afraid to tell you how many persons are fatally shot by police. We report them in the press as they happen."
Despite murders being down in 2018 by 25 percent, he also noted that incidents of non-fatal "criminal shootings" occurred.
"Bahamians need to know that we have Bahamians out there who are evil and who are shooting citizens, shooting their brothers and citizens," he said.
Commissioner Ferguson also addressed the implementation of body cams for police officers, a programme expected to come on stream this year. 
"We believe in (transparency)," he said. "And so very, very soon you will see body cams being worn. We are very, very close to acquiring that…I can tell you that it's much closer today than it has been.
"And so you will find that the Ministry of National Security will be making a statement on who should...be awarded the contract to provide body cams to the (RBPF)."
He also discussed the expansion of the country's CCTV programme, saying it is "well on its way". However, the police chief declined to state how many cameras are in operation and where they are located, for crime fighting reasons".
Regarding the MARCO Alert system, Commissioner Ferguson said it still needs some "minor adjustments". The system, an alert for missing children, was launched under the Christie administration, then retooled and relaunched under the Minnis administration, however, it does not appear to have been utilised frequently, if at all, by police. 
"It's in use, it's still being tweaked," he said. "It's completed. We launched it already and so pretty soon you'll be a part of it."
The police chief also said in 2019, the RBPF plans to "be more productive and more aggressive in the carriage of our policing mandate."
"With the recent new addition of officers and the deployment of new vehicles, you can expect to see a higher number of officers moving about on the streets to promote a level of security and to send clear messages to criminal elements that no longer will they be allowed to disrupt our communities and there will be no hiding place for them. In other words, they will feel the presence of the Police and we will keep them running.
"We will focus on crime hotspots and problematic night spots and aggressive enforcement of the traffic laws. We will be strong on the streets to prevent the movement of criminals from one division to another. We will also continue working with our colleagues in the overall protection of our borders.
"We will continue to build on effective management strategies, professionalising the service, optimising the use of technology, interacting with at risk youth, improving road safety and the continued prevention and reduction of crime.
"While we welcome the reductions in crime, we are not satisfied with the current level of crime in our country. We will not be complacent, however, but will strive to further reduce the level and fear of crime in the Bahamas.
"We look forward to 2019 with great anticipation as we endeavour to execute our mandate with courage, integrity and loyalty. So I invite you to partner with us as we create safer communities throughout the length and breadth of the Bahamas."