By DENISE MAYCOCK
Tribune Freeport Reporter
dmaycock@tribunemedia.net
MURDERS in Grand Bahama decreased by 45 percent in 2018 however there was no percentage change in overall crime figures for the island, according to statistics presented by Commissioner of Police Anthony Ferguson yesterday.
He also noted that drug trafficking continues to be a major concern in the northern islands of Grand Bahama, Bimini and Abaco, and the southern Family Islands.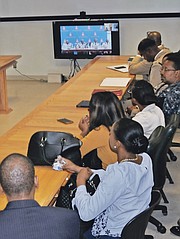 Regarding murders in Grand Bahama, the police commissioner said the island recorded six murders, five of which were solved, compared to 11 murders in 2017.
There was a 100 percent increase in attempted murder, from two in 2017 to four last year; a 20 percent reduction in reported rapes from five to four; a 25 percent reduction in unlawful sexual intercourse from 12 to nine; an eight percent decrease in armed robberies from 13 to 12 and a 40 percent decrease in robberies from five to three. There were no reported incidents of manslaughter or attempted robberies in Grand Bahama last year. There was one incident of attempted rape, the same as in 2017.
The police chief noted that the Family Islands are generally peaceful communities and that residents in the islands are not tolerant of criminals.
"If you are involved in crime in the Family Islands, people will turn you in, they won't hide you. I want to encourage Nassau people to do that," Commissioner Ferguson said.
Commissioner Ferguson reported that crime in the Family Islands decreased by 30 percent in 2018. He also indicated that police are keeping an eye on specific individuals who are known to be involved in drug trafficking.
"While seizures may not be in large quantities, there are still persons using the Bahamas as transshipment points, particularly in the southern and northern Bahamas," he said.
Police uncovered a marijuana field in the eastern end of Grand Bahama in December and seized $1.3 million in suspected marijuana from a vessel in East Grand Bahama in October 2018. Statistics show police seized 47.59 pounds of cocaine in Grand Bahama last year; 1,619.83 pounds of marijuana and 1,208 marijuana plants.
The police commissioner indicated that the RBPF is forging great strides with the country's youth through its summer youth programme.
He noted that the programme which has been in existence over 20 years is one of the largest for children under 16, with some 26 camps across the country.
He indicated that participation tripled in 2018 with approximately 4,500 youngsters. "Our support by the community was amplified with the creation of 85 Neighbourhood Watch Groups that are important in combating crime," he added.
Commissioner Ferguson stated that in 2019 he would be implementing three police public interaction days where each police division throughout the country, including himself, will partner and spend at least two hours with various community leaders such as the Christian Council and the National Neighbourhood Watch Council. This will be carried out simultaneously throughout the country.
He also stressed that training of law enforcement officers continued to be a priority for the force and said that they are transforming the Police College into a premier law enforcement training institution in the region.
According to the police chief, 1,213 persons were trained at the Police College, including 794 police officers, 134 recruits, 41 customs officers, 12 immigration officers, nine correctional officers, four security officers, and 210 civilians from the Neighbourhood Watch Council last year.
Additionally, he noted that 136 police officers received international training in the US, Europe, Canada, South America, and the Caribbean.