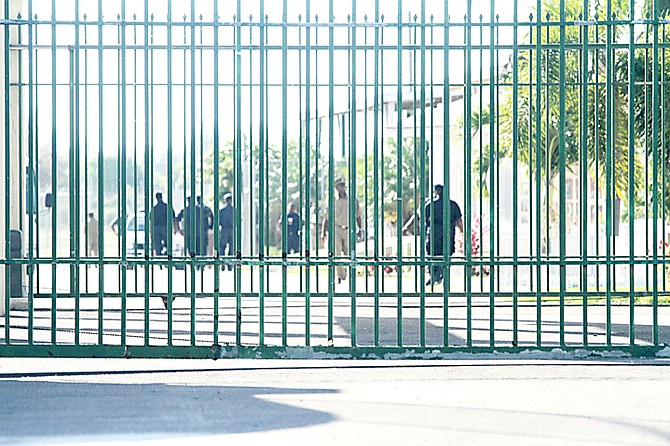 By AVA TURNQUEST
Tribune Chief Reporter
aturnquest@tribunemedia.net
STRIP searches for correctional officers clocking in at The Bahamas Department of Correctional Services have been suspended, according to Correctional Officers Staff Association president Ryan Wilson.
Mr Wilson told The Tribune the matter was resolved during a Monday meeting with National Security Minister Marvin Dames, who reportedly committed to ensuring a more "dignified" search process and implementing international best practices. Correctional officers had described the strip searches as demoralising. "No more strip search of staff," Mr Wilson said, "they will find innovative ways as it regards to that. The minister was on board. He wants to ensure the dignity of all officers are kept intact, and moving forward he reiterated that the searches will continue but it will be according to international standards."
The issue was highlighted in a recent press release from the Correctional Officers Staff Association last week, which pledged the body would be increasing pressure for the resolution of longstanding grievances.
It also follows several arrests of correctional officers in connection with smuggling drugs and contraband into BDCS in recent years, and official acknowledgement that smuggling of illegal contraband presents a significant challenge.
"After hearing the staff association's petition, Mr Dames undertakes to install state of the art technology and modern equipment during this fiscal year and to improve the search and entrance policies and procedures at the Department of Corrections," the association noted in a press release yesterday. 
"Moving forward, the staff association along with the Ministry of National Security and the department's leaders will make every effort to aggressively resolve all outstanding issues such as, establishing a Corrections Commission, a review of the current career path, amending the condition of service to 30 years of service or age 65, and confirmations of outstanding contracts to deserving officers. Recommendations were also submitted to amend the Correctional Services Act 2014; such changes will advance the organisation onto best practices."
Concerning outstanding issues of wage increase, and trainee confirmations, Mr Wilson added: "I think we're working in good faith, a lot of legal technicalities are involved. It will take some time but we are going to make sure we keep on it."
The Correctional Officers Code of Conduct Rules says "every correctional officer and servant of the department shall upon entering or leaving a correctional facility be checked." 
The law says officers "shall submit themselves to be searched when called upon to do so and that any officer below the rank of a principal officer may be searched by a principal corrections officer" while those above that rank must be searched by an assistant commissioner or higher. The rules do not specify the scope of the search, however. 
On Monday, attorney Wayne Munroe, QC, maintained the broadness of the provision could invite a constitutional challenge if it is used to justify strip searching correctional officers. He noted the Constitution protects people from invasive searches except in select security circumstances. 
"On the face of it, if there is something that says you can be searched but there is no limitation on it then any type of search could be conducted and that's the problem," Mr Munroe said. 
"An extreme form of a search is a body cavity search. A court might say such a search is not justifiable in a democratic country because it cannot affect the security of your prison.  
"If the prison guards think these searches are not justifiable," he continued, "then they can start an action over it, a constitutional action that firstly considers whether that provision permits strip searching and secondly, if it does, there is a view that the provision is unconstitutional and should be declared as such.
"You could also challenge the use of executive power under legitimate law regulations. Why is it they felt the need to do this now? What are you trying to detect? If it's something that could be detected by a metal detector, why not employ that?"