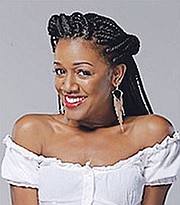 By NEIL HARTNELL
Tribune Business Editor
nhartnell@tribunemedia.net
The Ministry of Tourism has slammed as an "illogical conclusion" findings it should pay an ex-beauty queen $630,000 for using a song that earned just $22 from Internet streaming in four years.
Its assertion came as the copyright violation battle with Khiara Sherman, the former Miss Bahamas Universe-turned-songstress, heats up once again - this time over the ministry's bid to depose the "expert" witness that calculated the amount of damages she is allegedly due.
The Ministry of Tourism's US attorneys, Hogan Lovells, in a January 7 letter to the south Texas federal court argued that the evidence unearthed during the "discovery" process between the two sides showed that any compensation due to Ms Sherman for the alleged unauthorised use of her song, Fly Away With Me, was negligible.
Besides earning just $22 in Internet streaming "across all platforms" over a four-year period, the ministry's attorneys reiterated that the song's licensing for sums ranging from "for free" to $750 undermined the findings of the ex-Bahamian beauty queen's witness, Ellis Rich, that she was owed a substantial six to seven-figure sum.
They argued that any sums owed to Ms Sherman were "miniscule" compared to the legal fees incurred by the Ministry of Tourism in defending the case, while claiming that her fellow plaintiff and record company - AK FortySeven Records - was really an individual with no experience in the music business.

However, Ms Sherman and her attorneys hit back immediately yesterday at the Ministry of Tourism's efforts to undermine her credibility, and that of Mr Rich, by describing the latter as a 55-year music industry veteran who once hired American Idol judge, Simon Cowell, as an assistant.
And they argued that it was the Ministry of Tourism, rather than the former beauty queen, that has "made every effort to drive up the costs of litigation" in the case in a bid to wear Ms Sherman down via the "financial strain" imposed by a long-running case.
The ministry's attorneys, firing the first salvo in a dispute over where the London-based Mr Rich should be deposed, and who should pay for it, blasted: "Now that the parties have conducted discovery in this case, it is abundantly clear that the amount in controversy is miniscule compared to the costs plaintiffs [Ms Sherman and AK FortySeven Records] have imposed on the Ministry in defending this case....
"Discovery has also revealed that plaintiff 'AK FortySeven Records' is a single individual who has no experience in the music industry, and who has never made a profit from Ms Sherman's music. Over the last four years, the song at the center of this dispute, Fly Away With Me, has generated in total approximately $22 in streaming revenue across all platforms.
"Not surprisingly, the song has been licensed for free, for $500, and for $750. Despite these undisputed facts, plaintiffs' sole liability and damages expert in London has concluded that plaintiffs would have somehow exacted a $630,000 payment from the Ministry to use 15 seconds of the song," Hogan Lovells argued on the Ministry's behalf.
"It is because of this illogical conclusion, and many others put forth in his report, that the Ministry needs to depose Mr Rich before its own experts submit their reports (which will be due on February 8, 2019."
Besides the copyright violation claim, Ms Sherman is also seeking damages for the Ministry of Tourism's alleged breach of an employment contract with her - something the latter's attorneys also sought to discredit in their latest legal filings.
"Discovery has revealed that plaintiff Khiara Sherman has made more money at her current job than she would have received from the allegedly breached employment contract with the Ministry," they added.
These claims provoked a rapid response from Ms Sherman and her legal advisers, who described Mr Rich the international manager at EMI Music Publishing responsible for signing artists such as Blondie.
"Most importantly for purposes of this issue, Mr Rich was chairman of the Performing Rights Society (PRS) for the maximum tenure," the former Bahamian beauty queen's attorneys said. "The Performing Rights Society is the entity that oversees licensing and royalty collection in many former Commonwealth countries, including the Bahamas.
"In addition, Mr Rich has given multiple copyright seminars in the Caribbean, including one with Stevie Wonder's manager. For these reasons, Mr Rich is uniquely positioned to offer opinions concerning the market value for a licensing fee covering the Ministry's infringement of Fly Away With Me.
"We could not locate anyone willing to testify in the United States with Mr Rich's level of global expertise, which is critical because this is a global case," Ms Sherman's attorney, Nick Brown, added. "The Ministry of Tourism is a foreign entity. The infringing commercials aired across the entire United States and twenty-five Caribbean countries.
"My clients are pursuing claims for infringement in both the United States and multiple countries in the Caribbean. The Ministry recently required us to travel to Miami for depositions of two key witnesses, and other key witnesses from the Ministry are located in The Bahamas, which will require further travel to take those depositions.
"Mr Rich agreed to perform his analysis and work for this case on a reduced fee schedule, as he was moved to help due to the overt and unconscionable actions of the Ministry in this case. Plaintiffs are regular people, and vindicating their rights in court have presented a substantial burden on them."
Ms Sherman's attorney blasted the Ministry of Tourism's complaint about costs "as a farce", pointing out that Hogan Lovells had admitted in other court cases that its partners were paid $800 per hour - "more than five times'" what the ex-beauty queen is paying.
"To the Ministry of Tourism, a few thousand dollars may not seem like much. To my clients, paying for even the cost of her own attorneys to fly to London, imposes an extreme economic challenge. Ms Sherman works an hourly job and her record label has yet to turn a profit," Mr Brown countered.
"The Ministry has extensively deposed my clients regarding their financial information, and knows the financial strain associated with this litigation. The Ministry has made every effort to drive up the costs of litigation, including filing two motions to dismiss; suing her personally; demanding to take the deposition of one of plaintiffs' witnesses (the owner of the record label) for two full days; and refusing to compromise on even basic discovery issues.
"If the Ministry is permitted to make a simple copyright case cost prohibitive to pursue, artists will be robbed of the sole recourse to protect their work..... The cost to the Ministry of repeatedly shifting positions, sending e-mails, writing letters and now involving the court almost certainly exceeds the cost of being agreeable in the first place."
Ms Sherman is alleging that the Ministry of Tourism breached her copyright by using her Fly Away With Me song in its advertising and promotional campaigns without permission - a charge the Ministry vehemently denies.