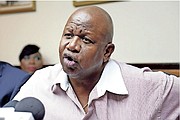 By NEIL HARTNELL
Tribune Business Editor
nhartnell@tribunemedia.net
A Bahamas Power & Light (BPL) union leader yesterday asserted he "absolutely and totally embraces change" via renewable energy, adding that he was "distressed" to read otherwise.
Paul Maynard, the Bahamas Electrical Workers Union's (BEWU) president, told Tribune Business that he was not opposed to the increased penetration of solar energy given the need to slash electricity costs to prevent "the economy tanking".
Pointing out that he had been urging BPL management, board and the Government to focus on reduced energy costs as a matter of urgency, the union chief said this advocacy over the past four years showed he was focused on the bigger picture - The Bahamas' economic welfare and that of its people - rather than the narrow interests of his members.
Mr Maynard hit back after Julian Brown, president and chief executive of BISX-listed Benchmark (Bahamas), cited comments he made about the "competition" solar energy provides BPL as an example of why The Bahamas must "embrace disruptive change" and not permit a minority to derail economic reforms that benefit the rest of society.
He suggested that the BEWU concerns over the increased penetration of solar energy was a prime example of resistance to technology-driven change that can improve living standards for the majority of Bahamians.
And, rather than fight the inevitable, Mr Brown urged the BEWU and the Bahamas Power & Light (BPL) workers it represents to push their employer to develop its own solar unit and re-train staff so they can install the technology.
Mr Maynard, though, suggested that the Benchmark principal had snatched at the wrong end of the stick, and said: "I never said I was against solar energy. I'm not. For four years I've been advocating that the price of electricity has got to go down.
"I for one realise that the price of electricity being what it is, if nothing is done as quickly as possible we're going to tank the economy and we'll all go down with it."
The BEWU president said Mr Brown's comments "distress me", adding that the latter would have seen he has "no problem with solar energy" if the interview had been read and understood un full.
"You know that I've been advocating for the Government to lower the cost of electricity for this country, or it is going to tank, for four years," he told Tribune Business. "You need to tell Mr Brown he's very wrong in his opinion about me and what I stand for. I've been a very unorthodox union president as you know; I call it as I see it.
"As a matter of fact I'm very for solar energy in the Family Islands as it will save BPL a lot of money since it will not have to ship fuel there. We need to employ renewables. Solar energy is now BPL's competition, and I intend this year to make sure BPL workers and members of the union get into the fighting spirit and offer stellar service.
"If the lights go off, the customers want them back on as soon as possible. People want good service, and to compete with solar we've got to have impeccable service."
While the small scale renewable generation (SSRG) initiative has been launched for output of 100 kilowatts (KW) or less, Mr Maynard said he was unaware of "what's holding BPL up" in terms of its own solar and sustainable energy initiatives.
"It has to be part of the strategy for the Family Islands going forward," he reiterated. "Anything that modernises and involves renewables is a positive for BPL staff because they get retooled and retrained. That's what has to happen."
Mr Maynard said such retooling awaited BPL's moving forward with Shell North America, and concluding the agreement for the latter to build, own and operate a new multi-fuel power plant - featuring liquefied natural gas (LNG) - at Clifton Pier that will start producing by 2021-2022.
He added that BPL staff retraining was "absolutely imperative" to adapt to such change, and said: "I am certainly telling the chairman [Dr Donovan Moxey] every time I talk to him that it's important with any deal that comes forward the members are included in it, and retooled and retrained.
"We've got to keep pace. The staff at BPL, especially the younger ones, are very tech savvy so they should benefit from it a great deal. I absolutely and totally embrace change. It's very much needed at BPL. You see the light bill. That bill needs to be cut in half, and whatever it takes we need to do it."
Mr Maynard and Mr Brown are in agreement on this aspect at least. The latter told Tribune Business on Tuesday: "Unless BPL adjusts its business model and embraces the change, like the dinosaur it will die.
"We note that some change in the generation plant of BPL is under way and, while that is significant to the future of the company and the cost of electricity for the Bahamian economy, it still is not the most efficient solution for the company or country. Therefore, BPL will need to make further adjustments to its generation plant over the next decade."
The Benchmark chief added that "the ripple effect of drastically reduced energy costs" via solar and other renewable forms would result in an "explosion of entrepreneurial opportunities and businesses" - advantages that were impossible to ignore.