BAHAMIAN consumers can do "far more" to sustain local industries than any government under the World Trade Organisation's (WTO) ruled-based set-up, says the country's lead negotiator.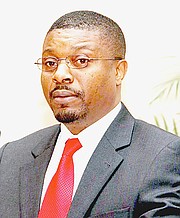 Zhivargo Laing, pictured, speaking as he unveiled The Bahamas' initial goods and services offers that kickstarted the process of accession to full WTO membership, conceded that Bahamian manufacturers and other vulnerable industries would face intense pricing and other competitive pressures if they lost their existing tariff protection as a result.
"Competition is about my price versus yours," he added. "If the Government sees a circumstance in which manufacturers may face additional competitive pressure, it can do what it has been doing. It can have concessions, WTO-compliant concessions that allow persons to maintain their price where it is. The WTO has mechanisms to allow local manufacturers to maintain their pricing in a competitive sscenario. Local consumers can help local industry far more than the Government can."
He continued: "We vote for them when we purchase their product, and we vote against them when we buy the competitor's product. We look at price and look at quality, and vote against them. No one can do more for a local manufacturer than the Bahamian public. That's a choice you make."
Mr Laing said there was broad agreement by the WTO working party, whose members will negotiate The Bahamas' accession terms, that this nation's opening goods and services offers were an improvement on previous submissions.
"Of the 164 members of the WTO, to-date we have received requests from some seven WTO members. These requests were largely requests to seek tariff lowering in specific areas of interest to the particular countries," said Mr Laing, adding that the US has taken the "most active interest" thus far.
He added: "We have had a number of countries, Brazil, the EU and others who in our bilateral meetings or in writing provided some questions and or requests for changes.
"These are negotiations. They are live. Nothing is final at all. A decision on whether The Bahamas finally joins depends on these negotiations."