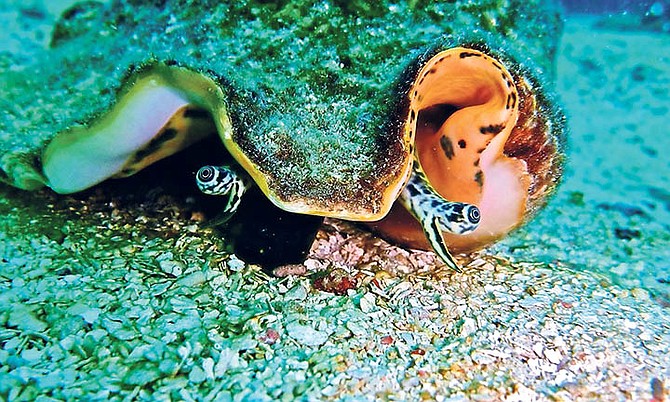 By RICARDO WELLS
Tribune Staff Reporter
rwells@tribunemedia.net
THE Bahamas National Trust is gearing up for a major conservation push in the wake of research findings that warn the local conch supply could be wiped out in ten to 15 years.
Eric Carey, BNT's executive director, yesterday called recent reports from the Chicago-based Shedd Aquarium group a "wake up call", insisting Bahamians need to take the findings seriously if the "beloved conch" is to survive.
In a press release issued earlier this month by Shedd Aquarium, the group revealed its research on more than 3,000 conchs at 42 survey sites throughout the Bahamas between 2009 and 2017, shows not only are the numbers of adult conch decreasing, but the densities of legal-to-harvest queen conch are now far below the established minimum threshold for reproductive success, except in the most remote areas.
Additionally, the research showed that viable fishery for queen conch in the Bahamas might only last another ten to 15 years, unless significant measures are taken to cut fishing pressure.
Shedd Aquarium carried out the research study with the Community Conch Group, and the findings were published in the scientific journal "Reviews in Fisheries Science and Aquaculture" last October.
Addressing the findings in an interview with The Tribune yesterday, Mr Carey said researchers involved in the project like Dr Allan Stoner of Community Conch, and Dr Andy Kough, research biologist for Shedd Aquarium, embedded themselves in the local conch industry, gathering a true first-hand understanding of conch consumption in the Bahamas.
Mr Carey said over the course of the project, members of the research team compiled critical data obtained from local environmental groups, fishermen, restaurant owners and exporters – all of which went toward obtaining the true range of the national and cultural importance of the species.
"That's why this research is so key," he told The Tribune. "This isn't a foreign group that just sat back and gathered information on conch species. These persons have been among us for a long time learning, studying and going over the numbers with the local community walking with them every step of the way.
"They understand the importance we put on the conch and that is reflected in the study. We've been at this for some time now. Bahamians across the length and breadth of the country know that this is a complex issue because conch impacts so many. Conch is everywhere and to keep that up, we have to push efforts that are wide-ranging and all-inclusive."
According to Mr Carey, current policy makers have already given "a degree of buy-in" to conservation efforts.
He told The Tribune he is working closely with Agriculture Minister Michael Pintard to craft a comprehensive plan that will deliberately lay out key policy items across three categories: urgent, medium-term and long-term objectives.
He added: "This entire fight is a high priority fight, but we know it is something we can't address or win through just legislation, conservation or the media. This is something we have to do in a true sense of collaboration."
Mr Carey said to that end, local groups and teams have pitched ideas that address everything from habitat management to harvesting techniques – all issues that are key to sustaining conch sources.
"We've looked at things like adjusting how and when we allow exports. There has also been talk around monitor measurements; there needs to be a stronger enforcement of the 15 millimetres lip thickness requirement. We've also talked about more protected areas for conch.
"Another thing we've looked at is the use of compressors in the process of harvesting conch. Compressors while still legal in the Bahamas, have been proven to be hazardous to conch habitat and therefore, that is something we want to review. When we talk to fishermen about this, we tell them that we are trying to ensure that they always have a lifeblood. It is sometimes hard for them to hear, but we have to get them to understand.
"This is the only way. Across the Gulf Stream in Florida, their population hasn't returned since being overfished. There are talks about conch farms, but that is just another failed plan. The only way out of this is true conservation, smart conservation, well-intending conservation."
The BNT back in 2014 launched its "Conchservation" campaign to ensure the long-term survival of local conch populations.
Through several partnerships, the BNT raised tens of thousands of dollars for the cause, which is still continuing.