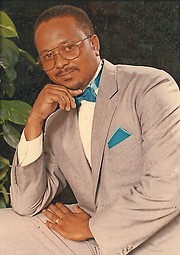 By AVA TURNQUEST
Tribune Chief Reporter
aturnquest@tribunemedia.net
A nearly 20 year sentence reduction for a convicted Grand Bahama murderer has sent shockwaves through the victim's family, and left his widow calling for changes to the country's legal system.
Cable Bahamas line technician Garfield Wright was stabbed to death in his Freeport home as he tried to protect one of his daughters from intruder Leslie Webster in 2001.
Webster was initially sentenced to 60 years in prison after he was convicted of Wright's murder in 2005, but that sentence was shaved down to 41 years in a Court of Appeal ruling last month.
Wright's widow Charlene said family members were shocked to learn of the sentence reduction through the news, and expressed disbelief victims were not directly notified of the proceedings.
She told The Tribune the couple's daughter still suffers from nightmares that recur around the time of the incident in May each year.
"It is so sad and hurtful that we were not notified of this appeal and ruling," she wrote in a statement.
"We saw it on the news and sat in disbelief. Even though Leslie Webster murdered Garfield 17 years ago, everything came back fresh.
"Family members should be allowed to come in and state what they are going through and reasons why that murderer should not be given any considerations. In considering our pain, life in prison is not enough for him."
Her statement continued: "Should they not be in place already, I am calling on the government of the Bahamas to establish laws where families of murder victims can attend these appeal hearings and receive reparation from the murderer while in prison, even if it's ten cents. Webster has no remorse; he doesn't even have a conscience, so this tells me he will try to appeal again. This monster needs to sit small in jail until he's brought out in a box."
According to the Court of Appeal ruling, on the night of May 7, 2001, Webster broke into Wright's home situated in Fiddler's Green in Freeport looking for something to steal.
While inside the home, Webster held Wright's daughter at knifepoint and a struggle followed between the convict and the deceased.
Wright, 40, was stabbed 16 times and killed as he tried to protect his daughter from the intruder.
"We are all in shock and cannot help but question our court system which would allow such a travesty," Mrs Wright continued.
"We are astonished that a convicted murderer who was sentenced to death and then given a second chance at life, be allowed to appeal his case and bring further hurt and pain to me and my family."
Mrs Wright wrote: "Leslie Webster took the life of someone very special. He murdered my husband, Garfield Wright, who was also a father, brother, uncle, cousin and friend. Webster should be grateful to be above ground; my husband however, is under the ground! I do not know why the Privy Council is giving him a slap on the wrist for murder. He is not remorseful for taking away our loved one. How dare he appeal! Even after Garfield was dead, he was still stabbing him."
She continued: "Every time I think about what our daughter who was ten at that time had to endure on that day, (it) makes me scream. Maybe the Privy Council should consider the plight of the victims."
Webster, who is in his late 50s, has already served 13 years of his new sentence.
He was unanimously convicted by a jury in March 2005 and was subsequently sentenced to death, but following an appeal in 2003, he was ordered to be retried.
Webster was again convicted of murder and sentenced to death on March 18, 2005; however, he appealed once again to the Court of Appeal, which dismissed his appeal and affirmed his conviction and mandatory death sentence.
Webster then applied to the London-based Privy Council, and while his appeal against conviction was dismissed - the court granted his petition for leave to appeal against sentence.
His appeal against the mandatory death sentence was allowed and the Privy Council remitted the matter to the Supreme Court for an appropriate sentence to be imposed.
The re-sentencing took place before Justice Isaacs on February 10, 2012, after which Webster was sentenced to 60 years in prison for murder, with the sentence to run from the date of his conviction in 2005.
Webster subsequently appealed that decision by Justice Isaacs.
Appellate President Sir Hartman Longley, along with fellow Justices Stella Crane-Scott and Milton Evans, last month ruled Leslie Webster will now serve 41 years.
The appellate court initially substituted a 45-year sentence for Webster, asserting the original sentence was "unduly harsh" and that the new one represents the "appropriate sentence" that "ought to have been imposed for the offence."
Mrs Wright continued: "How could his sentence be too severe, and what kind of considerations is he entitled to? Please tell me! What about our pain? The little girl that Garfield died fighting for 17 years ago is now a woman and still has nightmares.
"The oldest daughter just got married, her uncle walked her down the aisle and the seat where her father should have been sitting only held a picture of him. Webster's children can see and touch him; my children cannot see nor touch their father.
"We only have memories!"