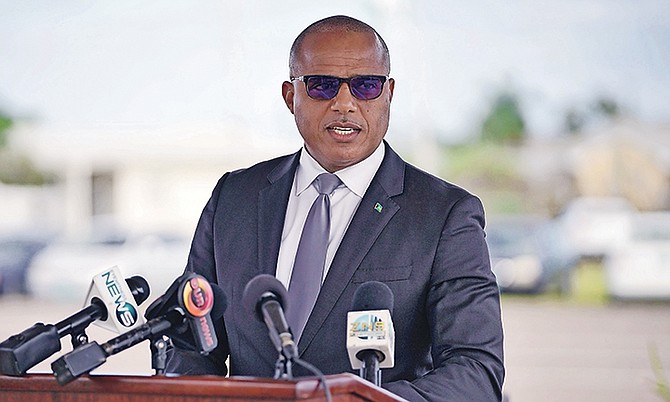 By MALCOLM STRACHAN
FIGHTING crime is perhaps the most relevant national issue we face as a country, next to, of course, a much-desired economic rebound. Although marginal, the eight percent decrease in crime has been noteworthy and much credit is owed to the hardworking men and women of the Royal Bahamas Police Force. Certainly, there is room for improvement, which we should be confident will take place with the introduction of the technology Minister of National Security Marvin Dames and Commissioner of Police Anthony Ferguson have been promising.
Just months into his appointment, Dames sent out a warning to the criminal element: "I will like to send a warning out to all those persons who continue to live a life of crime -- moving forward we intend to make your life very uncomfortable," Minister Dames said. "We will use every resource at our disposal to ensure that you are made to account for your wrongdoings."
Indeed, after a full year behind the wheel, Dames' expertise in law enforcement has paid off, as he and COP Anthony Ferguson have proven to make a good pairing at the helm. While there are still areas we want to see improved, a nearly 30 percent increase in the detection rate of the 91 murders that took place in 2018 is heartening.
Most recently, Minister Dames revealed some of his upcoming initiatives: "As criminality evolves and becomes more sophisticated, the government of the Commonwealth of The Bahamas is committed to ensuring and providing cutting-edge technology associated with worldwide industry standards – drones, body cams, and shot spotters are just a few of the crime-fighting tools that government will be providing to the Royal Bahamas Police Force, and Defence Force and other law enforcement agencies around the Bahamas to further reduce crime levels in the nation. We will begin rolling those in during the first quarter of next year," said Dames.
In a separate interview this year, Dames elaborated on the possibilities of ShotSpotter technology, that it will "revolutionise" their crime fighting capabilities.
"It uses acoustic surveillance technology to detect, locate and alert the police of gunfire, wherever they may be.
"Real time data, precise location, number of shots [and] the type of gunfire will be transmitted to the police control room, allowing analysts to pinpoint and subsequently dispatch units to the scene with the foreknowledge of particulars before they arrive.
"Getting to gunfire instantly [or] faster not only improves the likelihood of apprehending a perpetrator, but may also save the life of a gunshot victim," he said.
Additionally, Dames also confirmed a request for proposals was issued for the acquisition of drones, which in some jurisdictions have made a great impact on crime.
For instance, after experiencing rising levels of crime, Mexican police in Ensenada yielded positive results after introducing a drone programme. With just one drone, Ensenada police reported a ten percent reduction in local crime with more than 500 arrests, and a 30 percent reduction in home robberies.
The Bahamian people have been waiting for first-world standard crime fighting technology to be utilised by local law enforcement. However, we have been told for a long time these technologies would be coming on stream.
In December, when speaking to the media, Dames said the $1.9m ShotSpotter contract would be signed in a week. Last week, a few weeks after his December interview, the timeline shifted to another few weeks. Similarly, in November 2017, Commissioner Ferguson told the media the RBPF would have been testing body cameras for the next "several weeks". Over a year later, Ferguson acknowledged the length of time this testing phase has been ongoing, but gave assurances that today, "it is much closer today than it has been".
While we would like to show as much patience as we can, we are not receiving an explanation as to what is holding up these processes. In this case, we only can hope the timeline given by Dames that these advances will be fully operational by June this year will not slide any further.
Especially while law enforcement seems to have momentum and morale is high, now is not the time to become complacent.
With studies showing the successes other jurisdictions have experienced by integrating gunshot detection, drones and body cameras into their crime reduction strategies, what has also been notable is the increase in accountability on the part of law enforcement.
Surely, a 24 percent increase in complaints against the RBPF evidences the need for increased accountability and trust between the police force and the public. Turning our attention to a proven method in reducing complaints, a Cambridge University study revealed police-worn body cameras have led to 93 percent fewer complaints from the public. This is perhaps why law enforcement in the US, the UK and Australia have deployed 50,000, 70,000 and 17,000 body cameras respectively since 2015.
There is no doubt technological advancements have made it possible for new and more efficient tools to be used in our crime fighting strategies. The impetus has to be on our leaders to equip our law enforcement agencies with the adequate technology to bolster their efforts.
The late technology guru and pioneer Steve Jobs left us with many nuggets of wisdom before his passing, but one may have said it best: "Technology is nothing. What's important is that you have a faith in people, that they're basically good and smart, and if you give them tools, they'll do wonderful things with them."
We should be encouraged that our law enforcement will only get better with modern technology. Dames has certainly shown the grit to get the job done. Hopefully, the government will continue to provide the Ministry of National Security with the resources needed to eliminate crime and make The Bahamas a safer country.