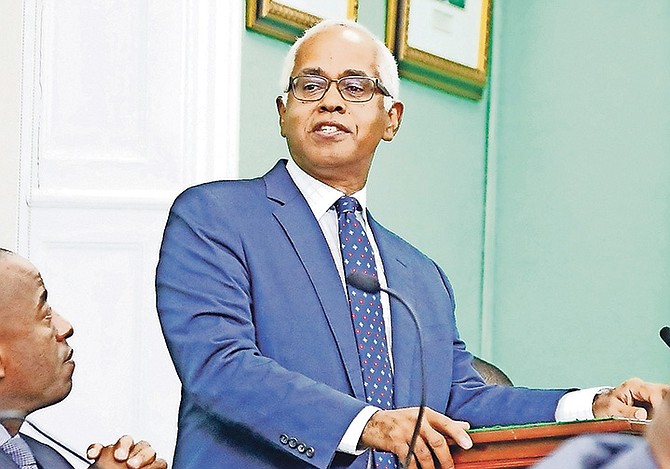 By NEIL HARTNELL
Tribune Business Editor
nhartnell@tribunemedia.net
Bahamian entrepreneurs have been urged to seize the moment and "grab a greater piece of the tourism pie" with projected air arrivals up 16 percent for three of 2019's first four months.
Dionisio D'Aguilar, minister of tourism and aviation, told Tribune Business that advance stopover visitor projections suggested The Bahamas was "maintaining the phenomenal growth rate" enjoyed in 2018 through the upcoming peak winter season.
Branding the outlook as "incredible", Mr D'Aguilar said the forecast indicated that the Ministry of Tourism's "formula" of focusing marketing efforts on online and social media channels was "bearing fruit".
And he revealed that growth in available airline seats on incoming flights to The Bahamas "slightly exceeds" the rise in passenger numbers, with year-over-year increases of 15-20 percent forecast for each month during the 2019 first quarter.
The extra capacity will reduce pressure for airline ticket price increases, Mr D'Aguilar said, alleviating a long-standing hotel industry concern about the costs their guests pay to access this destination.
He moved quickly, though, to argue that the $4.2bn Baha Mar project's completion and opening was not the sole factor driving the increase in higher-spending stopover visitors. Pointing out that several Family Islands were also enjoying "double digit" growth, Mr D'Aguilar asserted that The Bahamas "is a hot destination".
As a result, he argued that there was no better time for Bahamian entrepreneurs to invest in launching "new and creative" products targeted at visiting tourists and capitalise on this expansion, as he warned that it would be impossible to maintain such growth indefinitely.
"We're still experiencing this incredible growth," Mr D'Aguilar told Tribune Business, referring to the advance booking data captured by ForwardKeys, the travel trends intelligence provider.
"Initial indications are that air arrivals for the month of January, air arrivals are projected up by 15.6 percent. February will be up 16.3 percent, and March down by 2.8 percent. April is forecast to be up by 16.8 percent."
Mr D'Aguilar explained that the year-over-year forward bookings comparison for March was down due to the timing of Easter. Whereas that peak travel period fell at the end of March in 2018, the holiday this year occurs further into April.
He added that the ForwardKeys data, while representing "arrivals on the books in The Bahamas", did not cover the entire market and only accounted for several key tourist feeder markets for this nation - meaning that stopover arrival numbers could ultimately turn out to be even greater than these forecasts.
"The average over the first three months is up 10.1 percent" compared to 2018 figures, Mr D'Aguilar said of air arrival forecasts, "and the average over the first six months we're projecting up 10.8 percent."
He added that the Forward Keys' data was less certain the further out in time it went, with the "99 percent" confidence rating ascribed to January's figures dropping to 63 percent for February and 39 percent for March, respectively.
Still, the Minister said: "I'm extremely excited that we continued to generate phenomenal growth. I'm incredibly encouraged that we are maintaining these phenomenal growth rates on our air arrivals.
"To come off 2018 and get fantastic numbers between 14, 15 and 16 percent; to sustain that, though not quite as much, through the first quarter of next year is incredible. It's very encouraging for The Bahamas. It means our formula is working - our focus on online marketing, on advertising through Google online and booking engines is bearing fruit.
"Couple that with a strong US economy and many of our island are enjoying this double digit growth. It's impressive to see that continuing, even though we know it's [current growth levels] not sustainable" over the long-term.
Stopover arrivals are the key driver for the Bahamian tourism industry and wider economy because of their much greater spending in comparison to cruise passengers. They typically spend around $1,500 per head on a Bahamas vacation, whereas cruise visitor outlay is traditionally in the $70-$80 range. Recent industry studies suggested the latter figure has grown to $132.
The timing of the continued air arrivals surge will provide a further boost for the hotel industry and other tourism operators, given that it coincides with the peak winter season from January to April. This is when hotels, in particular, generate the bulk of their annual profits, which helps to carry them through the slower periods of the year.
Mr D'Aguilar, meanwhile, said The Bahamas could draw further encouragement from the growth in airlift capacity to this nation - something long considered essential to tourism's prospects given that Baha Mar's extra 2,000-plus room inventory requires an extra 400,000 aircraft seats annually to fill it.
"Our airlift capacity, through available seats, continues to grow from these key markets," he told Tribune Business. "In January, our overall capacity is up 20 percent from last year. February is up 20.3 percent, and March by 14.5 percent.
"Certainly for the first quarter our growth in capacity is slightly exceeding the growth in numbers. One of the issues the hotels were worried about was increasing airline ticket prices to The Bahamas. When you increase supply it helps to keep the cost of travelling to these markets reasonable and diminishes the rate of growth in ticket prices."
Mr D'Aguilar pointed to 20 percent-plus growth in Eleuthera's 2018 air arrivals, and increases in Abaco, Andros and the Berry Islands, to back his argument that Baha Mar was not the only factor driving The Bahamas' largest industry.
"The destination is hot, The Bahamas is hot," he told Tribune Business. "A number of Family Islands are definitely feeling this as well." He added that there was "more to come" on new tourism marketing initiatives for 2019, but declined to reveal details on the grounds this will be divulged during the first week of February.
With all these positives currently aligned in The Bahamas' favour, Mr D'Aguilar called on Bahamian entrepreneurs and investors to take advantage of the opportunity and not allow it to bypass them.
"I just think that this is the time for Bahamian entrepreneurs to consider investing in creating new, different and enhanced tourism industry offerings to our foreign visitors because they are clearly coming, and Bahamians need to ensure that while tourism is hot they're getting a greater piece of the pie," he said.
"They need to participate in this growth and not just stand on the sidelines and let it go by them. I encourage those in the tourism industry that maybe this is the time to expand, and for those considering it this may be the time to start."
Asked whether enough Bahamians were feeling the benefits of this tourism industry growth in their incomes and pocket books, Mr D'Aguilar conceded that "there are pockets of the economy that are not doing well".
He added, though, that the stopover visitor increase was so significant that hotel workers and those in other tourism-related businesses were bound to be seeing the impact from "the increase in drop to the destination".