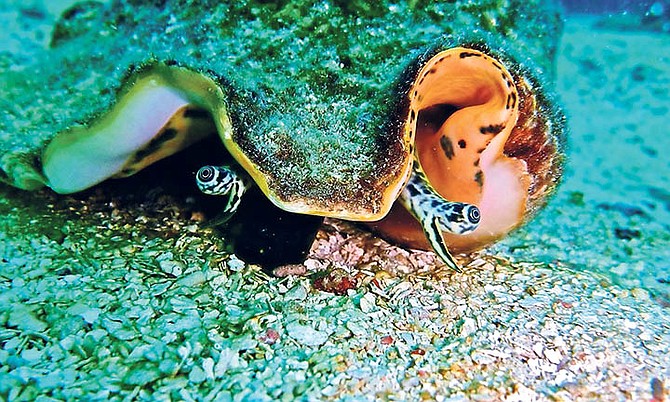 By MORGAN ADDERLEY
Tribune Staff Reporter
madderley@tribunemedia.net
"THIS is not a surprise," is how BREEF executive director Casuarina McKinney-Lambert responded to reports that The Bahamas' conch population could be wiped out in ten to 15 years.
According to Ms Mckinney-Lambert, the environmental organisation has long been "sounding the alarm" about the reality of conch decline. 
In an interview with The Tribune yesterday, she called for the country to "chart a new path" toward a more precautionary approach to sustaining resources. 
To reverse the tide of low conch population in particular and spur increased reproduction, Mrs McKinney-Lambert suggested the implementation of "effectively managed" replenishment zones and for the nation to "address the issue" of illegal harvest by poachers and local fishermen alike. 
"(Bahamas Reef Environment Educational Foundation) BREEF has been sounding the alarm about the situation with conch for decades, including the "Nassau Grouper and Queen Conch status and management options" report in 2002," Mrs McKinney-Lambert said. 
"This is a very vulnerable species whose populations have collapsed throughout the region. We want to make sure that this doesn't happen here. 
"Conch populations are below the threshold for reproduction in much of The Bahamas and this is of major concern to us, fishermen and anyone else who likes conch.
"If there aren't enough adult conch in an area, they will not reproduce. Effectively managed replenishment zones are needed to help restore conch populations. We also need to address the issue of illegal harvest- both by poachers and by people who are illegally taking juvenile conch. 
"We need to give more detail regarding the fisheries regulation of a "well-formed flaring lip" to specify that the lip needs to be at least the thickness of a penny. Finally, we should absolutely not be exporting conch out of The Bahamas. (Queen) Conch is a protected species under CITES (the Convention on International Trade in Endangered Species)."
On Sunday, Agriculture and Marine Resources Minister Michael Pintard said he would "aggressively engage" stakeholders regarding conch conservation, including starting dialogue on a possible conch season.
Mr Pintard said measures his ministry will be "strongly recommending" will include implementing a minimum lip thickness for conch to be harvested, considering ending conch exports, increasing equipment and personnel available to "ensure compliance" with fisheries laws, and encouraging more participation in the fight against "illegal, unreported, and unregulated" fishing practices.
However, when the Tribune canvassed vendors at Arawak Cay and Potters Cay Dock on Friday to learn their views on these dire research findings, the majority of the vendors interviewed dismissed the study's findings, with some describing it as "impossible". 
When asked about this reaction, Mrs McKinney-Lambert said: "I think that it's important for people to realise that there have been warning signs for many years - this is not a surprise. 
"We have the opportunity to follow in the footsteps of other countries towards population collapse, which is basically what we have been doing, or chart a new path and take a precautionary approach to sustaining our resources."
"I'm pleased that the minister (Michael Pintard) is taking this issue seriously for the benefit of current and future Bahamians," Mrs McKinney-Lambert added. 
"Nobody is disputing that in many places where conch were once abundant, they are now much more difficult to find. It's important to use strong science combined with local knowledge for good decision-making.
"We have had a lot of Bahamian BREEF students assist with surveys carried out by Community Conch and the Shedd Aquarium, and have been doing conch education in schools since BREEF's early years."
In a press release earlier this month, the Chicago-based Shedd Aquarium group revealed its research on more than 3,000 conchs at 42 survey sites throughout the Bahamas between 2009 and 2017.
The findings show that not only are the numbers of adult conch decreasing, but the densities of legal-to-harvest queen conch are now far below the established minimum threshold for reproductive success, except in the most remote areas.
Additionally, the research showed that viable fishery for queen conch in the Bahamas might only last another ten to 15 years, unless significant measures are taken to cut fishing pressure.