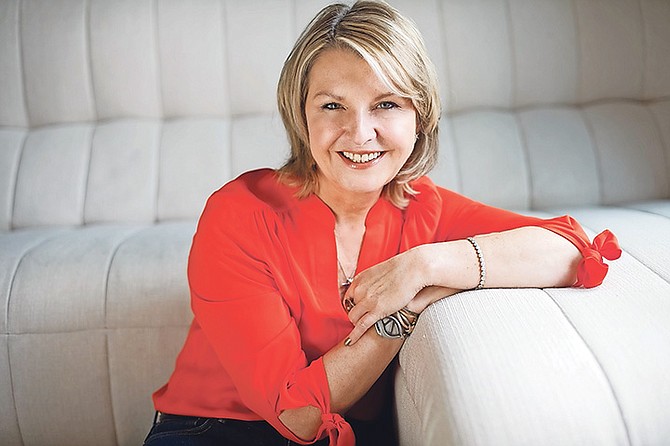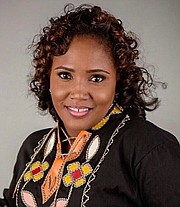 By Felicity Darville
April 30, 2017 will always be one of the most memorable dates in my life. I was in London accepting my certificates from one of Britain's top therapists, Marisa Peer, in Hypnotherapy and Rapid Transformational Therapy. Her techniques were life changing for me. After experiencing the success of her therapy in my own life, I enrolled in her school with the goal of helping others and on that date, I graduated. It was an honour to have been taught by Marisa Peer, best-selling author, motivational speaker, leading celebrity therapist and pioneering hypnotherapist trainer who was named Britain's best therapist by Tatler magazine. Hypnotherapy allows a therapist to utilise hypnotic techniques to help people heal from a wide range of personal issues, while rapid transformational therapy allows a client to have massive success in overcoming their problems from the very first session.
While taking the course in London, I had the pleasure of meeting Rosalyn Palmer. Ros, as she is affectionately called, was a previous graduate and was there to assist in the preparations for our final exams and to help the students out wherever she was needed. I had heard so much about her. Being the first Bahamian to complete the course, facilitators told me they had heard so much about The Bahamas from Ros, who was a part of the team. Ros had done a good job of sharing the joys of Bahamian living and I was welcomed with open arms. Ros and I hit it off immediately and we spoke at length about my beloved country. As a practicing therapist, it seemed the time she spent living here was indeed therapy for her, helping her through a time in life when she needed the kind of inspiration The Bahamas offers to overcome cancer.
Ros recently launched her book: "Reset! A Blueprint for a Better Life" and as we discussed the book, it gave us a chance to talk about how therapy – and the joys of Bahamian living – have helped to improve our lives and put us in the position to be successful therapists today.
Powerful and motivating, Ros' book guides readers through a journey of self-discovery. She says she gained clarity through her remarkable life experiences. It's a self-help book for those who don't like self-help books or those who do but are still feeling deflated. Ros understands as this was the blueprint for her own life when she was a boss of an award-winning PR Agency in London. Her clients included the motivational gurus of the time such as Tony Robbins, Edward de Bono and Robert Holden. Yet she was like her own archetypal client of today – "stressed out, burnt out and hiding behind a mask". She is candidly open about her own story that includes outward success, her early years as a grocer's daughter and comprehensive school kid to a time when her life imploded with cancer, divorce, bereavement, redundancy, financial loss and more. Coming through it, and now as a therapist, Ros offers the reader accessible solutions to everyday challenges.
Ros grew up in Nottingham in Central England with her parents and one sister: "My early years were spent living above my parents' shop as I was a grocer's daughter, and my father's family were the linchpin of the community with their shop and food deliveries for many decades. I went to a large state school but was very driven and was always in the school plays, on outward-bound courses, on the honour roll and so forth. In 1977, I was chosen as the Girl Guide representative for the whole of my county of Nottingham to meet the Queen during her Silver Jubilee visit."
Shortly thereafter, Ros was given her own radio show and her love for media was born. Today, she is an experienced writer, journalist and broadcaster.
"So, off I went to the bright lights of London where I studied for a degree in English Literature," she recalls.
"Graduating in the early 1980s, I fell into a career for which I had no understanding; that of Public Relations and with some time also spent in publishing and marketing, I soon found myself working at the leading United Kingdom PR company of its day, Lynne Franks PR. I remember going on the Orient Express on my second day and working for the likes of the Rolling Stones and other celebrities… and royalty."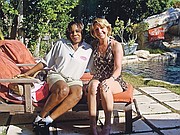 Ros' life was about to become even more colourful: "At this time I met my future husband, Mark and started in 1988 to visit Nassau where his family lived. We visited every Christmas and in 1989, we went to Abaco for our honeymoon. In 1991, we started our own PR company - Rosalyn Palmer PR. That grew quickly to become one of the best in the UK. We continued to visit The Bahamas as often as we could while living in central London. Visits were mostly to Nassau where his parents lived, but we also made trips to Harbour Island, Grand Bahama and Andros."
Having won several prestigious awards including PR Week Award for Best Small UK PR Agency and runner-up in the Women into Business Awards, Ros found herself exhausted and life became very difficult to juggle after having children. She and her husband managed to negotiate a sale of the business in 2000 and were planning their next move in life when they found out that Mark's father, Ken Palmer, was seriously ill with a heart condition. When his father died, Ken started spending long chunks of time in Nassau looking after the family concerns and business. Later that year, Ros and the children joined him in Nassau, expecting it to take about a year while all legal and financial issues were concluded.
"We moved after a first rental to an old house on the sea front at Cable Beach (no longer there) right by Sandals," Ros told me.
"I became involved with voluntary work at the church (New Providence Community Church) and I was very fit with running on the Cable Beach track and going to the gym. I built up a new friendship base via a book club (held above Swiss Bakery) and a writing group and from some friends already made who were into conservation and nature and who showed me much of the island. We attended a lot of charity functions and events and my children went to school in Nassau. The one year turned into two and then my father had a stroke back in the UK, so I spent a lot of time flying back to the UK to help with his care."
Six months later, Ros was given the shocking news about her own health. It was the day before Good Friday when she was diagnosed with breast cancer. She had a mammogram just a month earlier and was given the all-clear, but says she felt a lump almost immediately.
Although she was feeling in good health on the whole, in hindsight she realized her immune system was running down. She described herself as "super-fit" and would run five kilometres every morning and would go to the gym but for the past few months, she had noticed that she was having to break her run with intermittent walking because she was tired.
"Even when I went for the ultrasound I was thinking it was probably just a cyst," Ros said.
"But the nurse grabbed my hand and said: 'Live every day as if it's your last!' And I was like, 'Oh God, is this something serious then?' I hadn't even taken anyone to hospital with me. They asked me to come in the next day for a biopsy. Four days later I was told that it was cancer.
"I was in complete shock. The next day we went away on holiday to Tarpum Bay in Eleuthera. I went to a church service and it was all about death; it was Good Friday and all of a sudden I thought: 'Oh, my God, I'm going to die.' I couldn't stop crying. I had youngish kids at the time so I had to be really practical and we had to look at lots of options really quickly. We did a lot of research and I ended up going to the Moffitt Cancer Centre in Tampa, which was absolutely outstanding. Three weeks later, I was on the operating table. My initial diagnosis of invasive lobular carcinoma, was not good. My Bahamian doctor advised a double mastectomy and the Moffitt carried out further tests. They have one of the most advanced breast MRI machines in the world and found five lumps in addition to the one confirmed as cancer across both breasts. They recommended double mastectomy, chemo and radiation treatment. Because of my young kids (who were back in the Bahamas) I had an appointment with the plastic surgeon straight away and the operation was booked in for a few days."
"I suddenly started to feel very bulldozed by it all. I went to a local church in Tampa and passed out. I later found out that all the people in my home church in the Bahamas had been praying for me at the same time. I came out of the church and thought: 'I just don't think all those other lumps are cancer.' I had a complete certainty about it. So I rang the hospital and they said they'd biopsy each new lump one after the other. They said that if all five were not positive then I would have defied all odds. And basically I did defy the odds. I had five biopsies and every one came back negative. I had a lumpectomy and brachytherapy radiation."
Following a chance conversation at a party, the Palmers moved to Governor's Harbour, Eleuthera and rented a ten-acre organic farm on Banks Road which, at the time belonged to Ian Goodfellow who had moved his operation to Nassau. For two years they lived on the land and sea. Ros distilled Noni juice. She meditated, read, watched positive movies. She considers it "one of the most amazing and uplifting times" of her life – even with two hurricanes - and she recovered fully. She recalls the kindness of the Bahamian people and how people helped to take care of her children "with no complaints" when she went for her early cancer treatments.
"I loved walking on the pink sandy beaches, picking up sand dollars and sea cookies and I knew where to find sea glass and make mosaics," she said.
"I connected to many artists and started to paint Bahamian scenes, and I sold five paintings in a gallery in Harbour Island. I would go with friends up and down the island to walk the beaches or do yoga on the beaches. When I was recovering from the cancer I'd walk and swim in the sea with my potcake Tarpum. I loved the farm as we had (before the hurricane) soursop, cherries, breadfruit, coconuts, finger bananas and veg and I'd buy a bushel of mangoes from Mr Pinder from Spanish Wells. I loved the sea, especially the Atlantic as it was more wild and unpredictable. I used to snorkel and the fish I'd see were amazing sea creatures; although I didn't mind the sharks, I was scared of the barracuda!"
Sadly, six months after Ros' diagnosis, her mother was diagnosed with terminal pancreatic cancer. Her illness, her father's illness and then her mother's illness put too big a strain on her marriage and she says she was unable to continue in my marriage or living in the Bahamas and she ended up returning to the UK. She misses the sea and for this reason, she lives right by a river and walks along its banks every day. What she doesn't miss, she says, are the mosquitoes and the humidity.
All of these experiences and more led her to publish her book that is already gaining recognition. Reset! A Blueprint for a Better Life received high commendations in the self-help book category of the Prestigious Janey Loves Awards and is now shortlisted for the Soul & Spirit Awards. The book is available on Amazon.co.uk and Amazon.com. To learn more, check out www.rosalynpalmer.com, www.resetyourjoy.com, on Facebook at rosalynpalmertrusttransformation or Instagram at rosalynpalmertrusttransform.