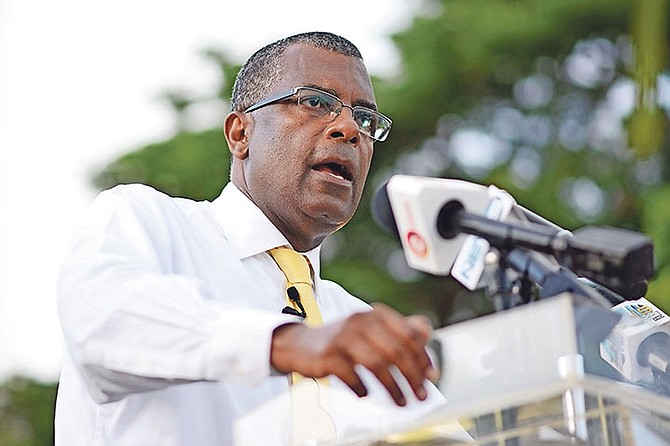 By KHRISNA RUSSELL
Deputy Chief Reporter
PROGRESSIVE Liberal Party chairman Fred Mitchell says Prime Minister Dr Hubert Minnis' trip to Brussels to meet with high-level European officials is "quite strange" and makes the country look like "grovelling mendicants".
Mr Mitchell questioned why the prime minister made the foreign trip when his administration contains a Finance Minister, International Trade Minister, Foreign Minister and ambassador to the European Union.
"The announcement tonight that the Prime Minister is to fly to Brussels to meet with " high ranking European Officials" is quite strange," Mr Mitchell said Sunday in a press statement. "How is it that a Prime Minister who has a Finance Minister, an International Trade Minister, a Foreign Minister and an ambassador to the European Union so lowers himself to meet with European Union officials...no one of equal rank of a prime minister.
"This makes our country look like a country of grovelling mendicants with our caps in our hands saying: 'Please sirs we want some more'."
The prime minister and delegation left for Belgium yesterday morning to hold bilateral talks with high-ranking officials of the European Commission.
The discussions will focus on matters relating to the fulfilment by The Bahamas of its commitments to the EU, and how those commitments will be implemented by the financial services sector of The Bahamas.
Prime Minister Minnis will also promote recent initiatives by the government in the financial services sector, and will outline recently passed legislation and a new framework aimed at strengthening industry regulations and protecting the financial services' competitive edge as a leading international financial centre.
The delegation is comprised of Attorney General and Minister of Legal Affairs Carl Bethel, QC, Viana Gardiner, COO, Prime Minister's Delivery Unit, Stephen Coakley Wells, advisor to the Minister of Finance and Wendy Warren, CEO, Caystone Group.