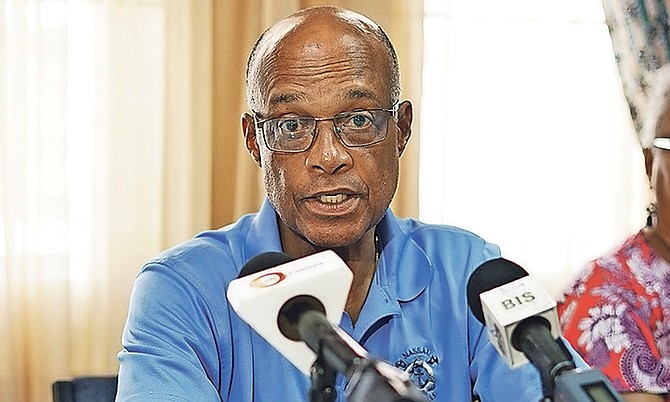 By KHRISNA RUSSELL
Deputy Chief Reporter
krussell@tribunemedia.net
A DAY after insisting he had no knowledge of a probe uncovering collusion by employees to defraud the government of nearly $450,000 in a department under his purview, Education Minister Jeff Lloyd told The Tribune the matter is under "active" investigation.
He also said a reform process is underway at the Ministry of Education, including an overhaul of its accounting department.
However, it remains unclear who is investigating what Auditor General Terrance Bastian deemed "egregious acts" by workers in the Department of Education, as Assistant Commissioner of Police Paul Rolle, who heads the Anti-Corruption Unit, told this newspaper the unit was not looking into the findings of the report. We were directed to inquire with the ACP by the Financial Crimes Unit of the Royal Bahamas Police Force.
"I didn't request the audit, the audit has to go to them (education officials)," ACP Rolle said. "Any complaints from there have to come from the minister. So if he doesn't have it, you know we don't have it.
"I guess at some point he'll write to the commissioner and then he'll decide where he wants to send it. But nothing has reached to me yet."
The report covered the period from July 1, 2014 to February 28, 2018, and was sent to the Ministry of Education in September last year but not tabled in the House of Assembly. It is expected to be tabled today.
As to why the report was not tabled in the three months following its release essentially causing it to be withheld from public view is also unclear.
While Mr Bastian confirmed it was sent to the chief clerk of the House in September, The Tribune understands while a junior staffer signed and received the auditor's report, it never reached the head clerk.
When asked about this, House Speaker Halson Moultrie said this was not an effort to suppress the report. He said it has been consistent practice for reports to be tabled in a timely manner once they are received by the lower chamber.
"I suspect it may be tabled tomorrow (Wednesday) if he has received the full complements of copies because what has been happening is we have been receiving like one or two copies from the Auditor General and when the documents are tabled members are asking for copies and we usually have to then go take the documents apart and make copies of them," Mr Moultrie said.
"So we have requested of the Auditor General that he provide at least 40 copies to the House of Assembly so that each member can receive a copy in addition to the one being tabled. I hope that is the procedure and if there is any delay that may have caused the delay."
He added: "All of the audits that were presented to the speaker have been tabled up to this point in time."
Mr Moultrie further explained that in most cases, reports would be left at the reception desk and then passed on to the clerk.
Following this interview with Mr Moultrie, Mr Lloyd was asked if he intended to refer the fraud case to police, to which he responded: "Yes".
He was also asked if any changes were made to the manner in which stipends and honoraria were handled based on the report.
"Complete reform of the processing and the procedures in the Accounting Department, complete. And a reform process (is) underway throughout (Ministry of Education)," Mr Lloyd said.
"It's slow. It's tedious. It's inevitable."
Asked whether anyone was fired or reassigned, Mr Lloyd said: "This stuff is under active investigation. I say no more."
During this special probe, Mr Bastian said a team observed what appeared to be several irregularities perpetuated by staff members using an array of honoraria codes.
The report defines honoraria as being granted to officers who are required to perform extra duties in addition to their normal duties for a specified period.
While the director approved these payments, there was no accompanying formal approval from the Ministry of Finance, Ministry of Education and the Ministry of Public service as is required. This meant there were no project justification letters including cost, financial clearance, virement of funds and appropriation transfer warrants provided by the Department of Education.
A virement is an administrative transfer of funds from one part of a budget to another.
"Since staff were able to perpetuate a fraud to the tune of $448,230.68 using the honoraria description it would be reasonable to ascertain that other unethical uses of other codes could have been used," the report, dated September 12, 2018 noted.
In one instance, an assistant accountant received 43 honoraria payments of $125,505.82 in 44 months. At a separate time, another accountant received $61,113.18 in 32 instalments in 20 months while those with lesser jobs including a general service worker received nine honoraria payments of $12,650 in 17 months.
There were at least 12 instances where this happened.
Auditors further noted a finance officer was signing on behalf of the head of department and authorised ten virements from the salary block totalling more than $2m for the 2016 and 2017 fiscal years.
There were also instances where auditors found that individual staff members received over $10,000 and as much $125,505.82 in honoraria payments in "unreasonable" time periods. A head of department also authorised $1.3m over two years.