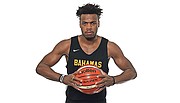 By RENALDO DORSETT
Tribune Sports Reporter
rdorsett@tribunemedia.net
BUDDY Hield is having a breakout season as one of the NBA's most improved players and the local media in Sacramento is galvanising support for his bid to the 2019 Three-Point Contest on All-Star Weekend.
Hield is tied for third in the league with Paul George and Kemba Walker in three-point makes per game at 3.3 per contest and is shooting 44.4 per cent from three-point range, both career highs.
His three-point percentage ranks ninth among qualified players, but fourth among players who shoot five or more attempts per contest. He also ranks fourth in the league in total three-point makes (143), behind James Harden (194) and Steph Curry (167).
In Monday night's 115-107 win over the Portland Trailblazers at the Golden 1 Center in Sacramento, California, Hield shot 7-10 from the field en route to a team high 19 points. He was 2-4 from three-point range with seven rebounds.
In 44 games this season, Hield is averaging a team leading 20.1 points, 4.9 rebounds and 2.2 assists per game. Hield is also shooting efficiently at 47.8 per cent from the field.
Hield had an active 2018 All-Star Weekend in Los Angeles where he participated in a number of events but was not selected for the 3-Point Contest.
Hield participated in the Mountain Dew Kickstart Rising Stars Challenge, the Taco Bell Skills Challenge and he was also one of several players who hosted various NBA Cares clinics during the All-Star weekend. He helped the World Team to a 155-124 win over Team USA at the marquee event for the league's second and first-year players. Hield's numbers were in MVP contention with 29 points, five made threes, three rebounds and three assists. However, Kings teammate Bogdan Bogdanovic would go on to win the award.
Hield, 26, finished last season as the Kings' second-leading scorer averaging 13.5 points (.446 field goal percentage, .431 three-point percentage, and 88 three throw percentage), 3.8 rebounds, 1.9 assists, 1.06 steals in 25.3 minutes per game.