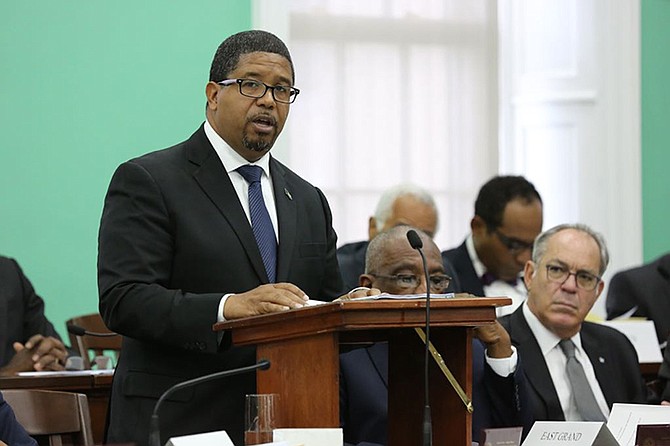 By NEIL HARTNELL
Tribune Business Editor
nhartnell@tribunemedia.net
The deputy prime minister yesterday admitted there may be "some initial contraction" as the Bahamian financial services sector adjusts to its new regulatory regime, but expressed confidence it will ultimately "come back stronger".
KP Turnquest told Tribune Business there would inevitably be some shake-out as the industry adapts to the "economic substance" requirements imposed by the European Union (EU) and Organisation for Economic Co-Operation and Development (OECD), and the elimination of "ring fencing", but argued that The Bahamas' "quality" reputation will see it re-emerge again.
Speaking as the prime minister met with senior EU officials to reaffirm The Bahamas' intentions to meet its demands, Mr Turnquest voiced optimism that this country was "in good shape" to avoid the 28-nation bloc's "blacklist" that is due to be announced later this month.
"Our regime is pretty much benchmarked with all jurisdictions of like size and scope, so we believe we will be competitive in our sphere," Mr Turnquest told this newspaper of the new financial services supervisory framework.
"We anticipate that while we may find some initial contraction, as we always do when there are changes of this nature, at the end of the day clients return to quality and there is no doubt that The Bahamas is a quality jurisdiction. We anticipate we may have a bump in the road, but we expect the industry to come back stronger and adjust to the regulations as required."
While expressing confidence that The Bahamas has done everything necessary to avoid the EU "blacklist", Mr Turnquest said: "We had outlined to the EU last year a timeline for implementation of various initiatives and we have met all our targeted deadlines. As far as we're concerned we're in good shape. We have addressed all the follow-up questions put to us, and await the final assessment by the EU's Code of Conduct Group.
"We certainly expect to have a favourable review but, at this stage, it's in the hands of those who will be the judge, jury and executioner. We've certainly complied with all the standards, the supporting paper that was presented to us, and believe we have done enough."
Dr Hubert Minnis, together with Carl Bethel QC, the attorney general, met in Brussels with top EU officials to press the case for this nation to avoid any "blacklist".
Yesterday's meeting saw the Bahamian delegation meet with Stephen Quest, director-general of the directorate generale for taxation and Customs union. Many in the financial services industry, though, are still trying to interpret what Dr Minnis' trip to Brussels means and if it represented a last-ditch effort to persuade the EU not to include The Bahamas on its "blacklist".
A government source, though, said the prime minister's presence was intended to show the EU that The Bahamas "takes this very seriously at the highest level", and is putting major weight behind its compliance.