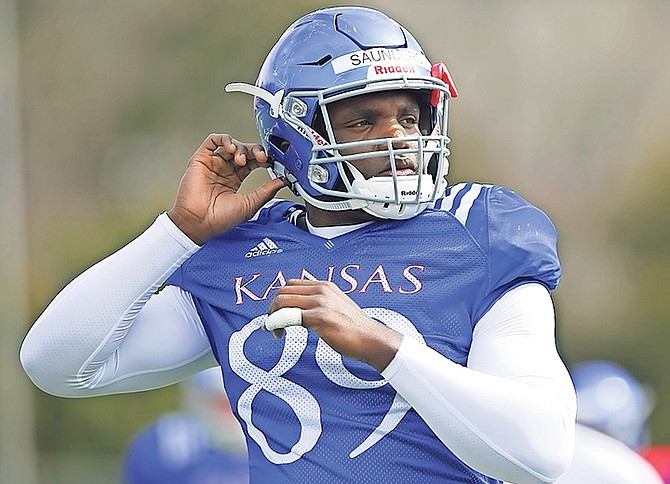 By RENALDO DORSETT
Tribune Sports Reporter
rdorsett@tribunemedia.net
Mavin Saunders' preparation for the 2019 NFL Draft has taken him across the United States to bowl games and showcases as he looks to increase his stock at the professional level.
Saunders recently participated in the College Gridiron Showcase Symposium and the SPIRAL Tropical Bowl. Following his sessions at both events, he interviewed with the Dallas Cowboys, New York Giants, Arizona Cardinals, New York Jets, New England Patriots, Los Angeles Chargers, Tampa Bay Buccaneers and Buffalo Bills.
The 6'6", 258-pound tight end said he looks to make the most of each opportunity to showcase his skillset for NFL franchises.
"Both bowls target seniors with potential who may be under the radar so I was invited to both," Saunders said. "The draft process been a great learning experience has the opportunity to connect with many different businesses etc. After my performances in the practices in the bowls I had some new opportunities and I look forward to even more."
The 2019 NFL Draft takes place April 25-27 in Nashville, Tennessee, featuring 254 total selections in seven rounds.
Currently training in Houston, Texas, Saunders is confident he will have his NFL opportunity. "Those events were both a success. I've heard I'll probably get picked up in a later round or signed as a free agent but all it takes is one team. A lot of teams are interested so I'll get in, I just have to work to stay in."
Thirty members of the 2018 CGS class are now in the NFL, the most of any class. More than 110 Tropical Bowl participants have gone on to the NFL, while every NFL team was in attendance at this year's event.
During his lone season at KU, he played in nine games, and caught four receptions for 32 yards, including an 18-yard touchdown. Saunders spent his first four seasons at Florida State before graduating and transferring to Kansas.
Saunders caught the first touchdown reception of his NCAA career in the Jayhawks' 38-22 loss to then No.8/9 West Virginia in October.
His career-long 18-yard reception from quarterback Peyton Bender put Kansas on the scoreboard for the first time with 12 seconds remaining in the first quarter.
His touchdown reception was also the first to a Jayhawks tight end this season. He also had two receptions for 10 yards in an addition to a two-point conversion in a week one 26-23 overtime upset loss to Nicholls State of the FCS.
Saunders was named to the preseason watch list for the John Mackey Award - doled out to the top tight end in all of collegiate football. He transferred to the Jayhawks from the Florida State Seminoles and was ranked the third best transfer tight end by College Football Focus behind Thaddeus Young (LSU) and Jesse Conners (Syracuse).
Saunders did not record a reception in his last season and his Seminole stats for his career included 16 receptions for 234 yards.
In his sophomore season he had 10 receptions for 182 yards - both career highs. As a redshirt freshman he totalled six receptions for 52 yards.
Saunders rose to prominence in the Tallahassee community for his work off the field. And he was one of 11 players named to the Allstate American Football Coaches Association Good Works Team.
Saunders was nominated for the honour in July based on his contributions to the surrounding community in Tallahassee, Florida, as a volunteer mentor at Riley Elementary School. He was also named to the Atlantic Coast Conference Academic Honour Roll for two consecutive seasons.